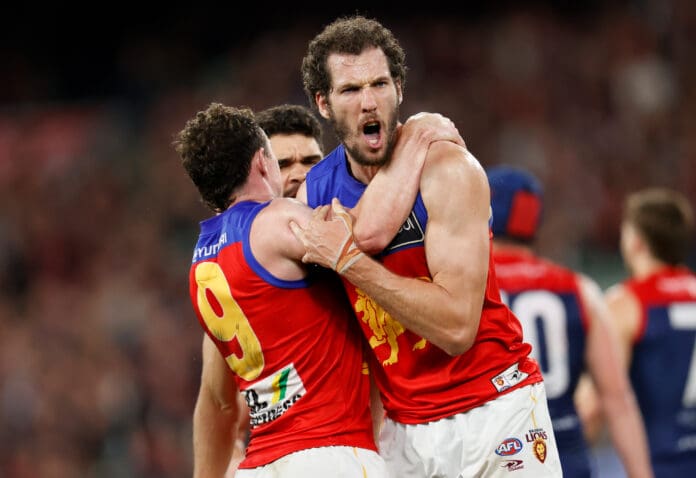 In the late 50s, Australian singer-songwriter Geoff Mack flexed that there was nowhere he and his guitar hadn't been.
While born and raised in Melbourne's leafy east, the oft-forgotten country star told the world of his treks through Darwin, Gin Gin, Deniliquin, Muckadilla
Wallumbilla, Boggabilla and Kumbarilla, just to name a few.
Mack's journey would eventually end on the Gold Coast, passing after 94 laps around the sun in 2017. Yet, some four years later, just down the Scenic Rim, footy's answer to the travelling troubadour plonked down his well-weathered swag.
Although only AFL level, the tide turned on Friday night after Fort announced himself under the game's brightest lights.
Despite pipping Richmond at the post last Thursday to commence a thrilling first week of finals, Brisbane made their voyage south to face reigning premiers Melbourne sans their match-winning forward, Robertson and Oliver, Fort fought and won against the most fearsome tap-work duo in the competition, Jackson.
But as is customary in Fort's tale of persistence after being locked to the starting blocks, the task of stopping Gawn seemed an insurmountable one early on, as the premiership skipper skipped out to have eight touches and nine hitouts at the opening break.
However, the 204cm journeyman with the patchy beard eventually wrangled the man who spruiks trimmers on primetime TV, keeping Gawn to just seven further touches for the remainder of the night.
But what was the message delivered to Fort from the fatherly Brisbane's stellar win.
And although unwilling to toot his own horn, Fagan jumped at the chance to pay his praises as the dust settled on the satisfying smash and grab.
When quizzed about whether there were any specific mechanics employed to bring Gawn and Jackson down to size, the bespectacled steward opened up his playbook.
"There was nothing special there, that was just Brisbane's preliminary final will take on extra meaning for the ruckman given the Lions' opponents, Geelong, rank among Fort's fleet of former teams.
Having spent three seasons in the supporting cast at the Cattery, the Geelong native is more than familiar with his latest foe. But after being punted by Geelong at the trade table last season, Fort will have more fuel than most on Fagan's roster.
Next Friday, Brisbane will again be asked to travel to the MCG for a do-or-die date. And again, they will do so as the bookmaker's outsiders.
But at a time when others would be calling on bottled disdain and dismay, Fort pressed a team-first approach to Brisbane's upcoming battle, one that may, sadly, prove prophetic.
"It's exciting for the team," Fort professed.
"They're obviously a great squad and have had a great year. They got us earlier in the year, but I think we're full of confidence at the minute. We'll go and have a look at them and do what we can to come back here and have a win."
Despite his semi-final heroics earning him acclaim from all and sundry, the life of a backup ruckman is a fickle one, with Fort no certainty to see his magnet on Fagan's whiteboard.
With Brisbane's preferred big man, Stanley and Hipwood's absence. But with the 24-year-old kicking four against the Demons' vaunted defence,