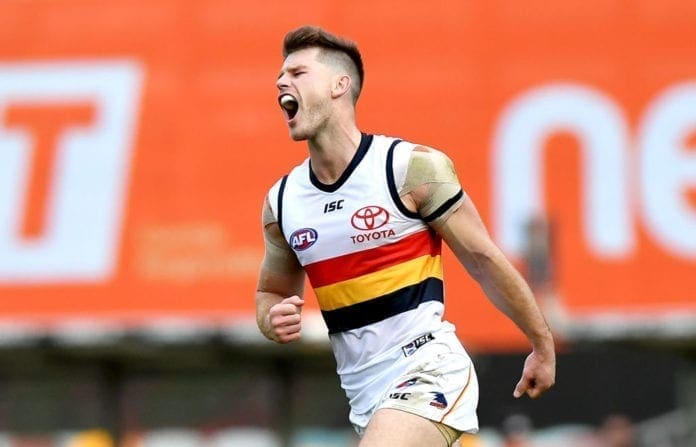 Speculation has grown over Bryce Gibbs' future after what's been a tough season so for for the Crows veteran.
Since coming across from the Blues, Gibbs has played 30 games, including 22 in season 2018. He has only managed to play eight this year, in large due to a lack of form by his lofty standards.
Gibbs' output has been nowhere near his best and what the footy world knows he can produce. His last two games, which were in round 11 and 15, saw him finish with 13 touches and little to no impact in those games.
The former No.1 pick has been dropped from the senior side multiple times, including for Saturday's Showdown against the Power. It begs the question if there is a place at Adelaide for Bryce Gibbs.
While it is very possible Gibbs will stick it out with the Crows given he wanted to move home, it is also possible that he prioritises playing senior footy and a mutual split is in he and the club's best interest.
If Gibbs were to move, these five sides could be potential landing spots.
5. Gold Coast
A team who have struggled to get off the bottom of the ladder in their short existence will receive any help they can get.
Over the years, they have been able to develop some young talent in the likes of Touk Miller and David Swallow.
Adding Gibbs to a prosperous midfield group that is emerging on the Gold Coast could be beneficial, if he were to go down that path.
The experience and poise that Gibbs still brings at AFL level can show players like Will Brodie, Darcy McPherson and Brayden Fiorini the requirements to be considered a great player of the AFL.
Gibbs would be able to help guide these players through the early part of their careers, similarly to Hodge at Brisbane.
4. GWS 
The Giants have a tendency to recycle old players and give them a couple seasons to leave everything they have on the park. Gibbs could follow suit.
Despite their elite midfield status that boasts players like Josh Kelly, Stephen Coniglio and Tim Taranto, it is a possibility that players like these could decide to return home and move elsewhere.
Speculation over Coniglio's future at the Giants continues to gain momentum and it could be his last season at the club.
Similar to veteran Brett Deledio, whose body continues to let him down, which could ultimately see him hang up the boots at the end of the season.
The potential departure of these two players could create a role for Gibbs at the Giants as they are currently in their premiership window and adding a classy player to their line-up should only help.
3. Melbourne
The disappointing Dees' lack elegance around the ball is where Gibbs could most help a team.
Melbourne's onball brigade of Jack Viney, Clayton Oliver, James Harmes and Angus Brayshaw are types who predominantly win the footy in close quarters but have questions over their ball-use by foot.
Melbourne's prime midfielders almost always handball more than they kick and Gibbs would help balance that out, especially going inside 50 and on the outside.
The lack of poise in Melbourne's midfield could mean Gibbs is the perfect type of player to target.
2. St Kilda
Despite the Saints' desire to rebuild and use their young players, they are in need of some experience and grace throughout the midfield.
The emergence of Jade Gresham and Jack Billings has been a positive so far this season, but it can be argued that their finishing skills needs to improve.
Gibbs would add another layer of class around the ball that the Saints require if they were to climb further up the ladder.
He would be a perfect complement for their hard-hitting midfielders such as Jack Steele, Seb Ross, Luke Dunstan and the newly acquired Dan Hannebery.
1. Port Adelaide
While it doesn't make much sense from a list demographic perspective, the cross-town rivals of the Power would be the best option for Gibbs purely because of South Australia factor. It would be a seamless transition.
Gibbs left Carlton in his bid to return home and landed at the Crows.
There is no suggestion that Gibbs would be looking to leave South Australia to continue playing footy, hence why the Power would be on the top of his list.
However, Port Adelaide's midfield doesn't exactly work with Gibbs as they are struck with young talent that they'd want to develop and give experience to.