No player in the AFL has had made bigger strides this season than Richmond's Josh Caddy, according to the AFL's Player Ratings.
The official AFL Player Ratings look at every single action a player makes in a game, and have devised a system to work out which players are the best in the competition.
According to the Ratings, Caddy currently ranks 23rd in the league with an average rating of 14.8 per week. A differential of +5.6 from last season.
Not too far behind, Jake Melksham has also showed major improvement this season with a differential of +5.4 which sits him 21st in the league in ranking.
James Sicily (+5.3 differential), Lance Franklin (+5.0) and Jack Macrae (+5.0) are the only other players who have a differential above +5.0. Franklin now currently ranks as number 1 in the league with an average rating of 20.9 per week.
Players who have risen in form in 2018 compared to 2017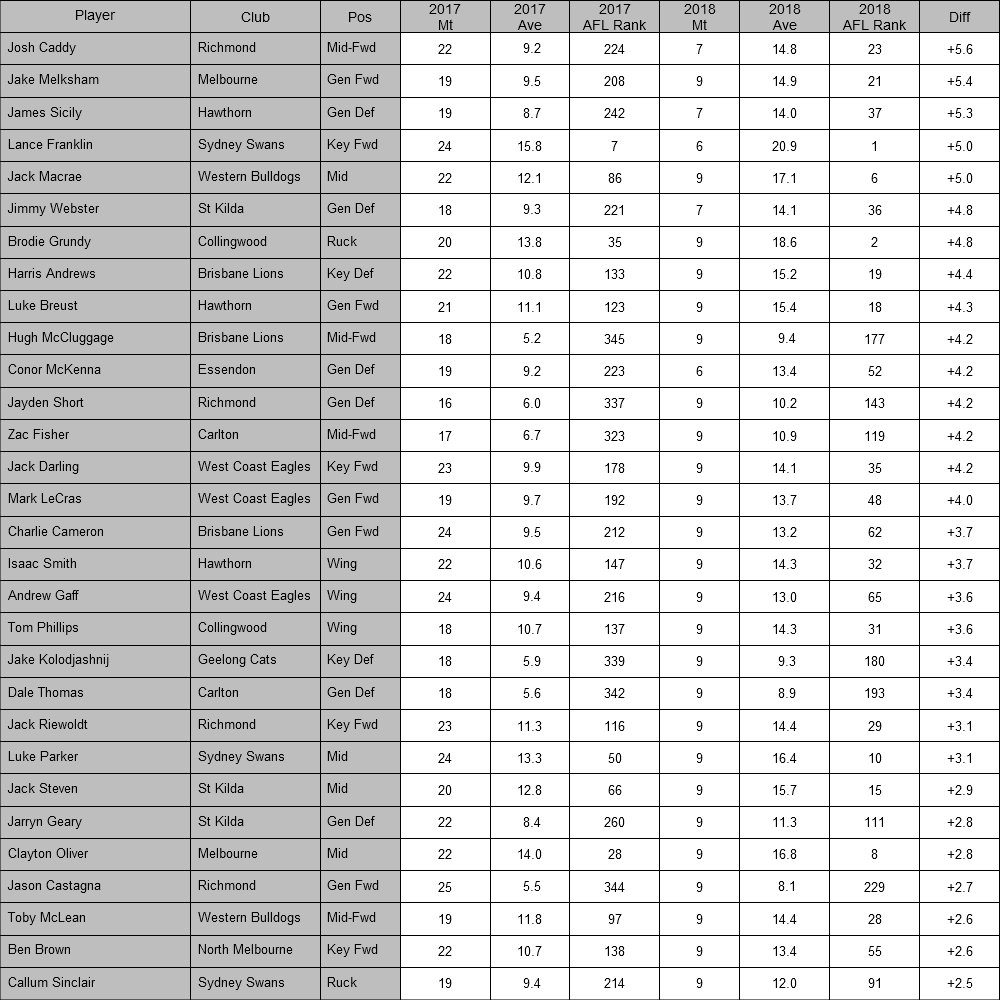 On the other end of the spectrum, Tim Membrey has had the biggest drop off the season with a differential of -7.2 and now he ranks 353rd in the league. Membrey is the only player in the league with a differential lower than -7.
Closely behind however is Essendon big man Joe Daniher with a differential of -6.9. Along with Taylor Adams (-6.1), they're the only two with a drop off higher than -6.0. Both players ranked in the top 100 last season have dropped far below due to very poor play on the field.
Daniher, who ranked 71st in the league last season has dropped to 328th, and Adams, who ranked 16th, has dropped to 218th.
Amongst the biggest drops in average rating per week are superstars who haven't played at the level they did in the previous year. In Patrick's Dangerfield's case, although he ranks amongst the league's best players, he has had a decline in rating.
From 2nd to 7th, Dangerfield has had a differential of -3.2 this season.
Players who have fallen in form in 2018 compared to 2017