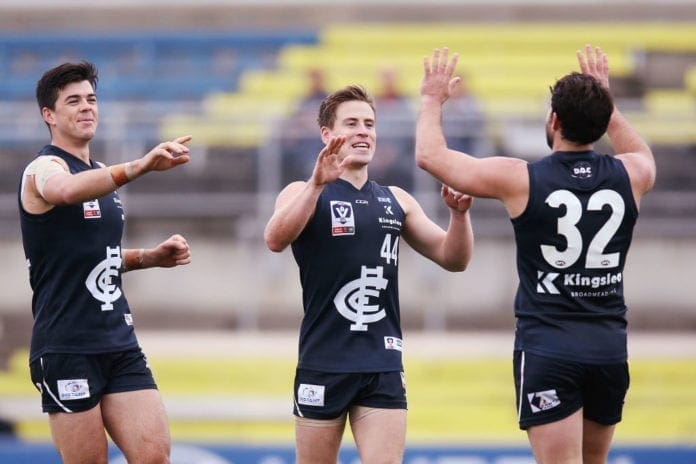 Matt Owies may well be the answer to Carlton's need for a small forward once Eddie Betts retires. 
With Tom Papley deciding to stay at Sydney next season the Blues have missed their man once again, but they may have the man they need under their nose.
The recent publishing restrictions on Facebook doesn't mean we can't deliver you all the latest news, rumours and results in the AFL. As avid footy fans, we will continue to bring you all the latest news for free, available via Zero Hanger, Zero Sports, Twitter and Instagram.

You can also sign up for our newsletter, delivering all the latest AFL content to you in an instant. Sign up here!
Owies made his debut against the Swans in Round 16 this year after biding his time in the Blues reserves over the past 18 months. 
Before that, Owies had an incredibly unique journey to AFL football – he spent six years in America playing College basketball. 
Owies played college basketball with the University of Hawaii and Seattle University as well as representing Australia at numerous age group levels.
Owies spoke exclusively to Zero Hanger about his journey.
"When I was 15 I decided to go with basketball, I got my first Australian team and commitments with that were starting to pile up so I had to pick between the two," he said.
"It (playing basketball in America) gave me some great life and sporting experiences that I'll never forget. But when I made the change it was pretty quick, I had a lot of work to do, I had to change my whole body type and I hadn't really kicked a pill in about 6 years so I was sort of thrown into the deep end."
Owies was 21 when he made the transition back to AFL football and was rewarded for some great reserves form.
"It was unreal, I've been at the club for a year and a half so sitting in the stands makes you want it even more so when I finally got out there it was a pretty awesome feeling and getting the win they way that we did was a dram come true."
Owies spoke about the jump up from the reserves level to the big time and what he had to do to get his chance.
"The pressure around the ball wasn't a huge jump up from VFL level, but you're playing against smarter defenders. Obviously we haven't had much opportunity to play against 18 so that was the biggest jump. When you lead into the wrong spot defenders are smart enough to just leave you. I took a lot of learnings from it but i felt pretty comfortable out there
"I had to work on repeat efforts, basketball courts are only 20 metres, when you're running kilometres and then you have to make multiple efforts at the ball, that was something i found different.
"I seem to put myself in good positions to be able to crumb the ball or put on pressure and I think my speed is something i can use to help lock it in and get dangerous."
The 22-year old has been very fortunate to work closely with superstar Eddie Betts on is craft and lean on him for advice.
"Eddie's been a huge influence, he's an awesome bloke. He's a star of the game but he gives time to everyone.
"There's no one better to learn off than him, I've been lucky enough to sit in on his reviews and find out what he's thinking in different moments and he sat in on my review from the Sydney game.
"I've definitely taken a lot out of his game and the way that he thinks. I'm not going to be an Eddie betts, I'm going to be my own player but being able to learn the tricks of the trade from him is priceless."
He nearly kicked a goal on debut when finding himself free inside 50, but unfortunately was unable to take the chance. However, he is confident a goal isn't far away.
"The eyes did light up, I've kicked a few of those goals in the reserves this year. I probably had more time but thats a learning, knowing my speed and power can take me through that. I won't make that mistake again."
Owies missed out on a spot in Sunday's loss to Adelaide but is hopeful of getting one more shot before 2020 is over.
"I'd love to get another chance, first game out there I was playing with players I hadn't played with before and this year the training is all mixed up so I haven't had a tonne of time to be around them all and get a feel for how they play.
"I'd love another chance, whether that comes or not is out of my control, it's been a pretty good year given the circumstances and I'm just looking forward to what the future has to hold."