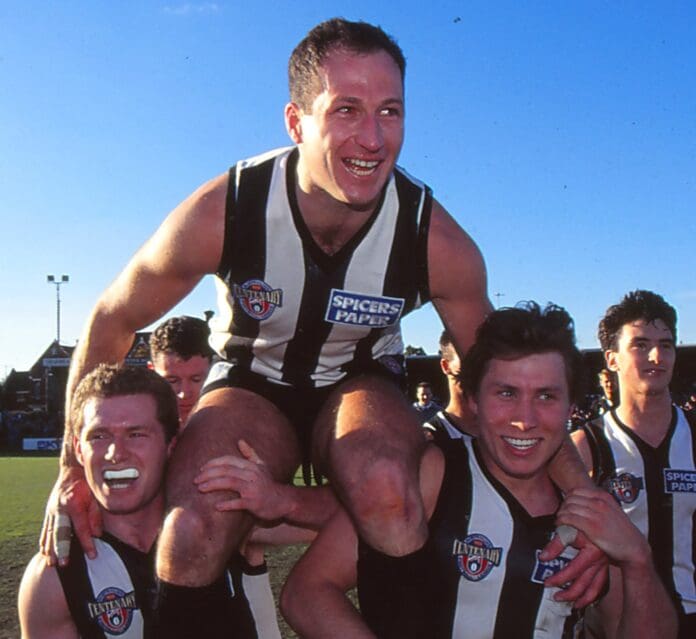 1990 premiership defender Craig Kelly will officially replace the departed Mark Anderson as Collingwood's new Chief Executive Officer.
Kelly, who played 122 games in seven years at the club between 1989 and 1996, will take over from former teammate Graham Wright, who worked as the temporary replacement when Anderson left in November of last year.
Craig Kelly expressed his excitement in re-joining the Magpies in such a major role.
"The Collingwood Football Club means a lot to many people, including my family, and I feel privileged to be able to lead our Club as it continues to progress," Kelly said.
"I am incredibly honoured to be provided with the opportunity to return to the Pies and give back to the Collingwood community.
"The Club has continued to grow and expand over the years and I am excited to steer that growth while supporting and developing the talent of our people, both on and off the field.
"There is momentum at Collingwood, and I look forward to building relationships across the Club and working alongside the Board, staff, coaches and athletes as we enter the next phase."
Kelly's playing career at the Magpies has been somewhat obscured by a successful business career upon retirement, where he quickly became a co-founder of the TLA sports marketing agency in 1996.
It was here where Kelly displayed his expertise in talent management and eventually became CEO of the company.
"It has been an incredible 26 years growing ESP/TLA alongside our dedicated staff – both past and present," Kelly said.
"I would like to thank everyone at TLA, in particular the outstanding executive team and our amazing talent – a lot who are lifelong friends of myself and my family. Without the talent, and the incredible sports and long-term clients we work with, the journey would not have been as fun or fulfilling as it has been."
Collingwood president Jeff Browne also commented on Kelly's stature in the business realm, labelling him an "extremely well-rounded professional and a highly-respected person within the football community".
"Craig understands better than most the requirements of a strong and successful football club," he said.
"His three-decades of vast experience in managing AFL and key sporting talent, driving a high-performance environment and delivering successful results was a key factor in his appointment."
Kelly will begin his tenure on Monday, February 20 as he steps down from all roles at TLA.