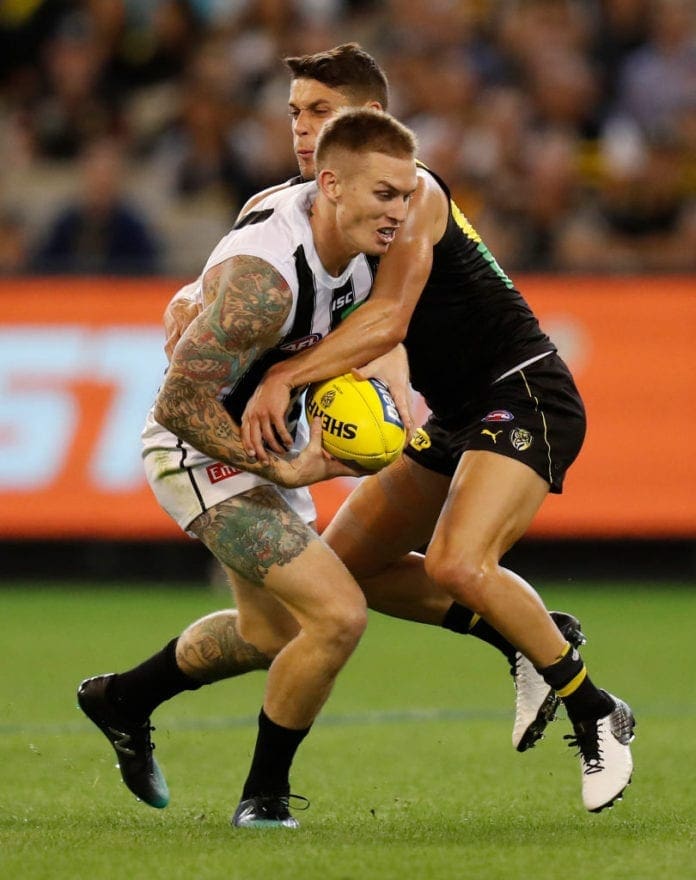 Champion Data has used its stat-collecting ability to establish the five most damaging midfielders, as well as the least five, after the first nine rounds.
Players are based on chain involvements to score ratio, with Brisbane Lions skipper Dayne Zorko leading the charge as the most damaging on-baller.
The 30-year-old averages 21.1 chains with 32.6 per cent of those resulting in scores, whilst only collecting 21.7 touches a game, most of those used by foot (15.8).
Josh Kelly (Giants), who is placed second under Zorko, tallies an average of 27.2 chains with a scoring percentage of 30.1 per cent, followed by star Collingwood recruit Dayne Beams with 29.2 per cent of scores resulting from 24.4 chains.
The top five is then rounded out by Richmond's Dion Prestia (28.8 per cent from 23.1 chains) and Bulldogs on-baller Marcus Bontempelli (28.5 per cent from 26.6 chains).
Eagles wingman Andrew Gaff is labelled as the least damaging midfielder as he boasts an average of 28.6 chains but with only 14.4 per cent of those ending in scores.
He is then followed by Melbourne's contested bull Clayton Oliver, who trails behind West Coast on-baller Jack Redden, ex-Richmond player Reece Conca and Hawks youngster James Worpel, who rounds out the bottom five damaging midfielders.
Most damaging midfielders:
Dayne Zorko - 21.1 chains to 32.6 per cent scores
Josh Kelly - 27.2 chains to 30.1 per cent scores
Dayne Beams - 24.4 chains to 29.2 per cent scores
Dion Prestia - 23.1 chains to 28.8 per cent scores
Marcus Bontempelli - 26.6 chains to 28.5 per cent scores
Least damaging midfielders:
Andrew Gaff - 28.7 chains to 14.4 per cent scores
Clayton Oliver - 29.7 chains to 14.6 per cent scores
Jack Redden - 20.8 chains to 15.1 per cent scores
Reece Conca - 20.4 chains to 15.2 per cent scores
James Worpel - 23.5 chains to 16.4 per cent scores