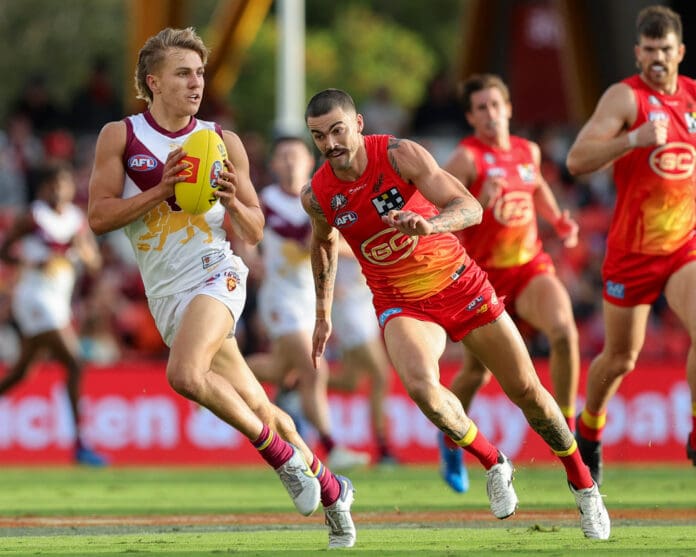 Brisbane Lions recruiting manager Steve Conole has shared the latest happenings regarding forward Kai Lohmann's contract situation, as well as detailing Brisbane's ongoing list strategy, addressing interest in off-contract Crow Tom Doedee, and voicing his opinion on the prospect of a mid-season trade period.
Conole was featured on the latest episode of AFL.com.au's Gettable, as journalists Riley Beveridge and Callum Twomey quizzed Brisbane's list expert about a host of topics.
One of the more pertinent topics surrounding the Lions is the contract situation of forward Kai Lohmann, who remains without a deal for next season and is likely to receive rival interest if an agreement between the two sides isn't reached.
While Conole expressed his pleasure at the forward's progression, he stated Lohmann needs to 'keep persisting' and capitalise when presented with senior opportunities.
"As a player, he's progressing really well, Kai," Conole said.
"Look, it's a role (up forward) that we've got a few players [who play it] at AFL level, but his year's been terrific, a bit like Jaspa (Fletcher), he missed most of the pre-season with some injuries and then he's built his reserves form in a strong team [which has] been really good.
"Then his AFL [play] when he came in, he's sort of been in and out a little bit, but he's just got to keep persisting and make sure when the opportunity's there he's ready to take it.
Regarding Lohmann's contract standstill, Conole remained hopeful that it will 'sort itself out', affirming his desire for the young goalsneak to remain at Brisbane.
"That'll sort itself out, I think," Conole continued.
"Hopefully it works out, we're certainly keen to keep him, he's a player that has a long-term future for us, so hopefully that (his contract deadlock) works out.
"I'm sure his management and the club [are] discussing it, we'll see where that ends up, but I'm confident he'll stay."
Discussing the club's internal plans for this year's draft, Conole revealed the Lions will be 'pretty active' despite their limited draft capital, stating there is still some contract business to work through before the draft becomes an immediate priority.
"We're not sure yet (on our draft plans), we think we'll be pretty active," Conole started.
"It's a little bit early, we've still got some players to discuss in terms of players who might be out of contract and things like that, so it's a little bit early.
"I think we'll be active in the draft, we've had a couple of years [where] we've added some really good youth into the club, hopefully, we've got a couple more coming through, so we'd like to continue that and get a few picks in there."
After the Lions were linked to Adelaide defender Tom Doedee, Conole was questioned about Brisbane's potential prioritisation of key defenders.
"Yeah, I'm not sure about Tom (Doedee), you'll have to go to Dom (Ambrogio, Brisbane's list manager) and that part of the footy club for that sort of area, but certainly key-position stocks as a general position at both ends of the ground (are important)," said Conole.
"We've had a lot of midfielders and around-the-square types who we've brought in (recently), so, certainly if there are some young mids in this year's draft at our selection we'll certainly be looking very, very closely at all of those types."
Quizzed on his preference between bringing in players who can have an instant impact, as opposed to longer-term projects, Conole emphasised a happy medium.
"We'd certainly like to have players who can come and have an impact straight away, but we've got a group, quite a settled team, but that changes, and we know we're going to have some transitions, so I think drafting always has to be long-term, so we would take the best available talent in terms of looking at that long-term."
Finally, surveyed on his thoughts about the league implementing a mid-season trade period sometime in the future, Conole acknowledged that while there would be 'challenges' for interstate clubs such as the Lions, a mid-year exchange window 'seems like' an impending feature of the AFL calendar year.
"I think there [are] challenges for the interstate clubs, there's no doubt," Conole said.
"Getting people to move mid-season, especially more mature types that might have families and etcetera, but certainly I think there should be some discussion around it, the ability to trade picks I think is certainly something that can be discussed as well.
"It seems like the next evolution (a mid-year trade period), so I'm sure there [are] people discussing it at the moment and you would imagine that's going to get some momentum going forward in the next sort of 12 or 24 months, or even a bit earlier."