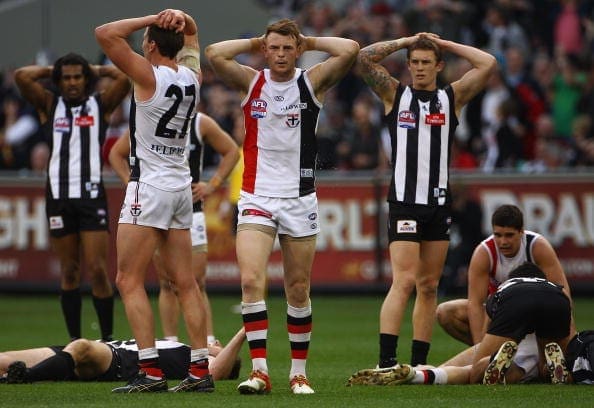 Former Saints star Brendon Goddard says the club was "mentally fried" in the 2010 Grand Final replay.
The gun utility exlained that the draw against Collingwood in the 2010 decider was compounded by the devastating 12-point loss to Geelong in the 2009 Grand Final.
A disprited St Kilda were crushed by the Magpies in the 2010 replay by 58 points.
"We were cooked mentally," Goddard told the Sunday Herald Sun's Sacked podcast.
"It goes back to a year earlier in a Grand Final losing, (then) playing in another Grand Final (in 2010) and drawing, and thinking, 'This is never going to happen'.
"If we hadn't lost in 2009 – or if we hadn't even made the Grand Final (that year) – we would probably … have won the drawn Grand Final or (at least) had a better chance in the replay.
"(But) we were mentally fried."
Goddard doubled down on his comments last month that St Kilda would have defeated Collingwood in the 2010 decider and secured their second premiership if extra time had been played.
"I've only heard (then Magpies coach) Mick Malthouse and Pendles (Scott Pendlebury) say they thought they would have won if there was extra time," he said.
"Things can happen and Mick can get the group back together and reset them.
"But if there was any more time on the clock, we were going to win. We were trying to win, we were still playing footy and we knew we had the momentum.'
Goddard said all signs were positive during the build up to the second clash, it wasn't until the game begun he knew the Saints were mentally shot.
"(I didn't feel it) until during the game," he said. "You are trying to trick yourself (by saying) 'we are going to win this', but you could tell we were a split second off.
"That's all mental.
"We did everything physically and mentally to freshen ourselves up, but we were just cooked."
Asked if not attending the Grand Final dinner the night of the draw cost the Saints the following week, Goddard simply replied: "That's BS."