We may only be two rounds into the 423-game marathon, but the 2023 season has already produced its first lights-out moment.
Every Monday, we here at Zero Towers run the rule over each of them, highlighting the victors and the also-rans from the weekend's action.
However, this column isn't concerned solely with the ladder or scoreboard. It is here that we will delve into the weird, the wonderful and the often overlooked on both sides of the boundary line.
Without further ado, here are the winners and losers from Round 2.
Loser: The Gabba's power grid
Despite Brisbane and Melbourne's Friday night clash being billed as a belter, with exactly 12 minutes left to run, the contest appeared deader than disco.
And while the few Demon diehards that made the trip north may have been keen to drown their sorrows with a few mangos at the Pineapple Hotel, switching the lights off on their way out was overly dramatic.
OH NO! 🙈

The lights have gone out at the Gabba!#AFLLionsDees pic.twitter.com/626bJqjZuy

— 7AFL (@7AFL) March 24, 2023
Of course, the Gabba's power failure can't be blamed on any thirsty Redlegs, nor the Queensland Government's inability to pay the bills on time, the fault lay with the venue's power grid, one that has had more than its fair share of issues in the past.
Although the game was eventually resumed after light bulbs burned and John Denver played over the half-hour break, the power outage was the third recorded at the ground over the past four years, with a Big Bash fixture and an Ashes Test previously interrupted.
As raised by Corbin Middlemas of ABC Sport, the Gabba's rigging is almost designed to fail, as the same grid is used to power everything within the Vulture Street venue, including the light towers.
Unique to the Gabba, the base power is required to power the light towers… BBL match power outage in 2019, day four of Ashes Test in 2021 and now tonight.

How many more incidents before it stops becoming a freak occurrence? Ground upgrade can't start soon enough #AFLLionsDees

— Corbin Middlemas (@CorbinMiddlemas) March 24, 2023
Though none of us here at Zero Hanger are trained to do anything more than plug our headphones into our laptops, with the ground set for a major overhaul ahead of the 2032 Olympics, we're all hopeful a certified someone is on hand to make sure the BrisVegas lights stay on in the seasons to come.
Winner: Nick Daicos' bragging rights
It's no secret that Dwayne Russell is a fan of hyperbole and extra mayonnaise on most meals.
However, when the former Cat-turned-caller claimed that Nick Daicos appeared set to eclipse the mercurial deeds of his father, Peter, few were heard scoffing.
Just 27 games in his AFL career, Nick already has the footy world on notice, with few able to quell him and, seemingly, no occasion able to overawe him.
Port Adelaide started with a tag on the 20-year-old, but after running like a Ferrari through Fiats over highway lanes, the plan was abandoned early in the piece. After all, few can compete with elite engineering.
With a bright smile, clean cut and even tidier disposal, the blossoming star is both a marketer's and coach's dream. And while time may prove him to be the best of the Daicos gene pool, we look forward to seeing the case put forward across the next 15 years.
Especially if it means more of these confident tests of his old man's CV.
NICK DAICOS! Somehow the ball stays in, and what a finish!

📺Watch #AFLPiesPower on Ch. 504 or stream via @kayosports https://t.co/c5Vwhmfd1e
✍️BLOG: https://t.co/3V4CWLNuXZ
🔢 MATCH CENTRE: https://t.co/2miTN9jc5R pic.twitter.com/yCCSVNSXZy

— Fox Footy (@FOXFOOTY) March 25, 2023
Loser: Off-base booing
The Magpie Army has always had a reputation for being prickly and, on occasion, crossing the line.
'We're just passionate', they've been known to cry, as they cheer and jeer in equal measure.
But while Collingwood's on-field domination is, once again, the envy of the nation, it is the stuff in the stands that has soured the palate.
Despite nobody at Collingwood having a dog in the off-season fight between Jason Horne-Francis and North Melbourne, the fact didn't stop a section of Pies from letting the former No.1 pick know all about their complicated feelings.
"I can't quite fathom where Collingwood fans see their role in this."

- Gerard Whateley on the booing of Jason Horne-Francis #AFLPiesPower

— AFL Nation (@AFLNation) March 25, 2023
While Craig McRae claimed that those who paid their money could do what they liked, the notion of Collingwood fans booing an ex-Kangaroo that currently calls Alberton home is stranger than mustard on your morning cornflakes.

Winner: Pies' forward depth

We'd say we're sorry to hark on about the Pies so much, but it's way too much of a challenge not to these days.
With 14 different goalscorers in their 71-point rout, McRae is all set for avenues to goal. But should injury interject or form begin to foul, 'Fly' has plenty of feathered understudies waiting in his wings.
At Victoria Park on Saturday, the sticky hands and dead eye of Ashley Johnson combined with Tom Wilson for nine goals in Collingwood's 15-goal rout.
And with Jack Ginnivan set to return after his eventful trip to Torquay, Collingwood's forward line is set to have more dimensions than string theory.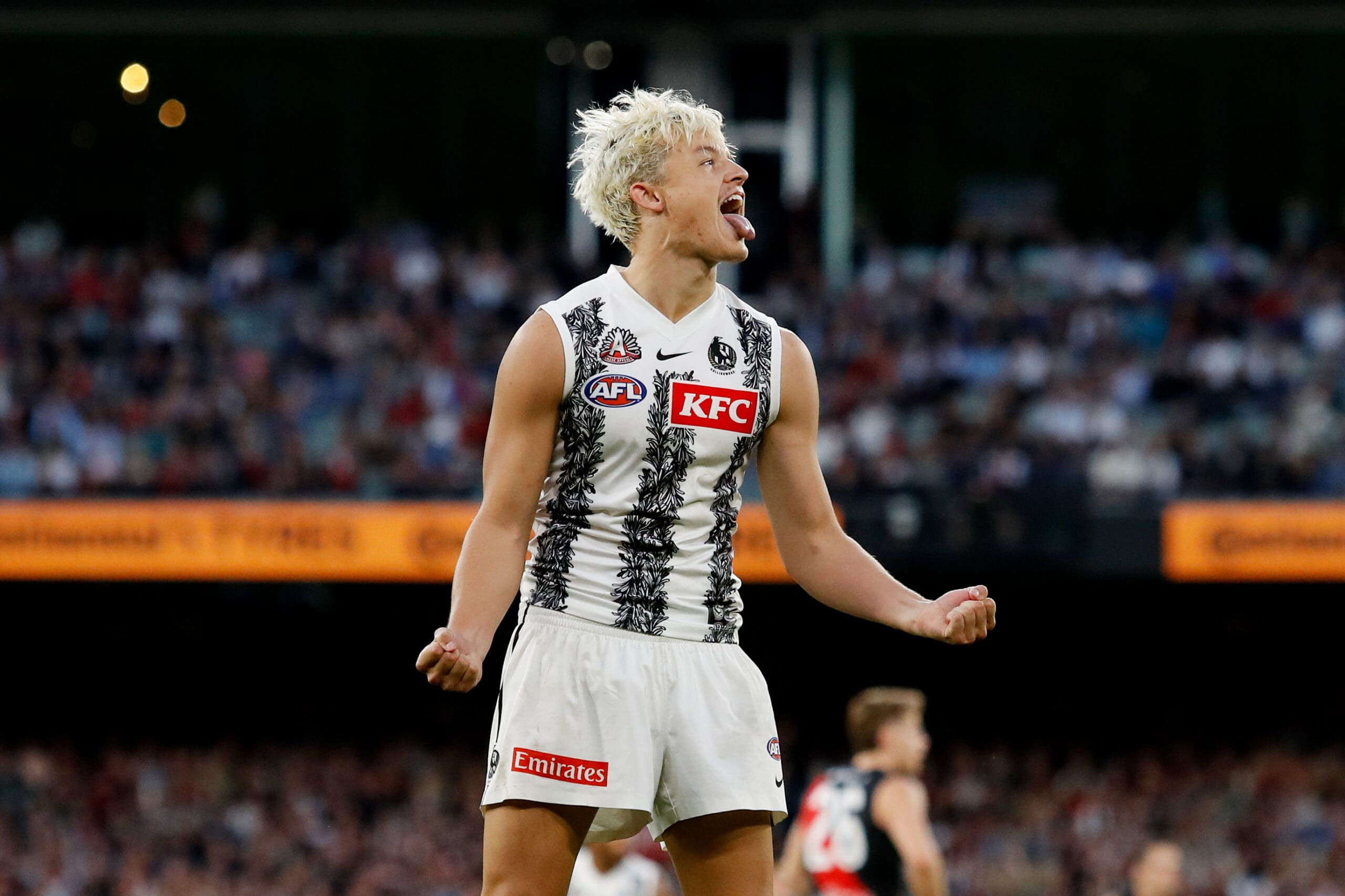 Three Doig Medals, a trifecta of representative blazers, two league MVPs and dual Brownlows.
Try as anyone might, there is absolutely no denying Fyfe's resume, even if life in Fremantle's forward line just isn't his flavour.
But if it wasn't already, the superstar's career is at a clear crossroads, with yet another injury straddling him to the sidelines.
Busted shoulders, a broken leg and continual hamstring strains have hindered Fyfe's run at the footy, setbacks that have seen the ball-winner fail to complete a full campaign across his 14 seasons at AFL level.
Now nursing a plantar fascia injury that will see him miss a fortnight, Fyfe's lower half has let him down again and will see him watch on as the 0-2 Dockers do battle in the latest Western Derby.
For context, the champion's absence next Sunday will mean that he hasn't faced West Coast in a clash for points since Round 7 of the 2021 season.
With an unparalleled desire at the contest and an unquenchable thirst to end his days with a flag, it seems unconscionably cruel that Fyfe's engine is housed by such a shoddy chassis.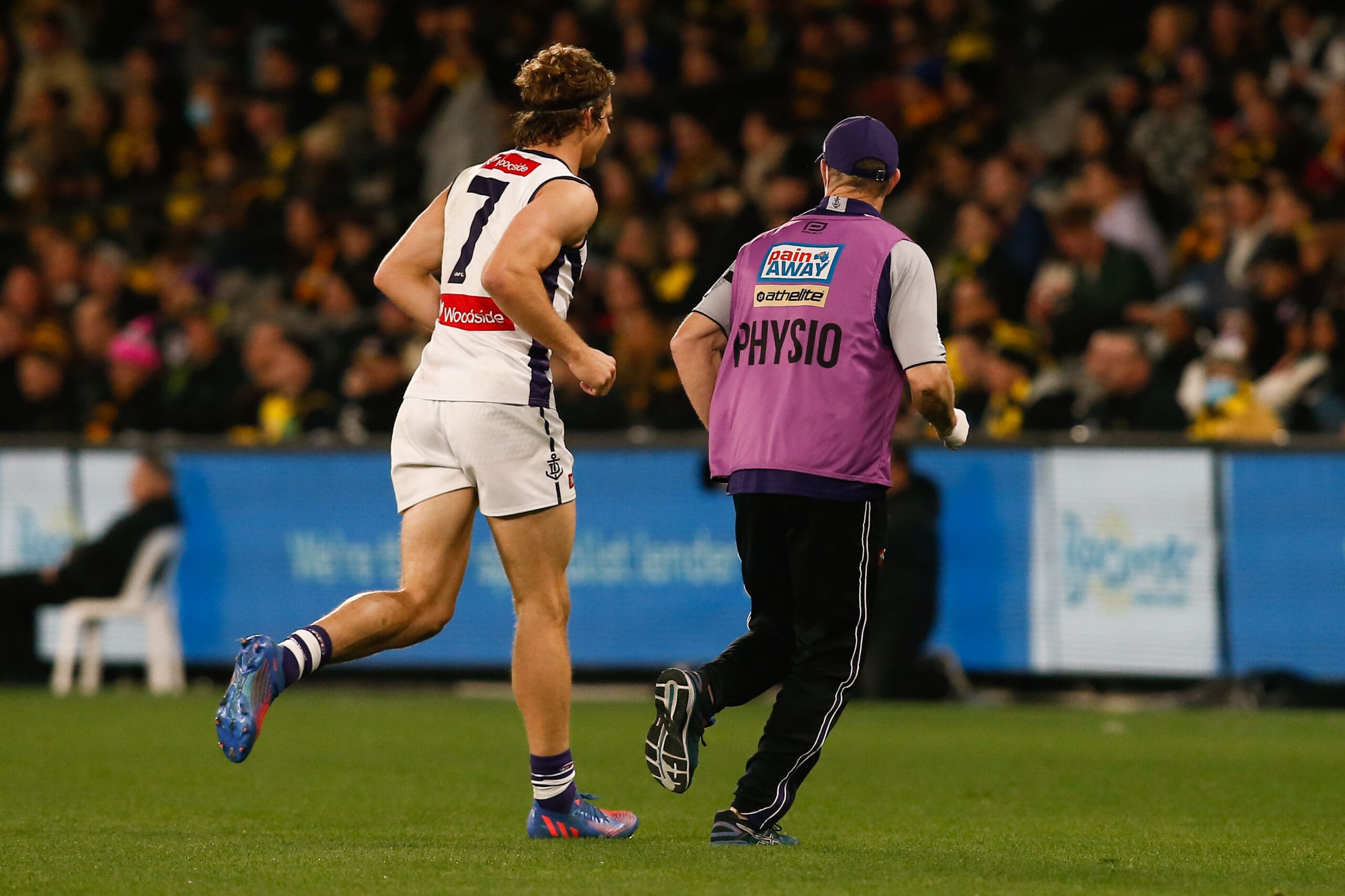 Winner: The fifth seat at the table
1983.
It was the year that America invaded Granada and Motorola released the first mobile phone. Cabbage Patch kids were under every Christmas tree, the final episode of M*A*S*H aired and a bubble-permed Ross Glendinning earned Brownlow Medal honours.
In the 39 counts in the years since, no North Melbourne player has saluted on the dais, with the Kangaroos' 'Charlie Club' capped at Glendinning, Malcolm Blight, Keith Greig and Noel Teasdale.
Yet, after Luke Davies-Uniacke's pair of best-on-ground performances across the opening fortnight, a fifth seat may soon be required at the table.
Sure, we know it's still 26 weeks until the league's crème de la crème congregates for the count, and yes, we're aware that North are against the odds to maintain their recent winning ways, but how good is it to see Davies-Uniacke deliver on his potential?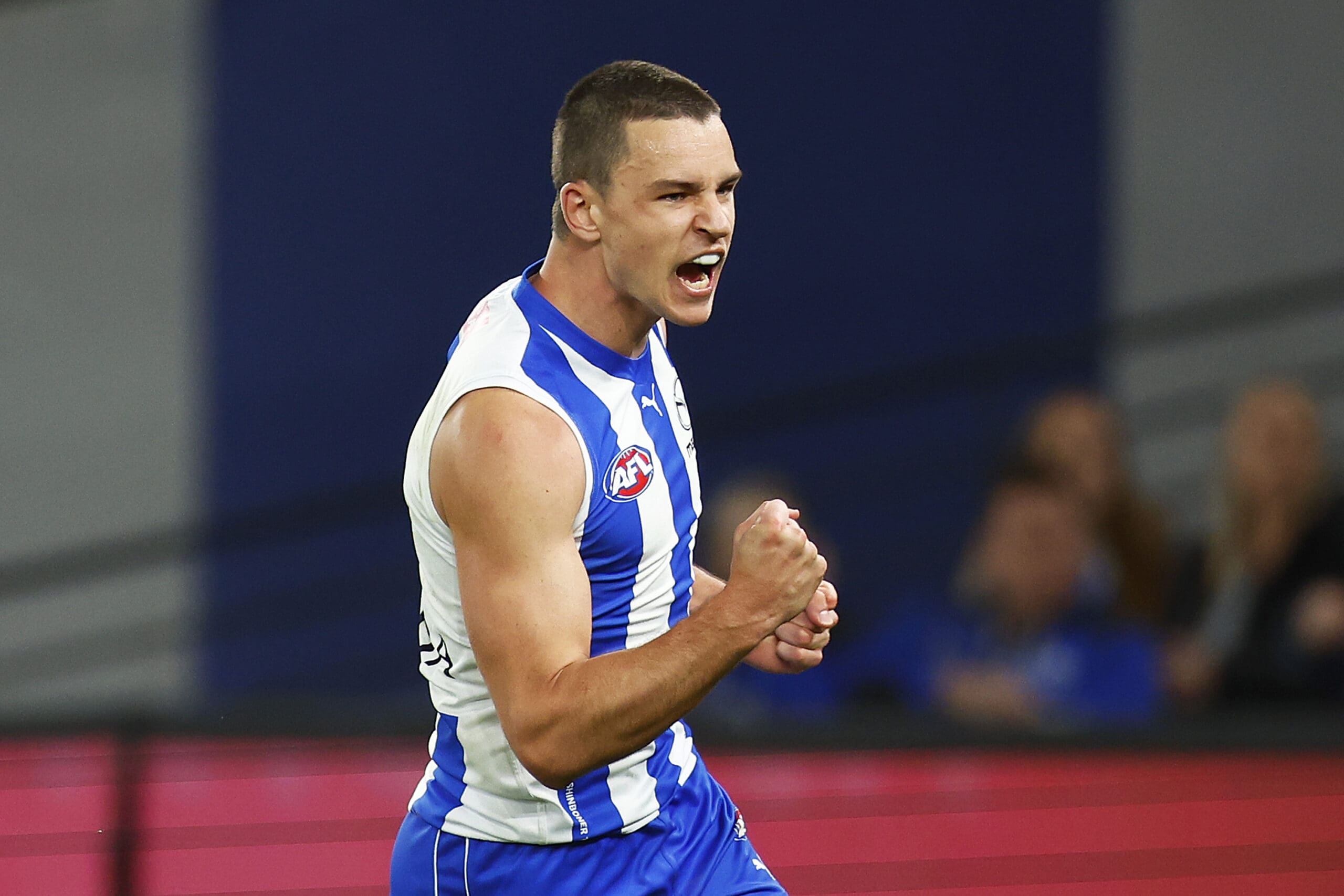 Losers: Peter Bell and David Walls
If Nat Fyfe's fitness has been cause for concern at Cockburn, the early output of Fremantle's boom recruits is sure to have had footy boss Peter Bell and list chief David Walls reaching for the Panadol already.
After luring Luke Jackson and Jaeger O'Meara across the Nullarbor, both Bell and Walls were hailed for their efforts at the trade table, with the ex-Dee and former Hawk adjudged as great fits on paper.
However, with cohesion slow to come for the pair, and the Dockers anchored outside the eight, the cost of business is beginning to provide tension headaches.
Parting with two second-rounders and a pair of firsts to see Jackson and O'Meara clad in purple appeared a price worth paying when the Dockers were on the up-and-up, but with every week that goes by, those picks begin to creep menacingly closer to the start of the 2023 AFL Draft.
Though the calendar is yet to tick over into April, there is plenty of time for Justin Longmuir's men to overturn their capsized hull.
Still, with clashes against top-four aspirants Brisbane, Sydney, Geelong and Melbourne before the bye, further chop awaits the Dockers before they can come home with a wet sail.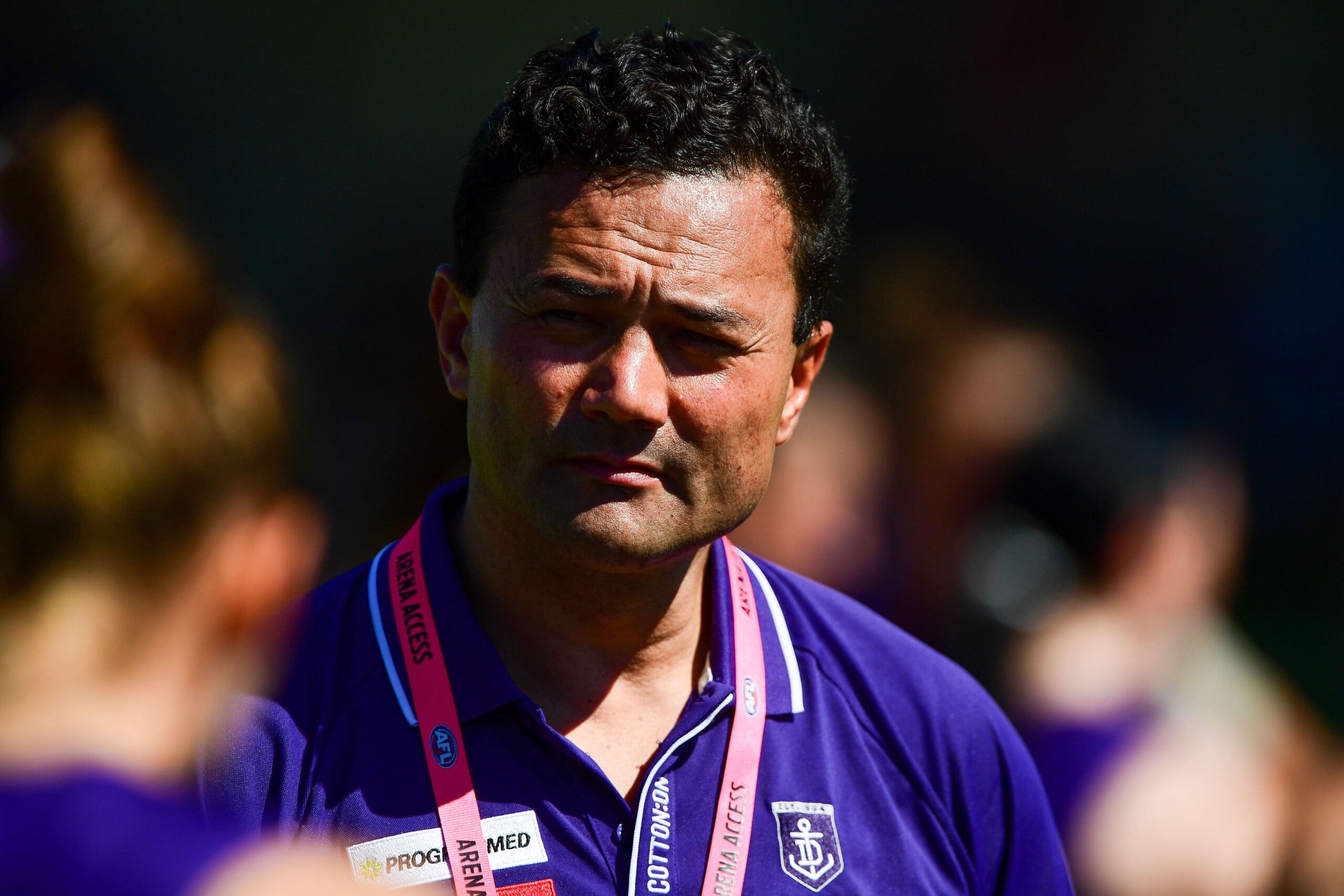 Winner: Kangaroos' confidence
After seeing his joeys hold off West Coast in Round 1, Kangaroos coach Alastair Clarkson set his sights forward and created a benchmark for his young group.
"We know we've got lots to learn. But we just want to challenge ourselves. We'll get a different set of challenges on the road next week to go to Fremantle," he told Zero Hanger in the wash-up.
"They are a very, very good side and one that's shown us the path over the last three to four years of what a side is capable of doing if they can get stable and get on their journey together.
"That's what we're searching to do. We're tracking a couple of years behind them, but that's where we want to go."
If the close win over the Eagles gave belief to his side filled with P-Platers, then they are all sure to be feeling bulletproof after their victory against their yardstick iin the west.
We may only be two weeks into what is a marathon, but with every challenge met and bettered by the Roos so far, the task of moving the metaphorical goalposts lies at Clarkson's feet this week.

Loser: Sam Mitchell's optimism
On Sunday at the SCG, the Swans proved good without being great, but in return, the Hawks were both bad and ugly.
Belted on the scoreboard and going without a goal for the length of a feature film, there was little more than another set of tough lessons for the boys from Bunjil Bagora to stomach on the flight home.
Over the summer, Sam Mitchell professed that he wouldn't be setting any speed limits on his young side, however, with a pair of beltings to start the season and fewer points on the board than dollars in Alex Jones' bank account, this optimism was replaced with a frown before long.
3QT | @sydneyswans 13.11 (89) lead @HawthornFC 2.9 (21)

Sam Mitchell is searching for answers.

📺 Watch #AFLSwansHawks on Ch. 503 or stream via @kayosports https://t.co/c5Vwhmfd1e
✍️ BLOG: https://t.co/rFRm7TotaE
🔢 MATCH CENTRE: https://t.co/qKAjAt8LPG pic.twitter.com/foLj1BhrPI

— Fox Footy (@FOXFOOTY) March 26, 2023
With a gutted list, few tipped that Hawks to move or shape much this season, but for the short-sighted, a choice to re-heat tanking takes has been taken.
Across his 23 years in football, nobody has been able to dampen Mitchell's competitive spirit. But with a grudge match against old mate Alastair Clarkson up next, he will need to inject every drop into his side if they are to avoid being forced to ride another bump with a grimace.
Winner: Unpredictability
We don't mean to play the party pooper, but there is absolutely no way that anyone has tipped anywhere near 18 in any competition so far.
If we're wrong, please send your picks through for Round 3. Lord knows we need the help.
Loser: Racism
This should go without saying, but if you enter any of life's arenas and choose to racially abuse anyone, you deserve any punishment that comes your way.