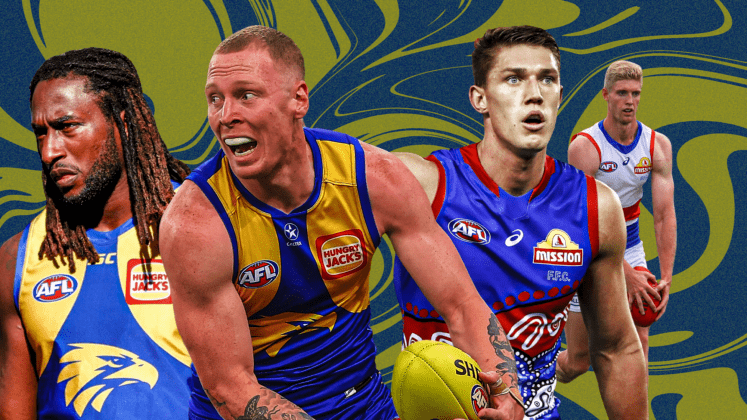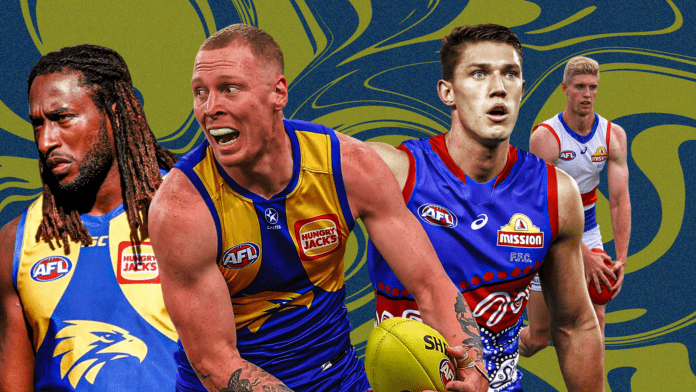 Whether it be making list moves this year, next or not at all, West Coast have a decision to make on their ruck plans for the future.
The retirement of veteran ruckman and three-time All-Australian Nic Naitanui came a year prior to the 33-year-old's contract deadline, with an Achilles injury forcing the best and fairest winner to end his career prematurely.
While not seen to be an integral piece in the club's list rebuild for the years to come, Naitanui's departure does raise questions as to where the club's ruck group is heading.
The Eagles had hoped Naitanui would be available this year to help steer the club through a difficult campaign, but West Coast got less from the high-flying Fijian compared to his injury-riddled 2022 season.
While setbacks took their toll throughout Naitanui's 213-game career, he remained the face for West Coast's ruck tandem, taking the baton from club great Dean Cox.
So who will be West Coast's next ruck juggernaut?
Here we assess the avenues West Coast's list team could travel to find an answer to their ruck riddle.
Back in Bailey
The Eagles can only be rapt with what they've seen from Bailey Williams over the last 12 months. The 23-year-old has been West Coast's sole ruck option for the entirety of this season and was, perhaps prematurely, required to take on the first-string ruck job throughout most of last year as well.
Williams entered 2022 as Naitanui's backup, with the Eagles' senior big man only managing eight appearances for the season due to injury. Williams, who had just nine games to his name as a ruck-forward hybrid before the start of that season, would combine with Naitanui in five games and play one-out in his other 17 appearances.
Thrown into the deep end as Adam Simpson's only remaining hope in the middle, Williams would fight admirably in what was a difficult campaign for all in the royal blue and gold.
Fast forward to this season and Williams entered the year as West Coast's No.1 man, again due to Naitanui's ongoing injury concerns. After a year of doing it tough, it looked likely that Williams was again facing an uphill battle from the opening round.
Even when North Melbourne's only ruckman, Tristan Xerri, managed just 15% game time due to an ankle injury, Williams was unable to take advantage of his aerial dominance over the likes of Charlie Comben and Hugh Greenwood, who helped steer the Roos to a Round 1 win.
The following weeks would continue to be arduous for the West Coast ruckman, who managed no more than 20 hitouts in any of his next three matches against Giant Matt Flynn (20 hitouts), Fremantle star pairing Sean Darcy and Luke Jackson (14) and Demons recruit Brodie Grundy (19) - often requiring the assistance of forward Jake Waterman to pinch-hit.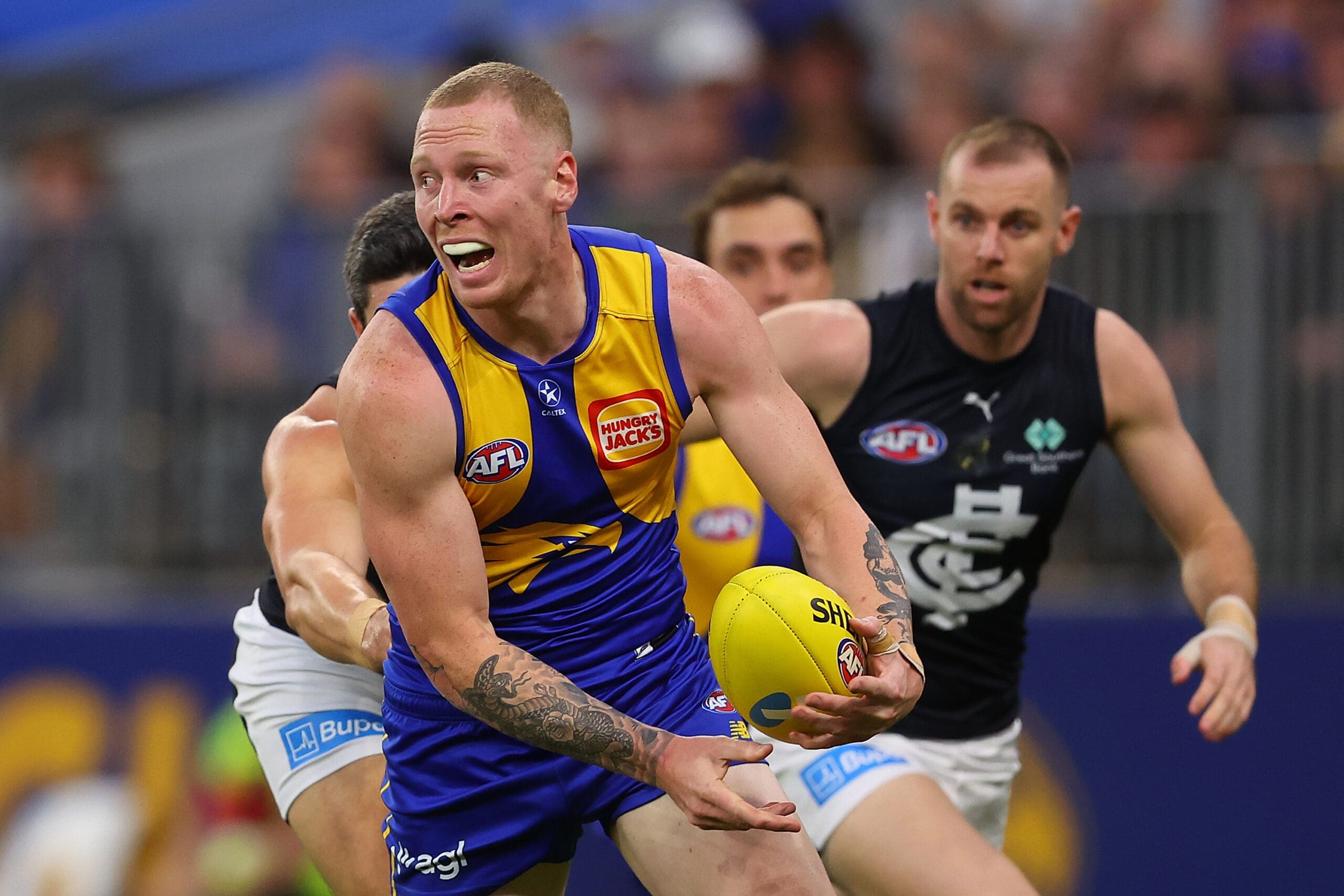 From there, Williams has seen his numbers at stoppages increase significantly, averaging 28.12 hitouts per game since Round 5.
While his impact in the ruck has increased, his hitout win percentage (35.9% to 37.7%) and hitouts to advantage rate (22.5% to 23.8%) have moved only incrementally from 2022 to 2023.
Williams' hitout-to-advantage rating and win percentage are lower than any of the other 13 ruckmen in the AFL who have recorded over 350 hitouts so far this season.
But Williams isn't viewed as a top 15 ruckman in the competition, nor should he be given his standing as a developing ruckman for the Eagles. His 1,508 ruck contests attended this season - which is good for fourth most in the league - is a matter of circumstance given the Eagles' lack of support.
Behind Williams' season tally of 568 hitouts, key forward Jack Darling is the Eagles' next highest hitouts player with 33 - the lowest of any supporting ruck option in the competition, and by some distance.
The question is: Do the Eagles see Williams as their leading man in the middle for the long haul?
The 201cm tall Victorian has come a long way since the start of the 2022 season but might be better suited to a role as the second ruckman behind a standout No.1. And with Williams recruited as a player that can also play forward, the Eagles may see him as a better fit for sharing his time between the forward 50 and centre square.
Bide time
As discussed, the Eagles can push their chips in on Williams being the man to lead the club's midfield going forward, or, at least tread water for another 12 months to see just how high he can fly.
Outside of Williams, West Coast is home to Callum Jamieson, Jack Williams and Harry Barnett - who combine for 23 games of AFL experience between them.
Much like Bailey Williams, who is now the Eagles' most senior ruckman, Jamieson and Jack Williams have been required to play senior minutes due to the club's well-documented injury battles.
Jamieson has mostly been used as a tall defender in his 13 games so far, while Williams was drafted as a forward that can pinch-hit in the ruck and has done so in his nine appearances at AFL level.
Barnett, a first-year Eagle from South Australia, looms as Bailey Williams' biggest contender though, taken with the 23rd pick in last year's National Draft as the first ruckman in the count.
But much like his fellow ruckmen at the Eagles, Barnett requires time to develop before being deployed as a starting piece for the club. So do West Coast rely on their current ruck stocks for at least another year?
It's no secret West Coast is likely to come calling for Western Australian Tim English throughout next year when his contract nears its end, but the club has to weigh up whether the 2024 free agent is going to be the answer to their list build.
English has flourished this year, enjoying a career-best campaign after learning from an experienced midfield group at Whitten Oval since he first stepped foot into the club. The combination of the Dogs' patience in English's development and the tutelage from their leaders in Marcus Bontempelli and Tom Liberatore is what has all three Dogs players in All-Australian contention this year. The stars have aligned for the club's midfield ensemble in 2023 as English continues to provide silver service to a pair of club greats.
If you were to assume the Eagles swoop on English through free agency next year, he'll turn 28 years old midway through the following season and would be surrounded by a midfield group littered with young onballers still learning their craft. Given where West Coast list sits now, it's unlikely they'll be close to being a top-eight side by then, let alone a contender.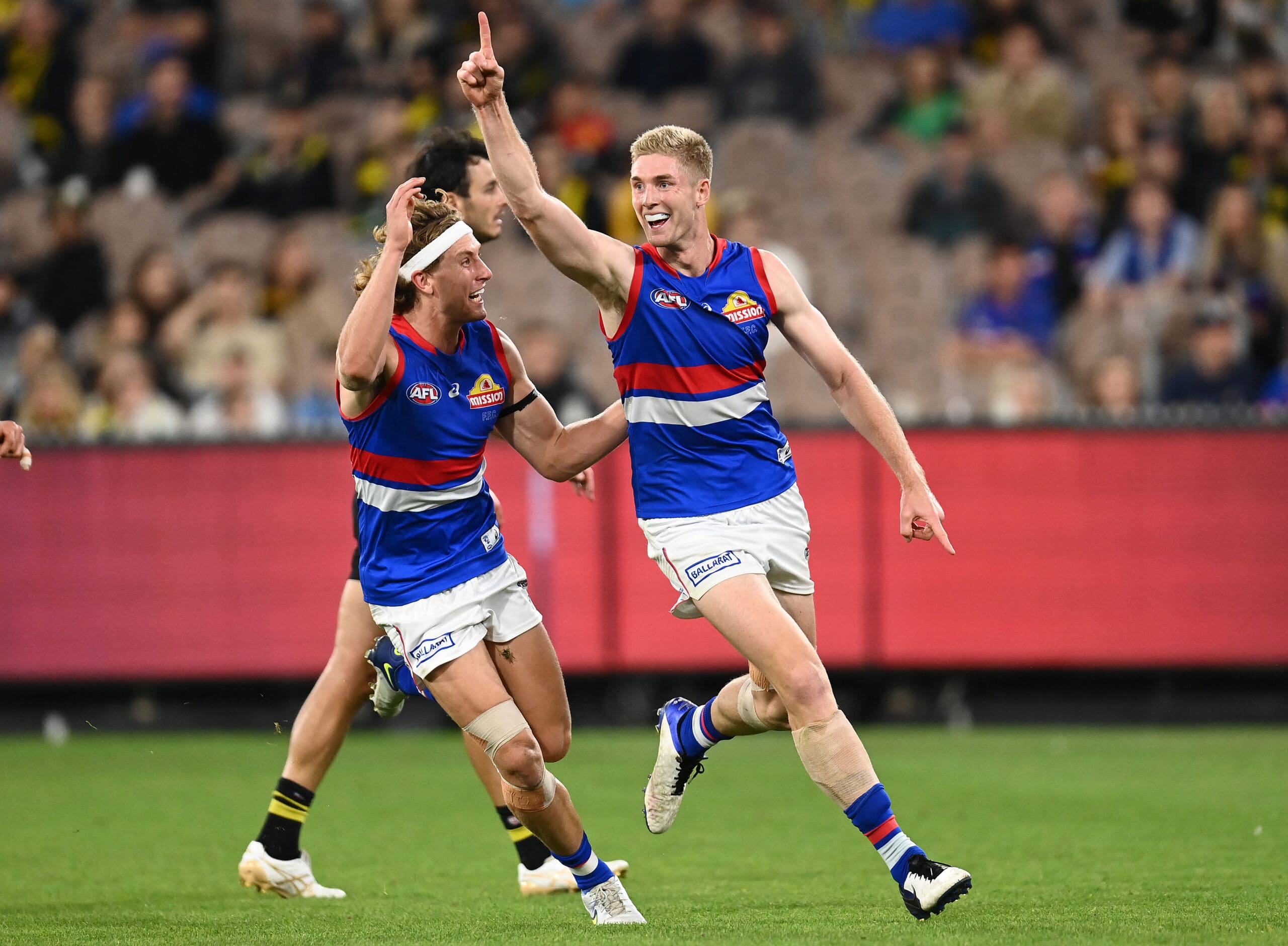 If anything, it's likely English has surpassed the 30-year barrier by the time the month of September is even mentioned again at Lathlain Park.
West Coast can at least utilise the next 12 months in their rebuild to see what potential upside they may find in Williams or Barnett, perhaps saving the substantial fee English would demand from their salary cap for other areas on their list if either option proves to be fruitful.
Get busy now
It will be important for West Coast to consider filling the large void in their ruck pecking order that falls immediately after Bailey Williams.
While their aforementioned trio of fledgling talls are on standby, the Eagles aren't getting the competition at selection that can push their ruck stocks further.
A cheaper, experienced and durable second ruckman to slot into the gap could be a catalyst in the Eagles' search for a new No.1 ruck option.
This year's market isn't short of names for the Eagles to consider either.
Western Bulldogs ruckman Jordon Sweet looms as the pick of the bunch, having been a dominant force for Footscray in the VFL all year long given English's standing as the AFL's best ruckman.
Sweet is averaging 42.4 hitouts a game, and has 100 more hitouts than any other player in the state league competition, to go along with 12.9 disposals, 4.4 clearances and 5.2 tackles in 2023 to have an equal impact at ground level.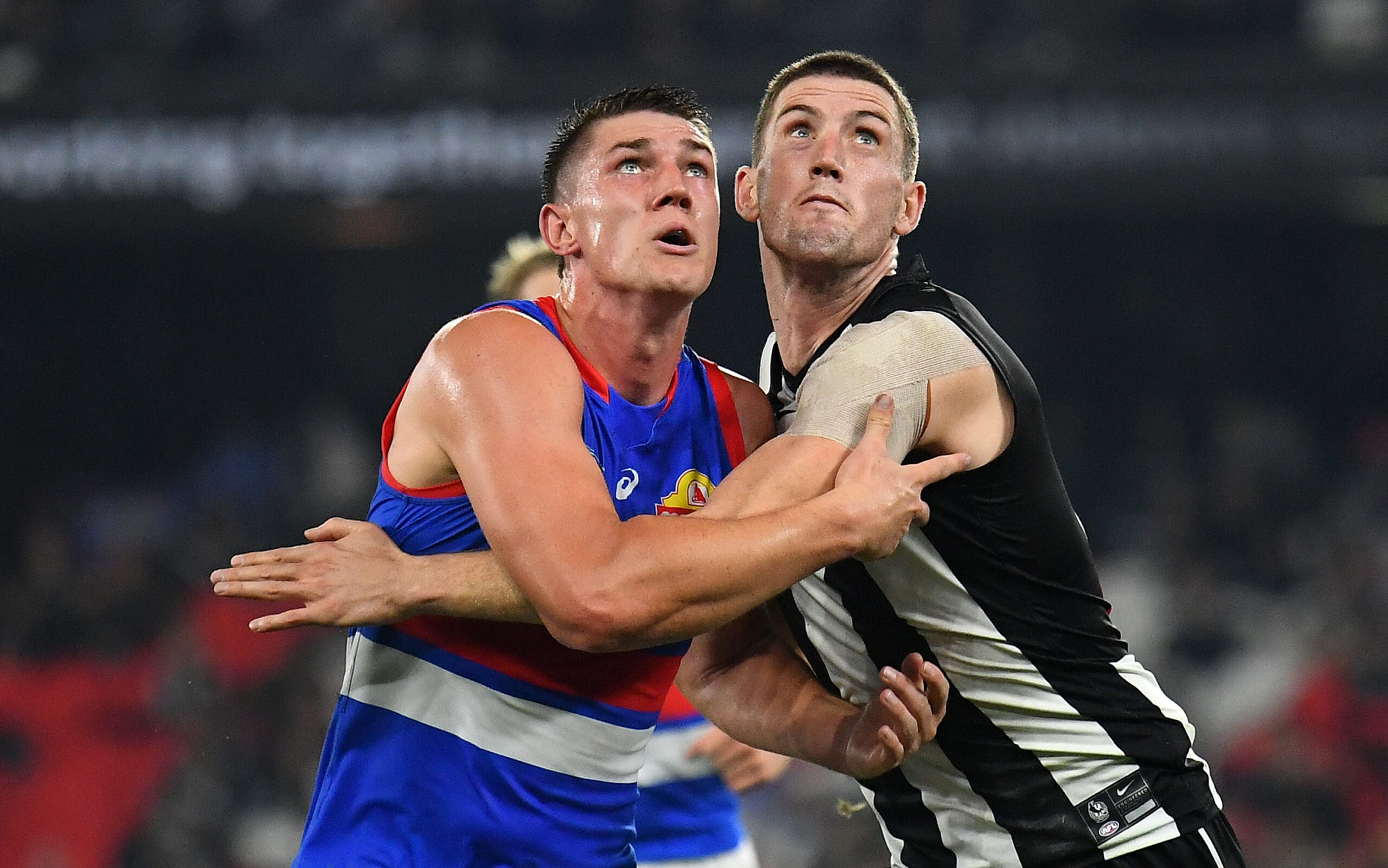 With both English and Rory Lobb ahead of Sweet in the Kennel queue, coupled with Sweet's expiring contract, the 25-year-old could be the perfect target for the Eagles who can place pressure on Williams' spot each week.
Unlikely to cost significant draft capital, wanting greater opportunities and with a string of full seasons in the VFL under his belt, Sweet could be the perfect fit for West Coast's immediate list plans.
Another ruckman to consider that fits the bill includes GWS' Matt Flynn, who had the upper hand over Williams in Round 2 this year before seeing his spot in the Giants' senior side fall to breakout big man Kieren Briggs.
Able to get the best out of their senior ruck stocks now by adding a new face while also giving an emerging talent like Barnett time to develop could be a move that pays off long-term and suits the timing of the Eagles' rise back toward the top.