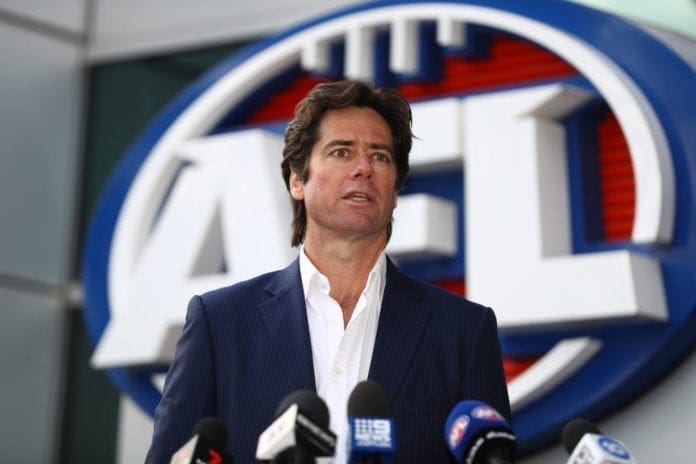 AFL employees are now subject to a stringent new set of rules and regulations regarding wagering after the league updated its gambling policy ahead of Round 1.
Those working within the competition's football, legal and integrity units were told by AFL executive Andrew Dillon on Thursday that they could no longer take part in once-innocent tipping competitions.
Social bets have also been discouraged, including, as reported by Sam Landsberger of News Corp, simple coffee bets between friends.
Umpires involved in league matches right down to under-16 competitions were also made aware that any wager of any form would see the league crackdown.
As stated by Landsberger, even if an umpire is tasked with officiating a VFL fixture, it eliminates he/she/they from any form of wager on AFL contests, even bets between non-AFL employees.
These new regulations run in tandem with the league's stance on official wagers laid with bookmakers, with all AFL and club employees already banned from gambling on the outcome of any league fixture.
The updated policy comes in the wake of the umpire Brownlow betting scandal of last season which saw former AFL field umpire Michael Pell become subject to a police investigation following Carlton skipper Patrick Cripps' victory.
As reported by The Herald Sun, an internal memo sent to AFL employees ahead of Thursday night's season opener stated that: "After a recent review of the (gambling) policy, all team members in Football, Legal & Integrity will have new policy expectations regarding gambling/betting effective immediately".
Further stipulations and restrictions within the email read as follows:
1) A VFL umpire can not place a bet on an AFLW game, even though they do not umpire in this competition as it involves a Sherrin football / an Australian rules football match;
2) A casual AFL trainer also works full-time at David Jones in Brisbane. David Jones is running an online staff footy competition across all their stores and head office teams – the AFL trainer is not permitted to participate in the David Jones staff footy competition as it involves Australian Rules Football (AFL);
3) A goal umpire coach can not have a coffee bet with their best friend from high school that Richmond will beat Essendon in this year's Dreamtime game;
4) If you have already joined any of newly prohibited tipping competitions/bets, can you please contact the organiser to cancel your entry/involvement before next Thursday 16 March 2023?
Landsberger went on to write that several anonymous AFL employees had already been internally alerted by the league's integrity unit due to potential breaches.
Thursday night's season opener left head-to-head punters looking to the heavens after Richmond and Carlton played out their first draw since the 1972 finals series.