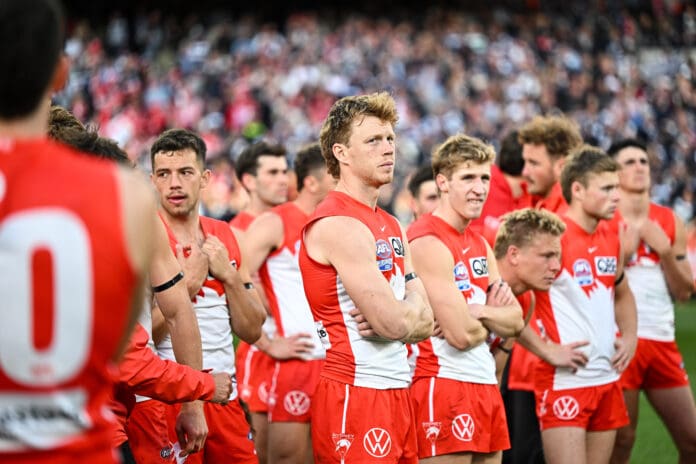 It was a day of misery for the Swans on their return to the big dance, falling to the Cats on the big stage to the tune of 81-points.
While most aspects of the day were a huge disappointment for those in red and white, there were a few bright lights amid the underwhelming performance.
We've rated all 23 Swans after an eventful afternoon at the MCG.
1. Chad Warner - 8/10
One of the few Swans to be given a solid mark. Worked hard throughout the demolition, despite his inexperience. Two goals in a bleak performance up forward for the team is also a big pass mark.
2. Hayden McLean - 3/10
Just four disposals to his name at the final siren summed up a difficult afternoon. Three tackles and a goal on the board aren't quite enough to lift him into a pass mark.
3. Dylan Stephens - 3/10
A quiet day for another Swan. Ended the match with 12 disposals and two clearances, but was more present in the second half.
4. Ryan Clarke - 5/10
14 touches and one goal assist aren't earth shattering numbers but Clarke played a solid defensive role. Wasn't dominant, but did enough to keep respect.
5. Isaac Heeney - 2/10
Couldn't be sighted in the stats book until into the second term in a very quiet performance. Got his hands on the ball more in the second half ending with 11 disposals and seven tackles.
8. James Rowbottom - 5/10
Was far from the worst Swan on the ground but didn't have his best game. Finished with 16 touches and eight clearances, failing to have a significant impact.
9. Will Hayward - 4/10
Got on the scoreboard early but fizzled from there. Managed just 11 touches by the final siren, as the ball made its home in the Geelong forward line.
11. Tom Papley - 5/10
Touched the ball plenty, but failed to have a major impact on the game. A late goal added to his list of stats, but had little influence in the grand scheme of things.
13. Oliver Florent - 4/10
Another Swan who struggled. 13 touches and two marks at the final siren in a tough day at the office as he failed to get any forward momentum out of the backline.
14. Callum Mills - 5/10
One third of Sydney's captain brigade, Mills tried to will on his teammates but could only do so much. A quiet game by his standards with just 13 disposals and a goal after a stellar season.
16. Braeden Campbell - 4/10
Came on as the sub in the second half to a game that was essentially over. Managed to get four possessions and lay two tackles but had very little influence.
20. Sam Reid - 2/10
Looked obviously affected by the injury carried into the game. Subbed at half-time with just four disposals and very little influence to his name. Will be a selection decision debated for some time.
21. Errol Gulden - 3/10
Got enough of the ball (14 disposals) but did very little with it. 365 metres gained and a clearance is about it on the stat sheet.
22. Nick Blakey - 5/10
It was a hard day to be a Swan in the backline. Blakey was under siege for most of it and tried to bring back some attacking flair, but couldn't get anything going.
23. Lance Franklin - 2/10
A very, very quiet day for the champion forward. In a game where goals were hard to come by for the Swans, they were very hard to come by for Franklin. Held goalless by Jack Henry in what was a stellar performance from the Cat.
24. Dane Rampe - 5/10
16 disposals and six marks (four intercept) as he faced the barrage of Geelong goals. Couldn't hold up under the constant pressure, similar to many of his teammates.
26. Luke Parker - 7/10
The veteran Swan stood up when it mattered, one of the best for his under-fire team. 23 disposals, 14 tackles and four clearances. Didn't win his match-up against Patrick Dangerfield, but can keep his head up.
27. Justin McInerney - 4/10
Had a quiet day on the wing as the Cats ran rampant. Finished the day with just seven touches and little influence on the game.
30. Tom McCartin - 3/10
Led his side with seven intercept marks but his game was marred by costly errors. Like most of his fellow backmen, he left the ground soundly beaten by the rampant Geelong forward line.
31. Tom Hickey - 4/10
The rugged journeyman couldn't cap off his cross-country career with a premiership medallion, outmuscled by his opponents throughout the afternoon in a tough day at the office.
39. Paddy McCartin - 3/10
The comeback Swan was far from his best. Managed just one mark and seven disposals, while also recording a goal late after being swung forward.
42. Robbie Fox - 7/10
One of the few Swans defenders who got the better of their man for most of the match. Held Jeremy Cameron to a relatively quiet game after an impressive season from the Cat. Ended with 26 disposals and plenty of respect from the red and white brigade.
44. Jake Lloyd - 5/10
Managed to get the ball but didn't have a major influence on the game. 18 disposals and four marks while stationed at half-back in game number 200.