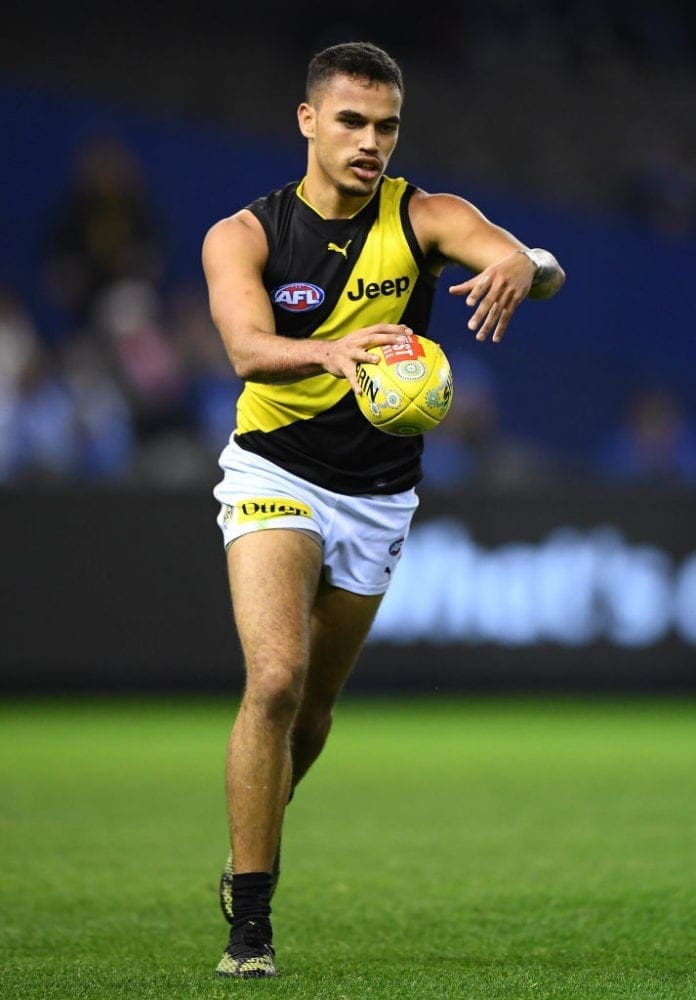 5 Votes: Sydney Stack
Things just keep going from strength to strength for Tigers jet Sydney Stack. Last Friday's loss to North Melbourne was a gloomy night for the Yellow and Black, but the young gun provided a consolation for the Richmond faithful.
The 19-year-old recorded 24 disposals (11 contested), four score involvements and was an all-around presence at Marvel Stadium.
It's sometimes been hard to read the Tigers this season, but Stack has certainly been a predictably strong performer, and last weekend was no exception.
A well deserved Rising Star nomination, too.
4 Votes: Jordan Clark
Speaking of well deserved, recording his first votes for the season is Geelong youngster Jordan Clark, who delivered in spades against Sydney last Saturday afternoon.
Clark was invaluable against the Swans, nullifying the Swan forwards and producing a fantastic performance himself.
The 18-year-old produced an impressive 20 possession game with five score involvements to match.
His courage and speed out of defence was evident for all to see, and could be pivotal for Geelong come the second half of the season.
3 Votes: Xavier Duursma
Put this kid on any oval - and in any country - in 2019 and he is likely to deliver the same results.
Like many of his teammates, Duursma has been a massive inclusion into the Power lineup this season, and Sunday's win against the Saints was no exception.
Duursma picked up 24 disposals and generated a massive 10 score involvements to go along with his 10 marks for the game.
The 18-year-old was massive in Port's demolition of St Kilda and will need to be on song for the rest of the season if the Power is to have a finals birth.
2 Votes: Oskar Baker
Making his debut in the votes this week is also Melbourne youngster Oskar Baker.
Baker produced a composed performance in their narrow loss to the Crows on Saturday night.
The 21-year-old collected 21 disposals and took seven marks in just his third match for the club.
Melbourne will be kicking themselves they couldn't win, but Baker is certainly a consolation for Simon Goodwin's side.
1 Vote: Sam Walsh
Number one draft pick Sam Walsh finds himself in the votes yet again, after doing as much as he could against Essendon on Sunday afternoon.
It was hardly a great day at the office for the Carlton players, but on a gloomy and wet afternoon at the MCG, Walsh could hold his head high.
The 18-year-old picked up 21 disposals, operating at 71% disposal efficiency and was a solid contributor for an otherwise poor Carlton outfit.
Life may be tough for Blues fans at the moment, but the potential of Walsh gives enough reason to stick fat.
Season Leaderboard:
25 – Sam Walsh (CARL)
20 – Sydney Stack (RICH)
14 – Gryan Miers (GEEL)
13 – Connor Rozee (PORT)
12 – Bailey Smith (WBD)
10 – Charlie Constable (GEEL)
8 – Xavier Duursma (PORT)
8 – Jack Ross (RICH)
7 – Marty Hore (MELB)
6 – Jay Lockhart (MELB)
5 – Michael Gibbons (CARL)
4 – Bailey Scott (NM)
4 - Jordan Clark (GEEL)
4 – Jackson Hately (GWS)
4 – Zak Butters (PORT)
4 – Callum Wilkie (StK)
3 – Tom Atkins (GEEL)
2 - Oskar Baker (MELB)
2 – Darcy Fort (GEEL)
2 – Nick Blakey (SYD)
2 – Lachlan Schultz (FREM)
2 – William Drew (PORT)
2 – Matthew Parker (StK)
1 – Josh Rotham (WC)
1 – Will Hayes (WBD)