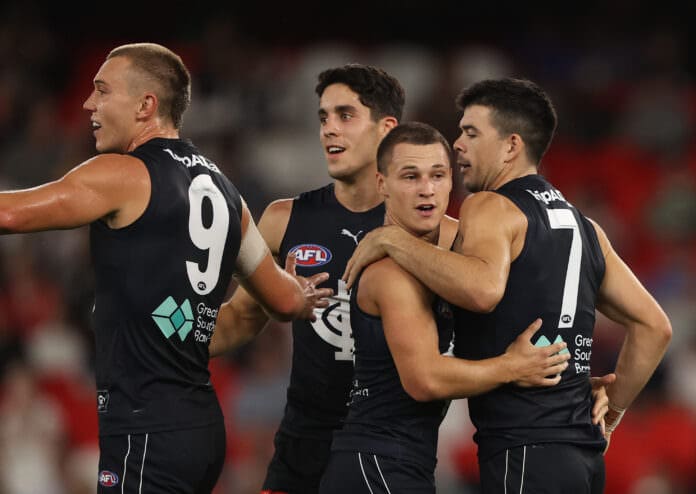 Carlton coach Michael Voss has lauded his playing group after a rousing victory over reigning premiers Geelong on Thursday night, claiming his side was able to "absorb" the Cats' scoreboard pressure late in the game.
Voss' Blues have had a tough go of it in recent times attempting to close out tight games, going all the way back to the end of last season when Carlton coughed up late leads against Melbourne and Collingwood, ultimately costing the 'baggers a finals berth.
The Blues also held a seven-point advantage late in their season-opening draw with Richmond, but then, too, they surrendered late scores en route to a stalemate.
On Thursday night, however, Carlton was able to withstand a late charge from a determined Geelong outfit, claiming a stirring eight-point win to remain undefeated on the season.
Speaking to the media post-game, Voss praised his team's structural execution, noting they were able to play the way they wanted to, as opposed to in Round 1, when the Blues' ball movement was sometimes stagnant and circumspect.
"In the last three and a half minutes I thought we executed really, really well," Voss began. "It was nice to be able to get through that (tense) moment.
"[Our game plan] looked right. There were some aspects of our game last week, which we lost some critical contests and we were forced to sort of play a game we didn't really want to play. But today, I thought we had great balance in our game, at contests was A-plus, but also balance on both sides of the ball was pretty good tonight.
"[We were] challenged, absolutely challenged, but we stood up."
Voss made it a point to commend his side's absorbent nature at the end of last night's contest, stating it's a 'great quality' for any squad to possess.
"I spoke about it last week, maybe some people missed it, but a great quality to have in your football team is being able to absorb," said Voss.
"Any game, there's moments you have to absorb, because, when you play against really good football teams like Geelong, they know how to come at you, they know how to put a surge on, so in those [situations], whether that's three minutes or five minutes, 15 minutes, you have to sometimes just be able to absorb, and that's what we've done.
"That's what we did last week and we did it again this week, and when I talked about being proud of the group, that's what I was proud about. So, we'll keep emphasising those moments where we have to be able to do that, and then when we get our chance to be able to get the momentum back the other way, hopefully we can capitalise."
Inquired about any such 'monkey off the back' of the Blues in terms of faltering late in games, Voss brushed it off, maintaining confidence in his group's ability to close out contests.
"Yeah, it wasn't the monkey on our back, that's for sure," Voss stated defiantly.
"We never looked at it that way whatsoever. But, it had to be that way (surviving a close game with a slender lead) didn't it? It just had to be that way. I said to the players afterwards, I said "it just had to be that way, didn't it?" We had to win really tough in the end and we got the correction we were after, which was really pleasing to see.
"[We'd] like to be able to put the foot down [and win by more], but I don't think we can be too fixated on how the finish was, I think we're pleased that we were able to absorb and, in a pretty critical moment, we were able to do the right things at the right time."
The Blues have an eight-day spell before next Saturday's Round 3 clash with the GWS Giants in Sydney, when they will look to stay undefeated in the young season.