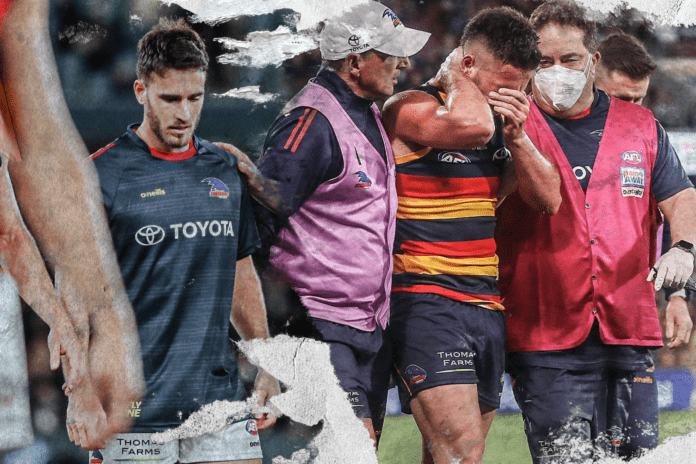 When it comes to taking risks Lachie Murphy has often looked to roll the dice when he can, and with each step he takes on the field for Adelaide he does so.
Surgery for a persistent neck injury in 2021 left Murphy's career hanging in the balance - a career that might never have come to be had it not been for the opportunity to support his best mate's AFL dreams over 700 kilometres away.
Twice in as many years Murphy took a punt on leaving the northern suburbs of Melbourne for Adelaide with just a minute chance to earn an AFL contract, evening taking on a job at the CROWmania shop just to get by in a new city.
The decision to leave for South Australia, one he didn't discuss with his mum or dad at the age of 17, is one that has led to a career of adversity and celebration for the Adelaide forward.
He spoke with Zero Hanger on undergoing career-threatening spinal surgery, a "whirlwind" road to the AFL, the club's firing forward line and the influence of Darren Burgess.
"I've never been more scared in my life, laying on that surgery bed."
In December of 2021, Murphy was required to undergo spinal cord surgery for a bulging disc in his neck, having experienced a worrying affliction on multiple occasions across the same off-season.
Discussions with the club's medical staff led to the operation being the best call to action for Murphy's health, despite the young forward being left scared for his life.
Awaiting to go under the knife on a surgery bed, Murphy could only try to keep an open mind while battling with the thought that he may never play football again.
While the operation was a success, the ongoing effects have continued to have their impact on Murphy to this day, with the Crow struggling with sleep and required to take on lighter training loads.
Detailing the "daunting and challenging" mental battle that came before, during and after the surgery, Murphy said he had feared for not only his career, but his life away from football.
"It was a strange one. I had a disc replacement in my spinal cord in my neck. Obviously being told that as a 23-year-old is quite daunting, and you sort of straightaway go 'what's life gonna be like after this? Will I be able to play again?'" Murphy told Zero Hanger. 
"All of that went through my mind and we had a lot of discussions and a lot of talks about what was going to be the safest thing, and that was to go ahead with the surgery.
"The recovery was tough mentally and physically. A lot of the rehab was probably similar to the F1 drivers or NFL players. The surgery itself isn't very common in Australia, at least with AFL players.
"So sort of not expecting that at all, not knowing what the hell was going on almost in a way was good because I needed to have an open mindset. I didn't know if it was going to be sore or if it'd hurt. I knew it was going to be challenging, but I just had an open mind to everything that happened.
"Last year was probably the toughest year in terms of mental application for me, just having a sore neck for the majority of the year. I couldn't train all that often and sleep was something that I struggled getting consistently which obviously is quite important.
"Through the support staff around me there's been no issues this year. There's always things that I'm rehabbing, it's going to be a constant thing throughout my career to stay on top of. You can imagine when you have poor sleep and you've got a wry neck it can be quite sore and mine I guess is just on a bit more serious level to that.
"It was quite scary and daunting and challenging. I've never been more scared in my life, laying on that surgery bed knowing they're cutting through my neck, but it all turned out for the better."
Murphy is in constant dialogue with club physicians, still needing to work through an alternative program compared to his teammates.
While the risks of more spinal damage spike with every game and training session, Murphy is doing everything he can to get the most out of his career.
"I'm always checking in with the surgeon, checking in with the doc, still staying on top of the rehab program that I was doing to get it right in the first place," he said.
"I still do a lot of stuff with the physios around it. I have a little bit of a different program to others just to help stay on top of it which is great.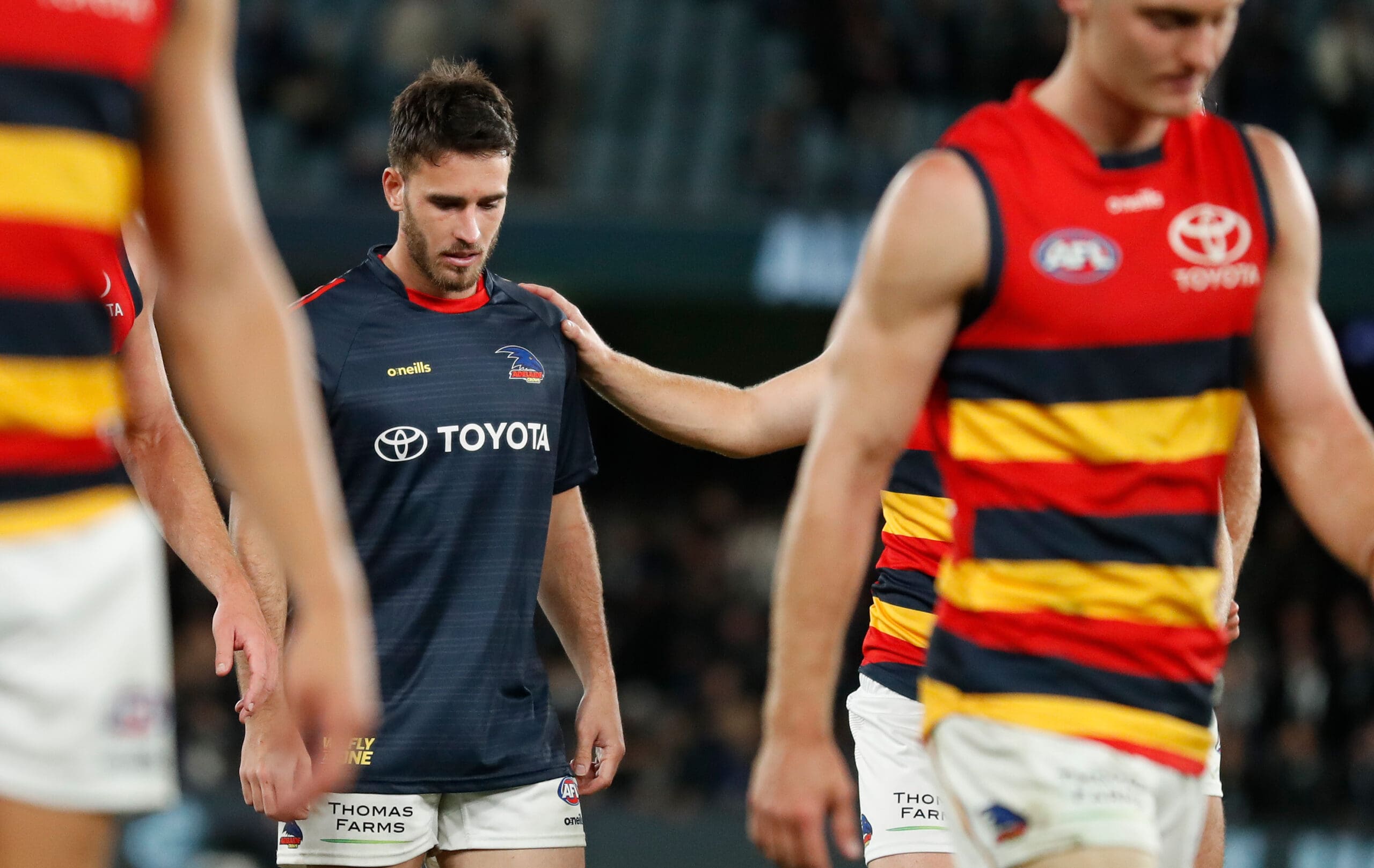 "I've got terrific support with physios Tim Cook and Tim Parham, they're world-class. I work with them really closely for the majority of the week just to make sure I'm always right.
"This year it's been good. I got a full pre-season and I'm just glad to be fit and healthy and playing some good footy."
The Crows shop assistant that took on a five per cent draft chance  
Without initially discussing the idea with his parents, a 17-year-old Murphy decided to pack his bag and head to South Australia shortly after missing his chance at the draft in 2016.
An invitation to be part of Adelaide's SANFL program came more as a chance for Murphy to help close friend and Crows rookie Matthew Signorello acclimatise to life in South Australia, a move that would pay dividends for Murphy further down the track.
The Northern Knights product was placed with a host family in town and managed to find a job at a local liquor store before signing his first deal with Adelaide - a role at the club's store, CROWmania.
"I wasn't even thinking (about being drafted) to be honest," Murphy said.
"One of my best mates got drafted to the Crows, Matthew Signorello, and I was just gonna go sign in the VFL somewhere.
"I thought I had a pretty good TAC Cup year. I didn't play Vic Metro or anything, I never got to represent the state. I always sort of got cut at the last stage. I thought there wasn't much more I could have done in terms of performance in the Under-18s competition.
"So I thought for some reason that the VFL wasn't gonna work for me and Adelaide called after the draft and said we want you to come over and play in the SANFL team and help Signorello because he'll have a friend there.
"I just thought 'right okay, this is a bit strange'. I was 17 at the time and obviously had some things to weigh up. I'd never really had a part-time job or anything, I don't even know what I was thinking.
"I agreed to it and four weeks later I was in Adelaide living with a host family and applying for jobs at work. I worked at a bottle-o, I worked at the CROWmania shop at the club and I got to train with the AFL team once a week, which was extremely exciting for me."
An impressive full season in the SANFL still wasn't enough for Murphy to land a promotion to the Crows' senior list, with the club only managing to hand him their best wishes as he returned home.
The dream on a professional football career remained alight though, with another call from the Crows offering Murphy a second training chance, only this time shorter and with greater purpose.
Told to 'come back a bit fitter' and train with the Crows' emerging contingent, Murphy's "five per cent chance" paid off, with Adelaide selecting the then-defender with the 38th and last pick in the 2017 Rookie Draft.
"That year I played every game in the SANFL as a back-pocket and I think Don Pyke (Adelaide senior coach) just loved the way I went about it," Murphy said. "I got told at the end of that year though that I wasn't going to be drafted and sort of 'thanks for coming over and hope you had a good experience'.
"So I went back to Melbourne for a couple of weeks and I got a call saying I've 'got a five per cent chance if I can back a bit fitter, we'll fly you over, you can train with the young boys two weeks before the draft', and so I did and got picked up in the last pick of the Rookie Draft and I haven't looked back.
"It was definitely a whirlwind sort of draft experience, not the traditional experience. But I'm glad I jumped on that flight to Adelaide, it's worked out for the better I guess.
"I don't even think I discussed it with Mum or Dad. I sort of just told them I'm gonna go to Adelaide and play in the SANFL, and they were just like 'um what?' But they were just really supportive.
"It was just a spur-of-the-moment sort of thing and obviously I had my best mate Matty over there. Even though I was only there in a SANFL capacity they embraced me and brought me in as one of their own and that was really exciting. I felt a lot better."
A "very fun forward line" and the role of not kicking goals
Currently a cog in Adelaide's humming attacking pack, Murphy is enjoying the best football of his career as a defensive-minded half-forward.
New addition Izak Rankine has only sharpened Matthew Nicks' spear, with Murphy, Josh Rachele, Luke Pedlar and Shane McAdam joining the former Sun in competing for roles while taking on an equal share of the responsibility in the front third.
Adelaide have posted four successive scores of 108 points or more to find themselves right in the hunt for a top-eight finish after just five rounds, with the Crows' 'next man up mentality' bearing fruit early into the year.
"It is a very fun forward line to be a part of," Murphy said.
"It makes my life a bit easier with the fact that I'm not expected, per se, to kick as many goals. I still love to get on the end and I'd like to take my opportunities when they come and present themselves, but just understanding everyone's role in the front six/front seven.
"The connection has been great. We're connecting well with the mids and back as a team.
"Rankine, Rachele, Fogarty, (Taylor) Walker, (Riley) Thilthorpe, Pedlar, (Ben) Keays, they're just all so exciting and great talents, and to be able to play my role in that front seven it's been good.
"... at times last year I might've been the most experienced forward as a 23-year-old that had played 60 games. It is obviously a bit unique, but 'Keaysy' has played plenty of footy now, Rachele is into his second year... we've all got qualities of leadership in that front seven and we're all on the same page and connected at the moment.
"It doesn't really matter if you've played a couple of games or 250-odd like Tex, as long as you know your role and you play it, it puts us in good stead."
Speaking on the competition for spots at selection, Murphy said: "It's a great problem to have.
"Ned McHenry is probably playing the best footy of his career. We know how good Shane McAdam is. Lachie Gollant comes in and plays his role, Tariek Newchurch is playing well in the seconds. There's a healthy competition for spots all over the ground.
"If you look at the top sides in the comp, I daresay there's some pretty handy footballers not getting picked in those teams as well.
"There's pressure for sports every single week. So you've got to perform, it's as simple as that."
For Murphy, honing his defensive craft is just as critical as his prowess in front of goal, often tasked with taming each club's most damaging half-back.
Having finally enjoyed an uninterrupted pre-season, the results are showing for the small forward, who is seeing career-best figures for disposals, marks, inside 50s and clearances in 2023.
Sitting outright second in the competition for goal assists per game, Murphy is more than satisfied to be the second last link in a scoring chain for his side.
"I think the coaches know what I'm gonna bring and what I need to bring for us to win. My role is more around the defensive side of the game and to put pressure on opposition half-backs," he told Zero Hanger. 
"I think every team in the comp has an elite half-back and that's the way the game is played at the moment, where they generate a lot of their attacking ball movement.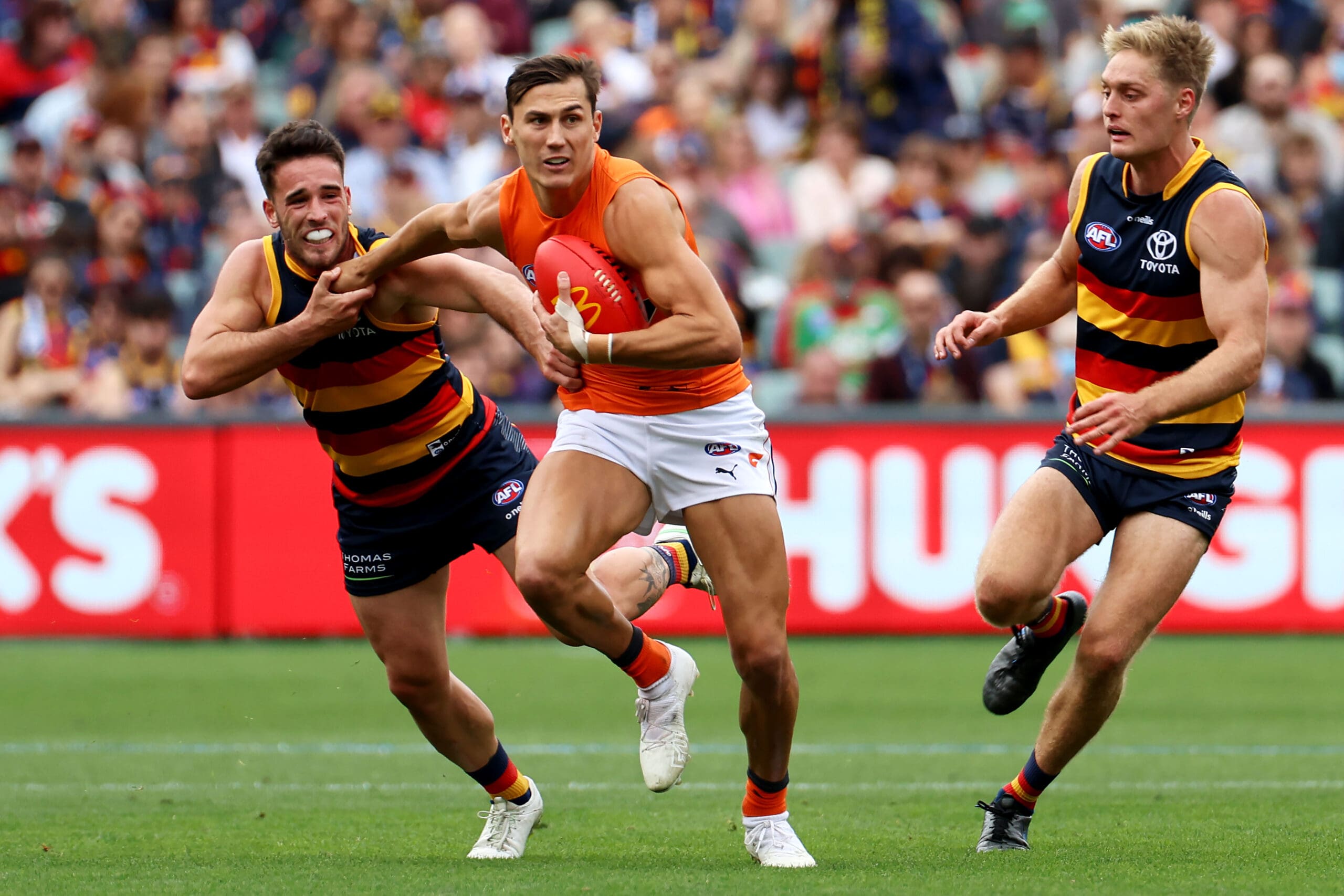 "I pride myself on pressure, getting at the opponents. (Improvement) for me is getting a bit more involved on the offensive end and it hasn't necessarily come through goals at the moment, but to be able to get on the end of an assist here and there and still be involved with our scoring link-ups and involvement has been something that I've been working on over the summer.
"We've been able to put a score on the board for three weeks in a row now and to be able to contribute to that it's been really good for me."
"Scary" good guy Darren Burgess 
Highly-rated high-performance manager Darren Burgess is one of many who have played their part in Adelaide's vein of form, with the Crows having zero games of AFL experience on their injury list heading into Round 6.
The former Melbourne, Port Adelaide and Arsenal guru hasn't only managed to implement an efficient system at West Lakes, but has built key relationships with each player since stepping foot through the door.
"He's a really good fella. Probably from the outside he can be a bit scary, which he definitely can be, but he's a really, really good guy and he understands everyone's bodies really well," Murphy said of Burgess.
"He pushes you quite hard and it can be a mental challenge at time, or a lot of the time in the summer, but he's been terrific for our group and as you can probably see by looking at our injury list we're in a really good space at the moment.
"A lot of that can be credited to the strength and conditioning team, obviously led by Darren.
"They say you can't win premierships in January, but you can lose them in January. So to be able to be available, front up and train as hard as you can over those summer months, they hold you in good stead for a good season."
Murphy credits the Crows' newfound fitness levels for their ability to pack in a four-quarter performance most weeks, with their aerobic capacity and subsequent freedom with the ball new strengths for Matthew Nicks' side.
"I've looked to get my tank to a level where I can go up the ground a bit more and play through stoppages, which helps me get involved a bit more in the game," he said.
"And I guess our ball movement helps that as a high half-forward, being able to run on that open side of the ground and get some reward with a switch kick from our defenders, who have been superb at the moment.
"As a footy team we're moving the ball a bit more and we're less predictable to our defence, and I think you'll find that everyone across the board is probably getting more touches. That's just credit to a ball moving at the moment."
Murphy and the rest of Adelaide's forward third don't have to look far for guidance from those who know a thing or two about the top flight.
Not only do the Crows' young flock have viable assistants in James Rahilly and Mathew Wright to learn from, but also the tutelage handed down from the club veterans in Taylor Walker and Rory Sloane.
"James Rahilly is just one of the best coaches I've ever had," Murphy said.
"He's our forwards coach and he comes from a wealth of experience playing and coaching at Geelong, who are extremely successful. He's terrific.
"Matthew Wright is the development forwards coach and I do a lot of work with him. He's a similar size and (played) a similar role, he was a far better footballer and played a bit more midfield, but to have his guidance as well has been terrific and a big help for me.
"Then you get blokes like Taylor Walker that have been around for 100,000 years that help out with the way he sees the game. There's plenty of experience on the coaching side of things, and we've still got the Rory Sloanes and Rory Lairds that have been around for a long time."