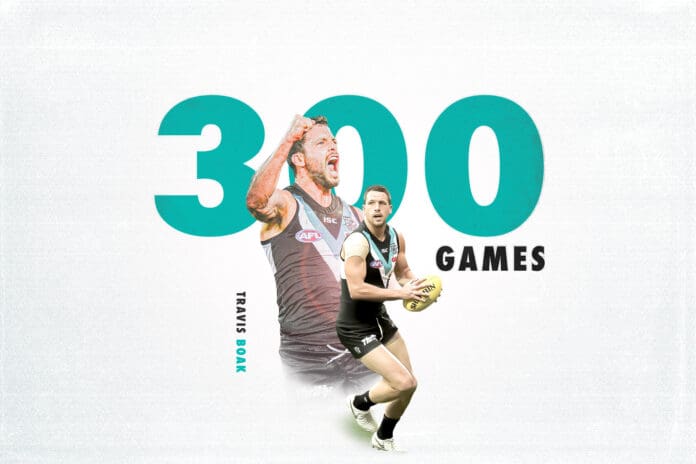 In 2006, noted Port Adelaide supporter Daniel Smith recorded how until that point, his life had been a journey down a hard road.
Smith, better known as MC Pressure of South Australian hip-hop collective 'Hilltop Hoods', stated that despite his travels, others had no idea where he had been.
The same cannot be said for the long-term hero of the Alberton Crowd, Travis Boak.
Although Boak may have chosen a different vocation within the rapper's state of origin, there is little doubting that the midfielder's trek towards his 300th game on Friday night has been anything close to an easy path.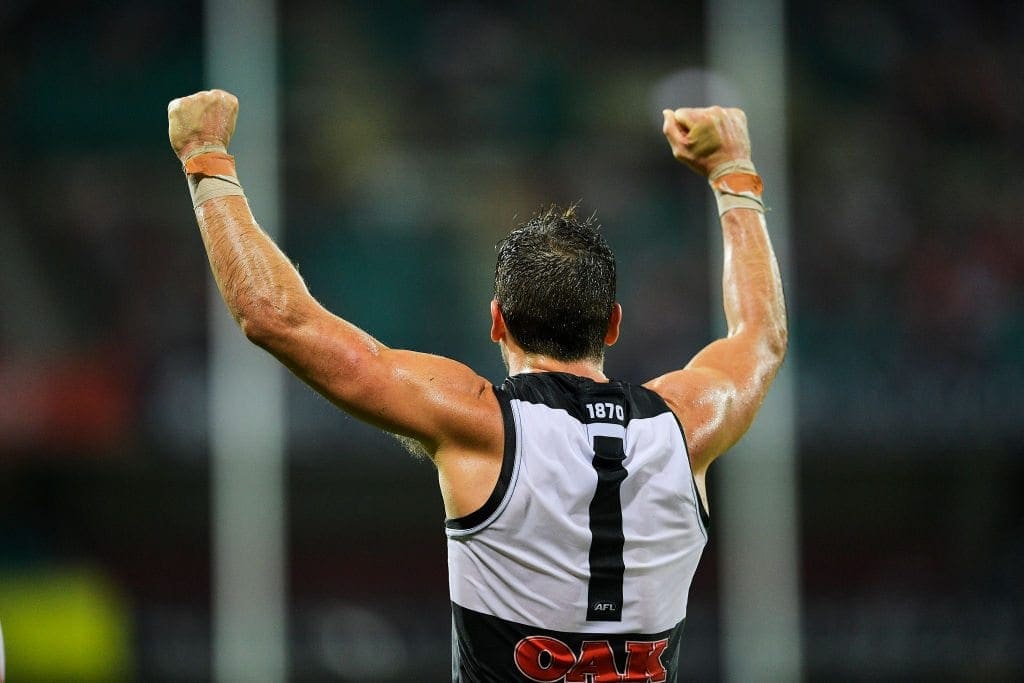 Even today, as the 32-year-old addressed the media via Zoom, the surf-coast of Victoria native was forced to speak, and smile, behind a club branded mask.
Whilst awaiting a Covid test that would allow him and his displaced Port teammates to train under the Marvel Stadium roof on Wednesday night, Boak spoke of his journey from a brokenhearted Torquay teenager to an all-conquering Port Adelaide legend.
SEE ALSO: "I get a bit pissed off with people saying that": Mitchell categorically denies Clarkson rift
"Obviously, [it's] not ideal circumstances in not playing in front of our adoring Port Adelaide fans, which would've been lovely, and my family of course as well, but it is what it is and these are the times at the moment," Boak began.
"I'm just so grateful to be actually able to play for this footy club for one game, let alone 300. To still run out with my best mates is what I'm most grateful for.
"I would have loved to have played in front of our fans, and in front of my family, but the circumstances are we can't, but I'm still very grateful to be running out there on Friday night."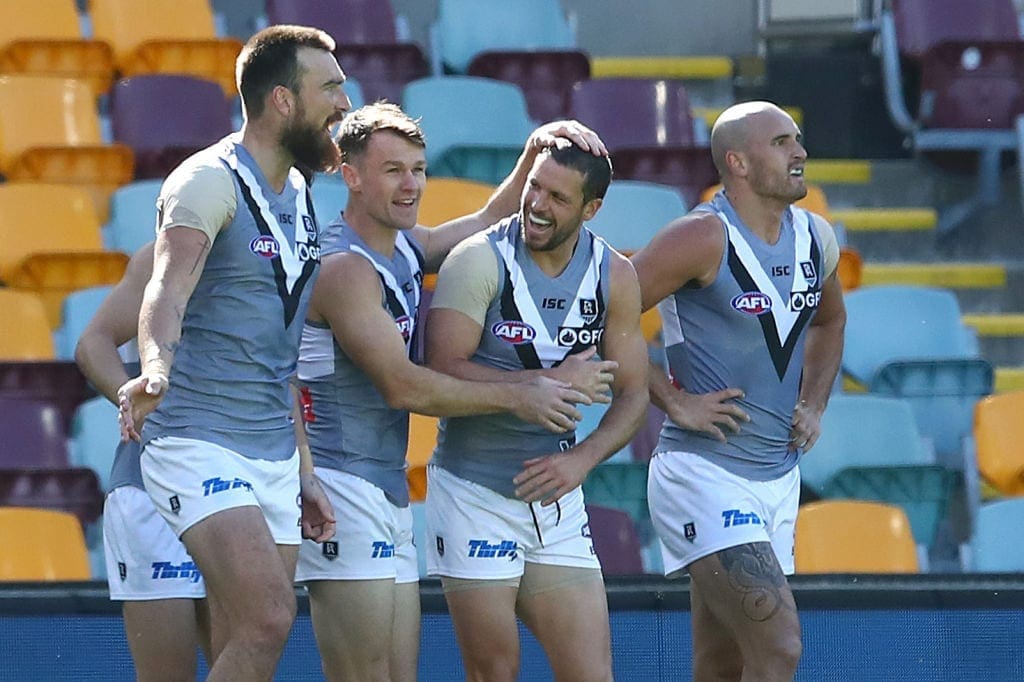 With football being a team game, the ex-captain spoke about how it was the support of others that had allowed him to sit on the precipice of his seismic personal achievement.
"I think the one thing that comes to mind is how lucky I've been and how fortunate I've been to have so much great support with the Port Adelaide footy club and my family, my friends, our supporters," Boak continued.
"I'm just so grateful for that and that's who I'll be playing for on Friday night. It's certainly the ones who have supported me the whole way and the ones who have been there when it's been tough."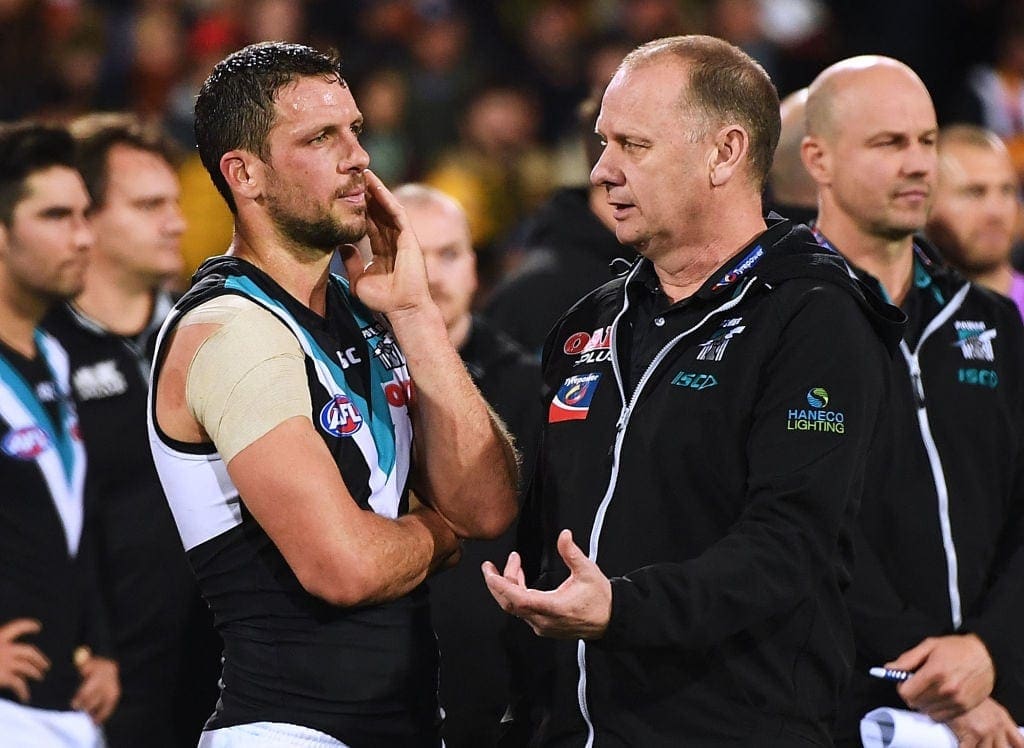 Although Boak was quite rightfully over the moon when he was taken by the Power with the fifth overall pick of the 2006 draft, the then 18-year-old was cruelly denied the right to celebrate with all of his nearest and dearest.
Despite being seen as a hardnosed midfielder that has been able to take everything in his stride both inside and outside of the boundary, Boak's life was altered forever just two-years prior to the draft when his father, Roger, lost his battle with cancer.
"My dad was only in his 40s when he died of cancer," Boak told The Resilience Project last year.
"He was much loved by us and the local community. He played footy, he was very healthy – never smoked or took drugs. Once he passed away, I never dealt with it. I had so much anger and resentment. I thought it was so unfair that I lost my dad and others were taking it for granted that they still had theirs."
Even though Boak couldn't tear the tops off a few beers with his old man on the night his dreams were realised, the single strongest and most influential person he had ever met in his life was still right beside him - his mother, Chicki.
With his mother working hard to provide for he and his sisters, Boak rhapsodized about her importance to his life and how her love and support had been paramount in his successes both with Port and during life in general.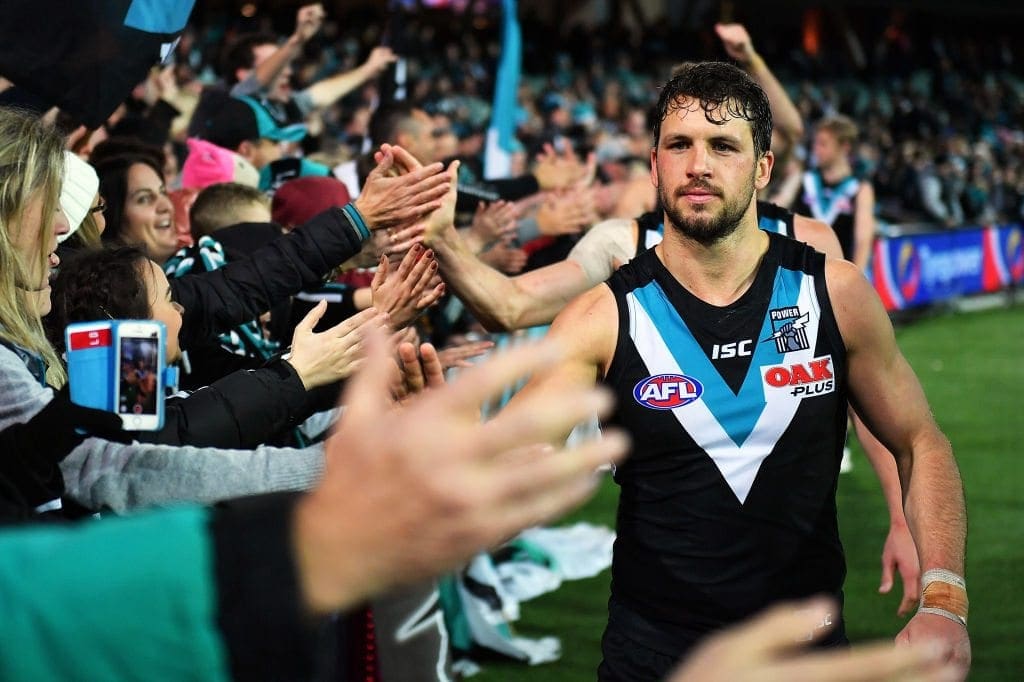 "I could talk forever about Mum and about what's she's been able to do for me," Boak explained
"It's been a pretty tough journey. Leaving home when I was 18, leaving Mum and my sisters was one of the most challenging times of my life.
"She's been able to support me through everything that I've been through,"
Although still based in Torquay, Boak spoke glowingly about the fact that Chicki never missed any of his games and that she had always been prepared to go the extra mile for her kids - even if it was to her detriment at times.
SEE ALSO: Footy legends outline issues with new rule
"There's a funny story – maybe not for Mum – but when I needed to train one day, we went down to the Torquay footy oval and Mum was running around and ended up doing her knee," he expounded.
"I think she ended up doing her MCL.
"I've put her through a lot of pain, so I'm indebted to her forever."
The three-time All-Australian continued the anecdote by describing how, at that stage, he couldn't drive his mother's manual car and how the task of inching the pair home fell at the feet of the hobbled Chicki.
With his family obviously owning a large portion of his heart, some at Alberton feared that Boak would never make it to the 300-game milestone with the club.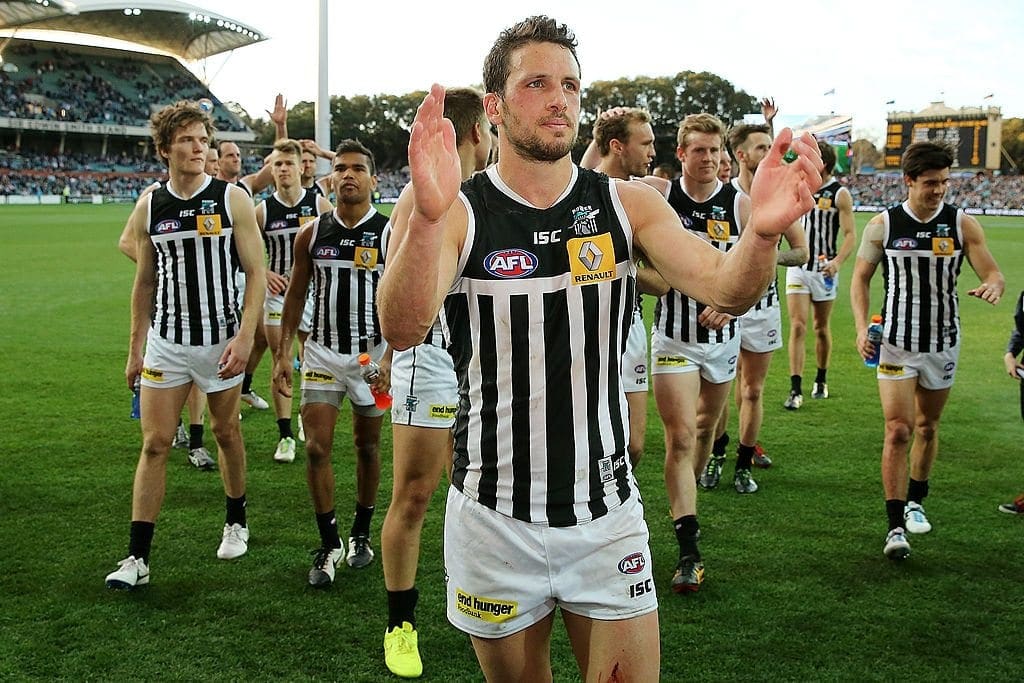 However, in 2012, the soon to be Port Adelaide Power games record holder rebuked advances from Victorian clubs and instead planted his flag with the club that drafted him.
When quizzed about this sliding doors moment on Wednesday morning, Boak claimed he could not have been more content with his decision.
"No regrets at all," he stated emphatically.
"It was the decision I wanted to make to help move this club forward with a lot of other guys and we've certainly been able to do that. We haven't achieved the success we've wanted to yet, and hopefully that's not too far away.
"There's no regrets. I've enjoyed every moment at this footy club. Even the downs, and they're the ones that make us so much stronger and we learn so much from those challenges."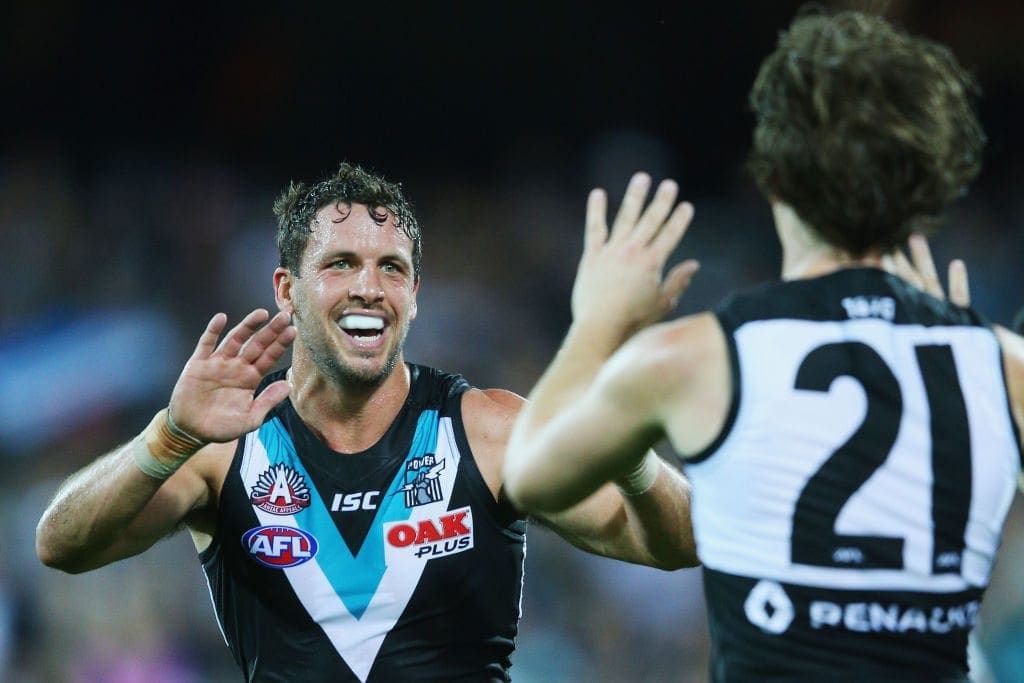 As both his native and adopted states are currently in the throes of yet another pair of lockdown periods, these challenges have intensified this week, with Boak once again separated from his immediate family.
Still, the midfielder explained that he was currently attempting the Sisyphean task of trying to convince the league to allow Chicki and his sisters to attend Port's clash with Collingwood on Friday night.
SEE ALSO: Dusty set for substantial sideline stint
At 32, plenty has changed since Boak left his childhood years behind. However, the boy that became the man still explained that his lifelong dream remained unfulfilled.
Boak revealed that it still remained his ultimate goal to exit the AFL with a premiership medallion, but that if fate, and opposition footballers, denied him, it would not define him.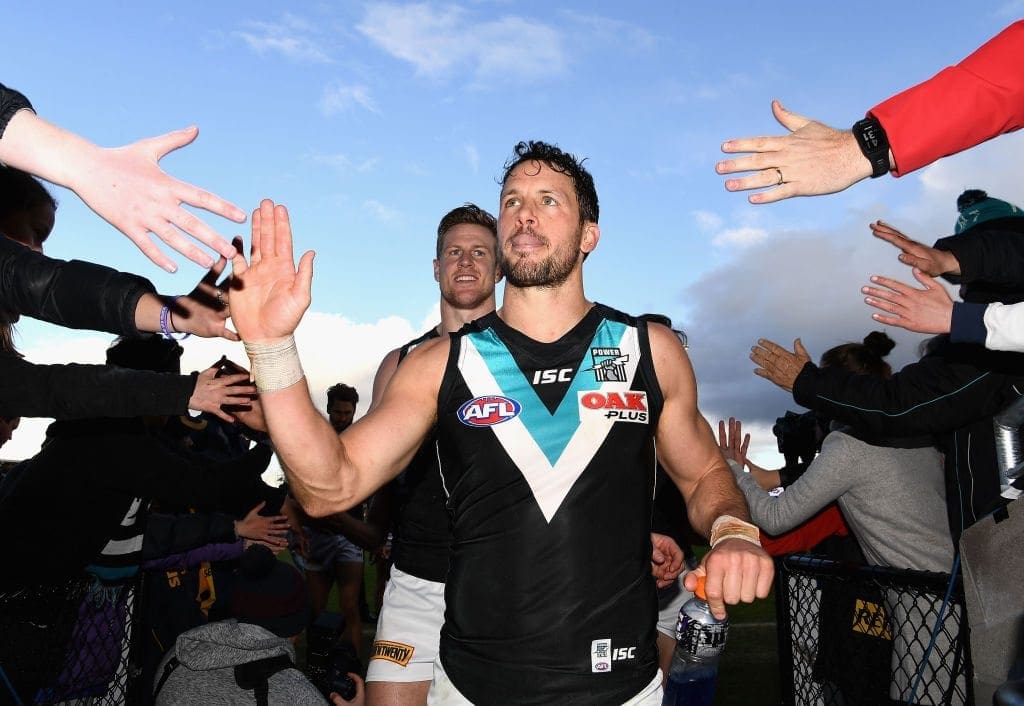 In the same year that the superstar was drafted, the aforementioned Daniel Smith also claimed that although others had no idea where he had been, he himself had no idea where life would take him.
When asked this week what the proverbial crystal ball held for him at Port, Boak concurred with the lyricist.
"I have no idea," he admitted.
"I'm enjoying the game as much as I ever have. My body feels really good, and I'm really energized to keep learning, to keep growing, to keep getting better, to keep helping out our younger guys come through.
"I don't have a number [of games] in mind."
Like Smith and Boak, none of us can ever be entirely sure of what the future holds, but what is known is that the latter of these icons still has plenty up his sleeve.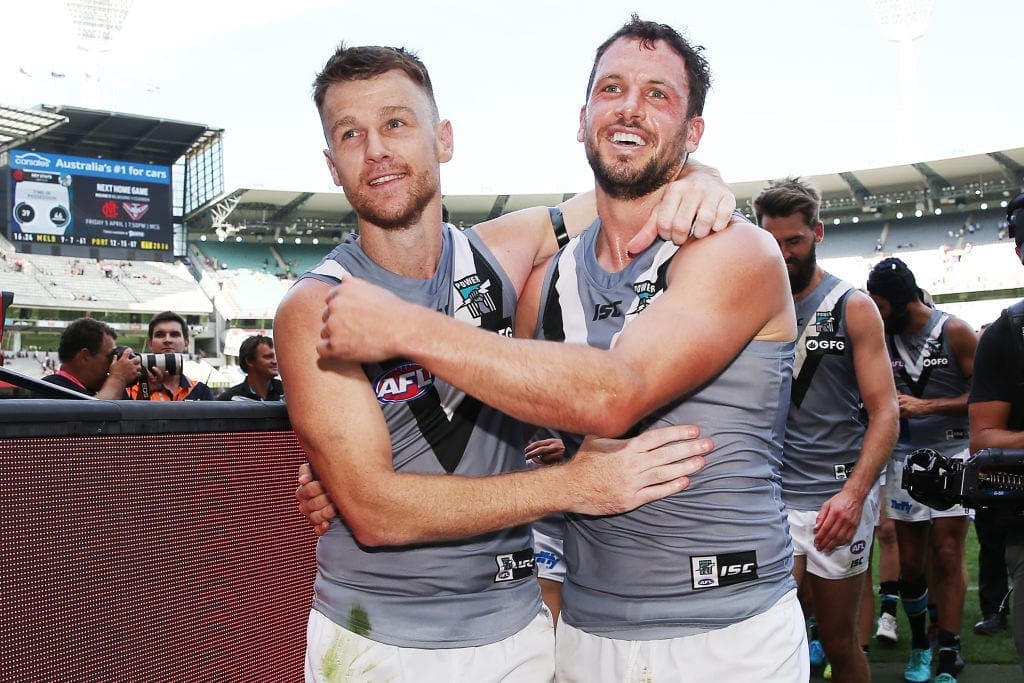 Across the past two-seasons, Boak has found the ball an average of 25-times per game. 2020 also saw the fearless engine-roomer claim his third All-Australian blazer and finish runner up to Brisbane's Lachie Neale on Brownlow night.
If Smith's lyrics from the ever-popular track 'Nosebleed Section' have taught us anything, it is that he will be watching Boak ply his trade for the Power on Friday night whilst clad in a hoody.
If Boak's play has taught us anything across the past 15-seasons, it is that he certainly won't be hiding when the ball is up for grabs.