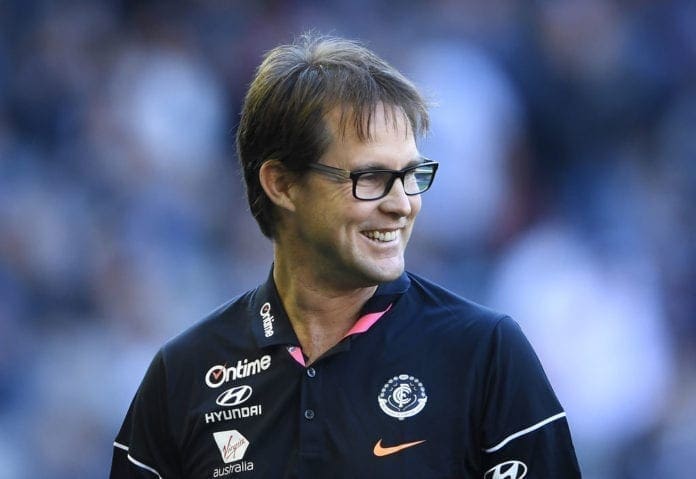 Over the past month, the conversation has ramped up about the future of Carlton coach David Teague. While the decision to let him go seems inevitable, new president Luke Sayers has said that the club won't rush the process.
Many Carlton fans are excited about a new coach, with some big names (Clarkson and Lyon) being mentioned as potential successors.
At the beginning of his coaching journey, Teague became an instant success winning the admiration of players and fans with an impressive 2019 campaign. The 'Teague Train' was so successful that the Carlton board had no other option but to sign him up until the end of 2021.
The public perception of Teague has since soured, especially with embarrassing losses to Gold Coast, North Melbourne and Port Adelaide in the past month.
Throughout the year, I have been reflecting on Teague's time at Carlton. His entire time in charge has been riddled with adversity and challenges from a global pandemic.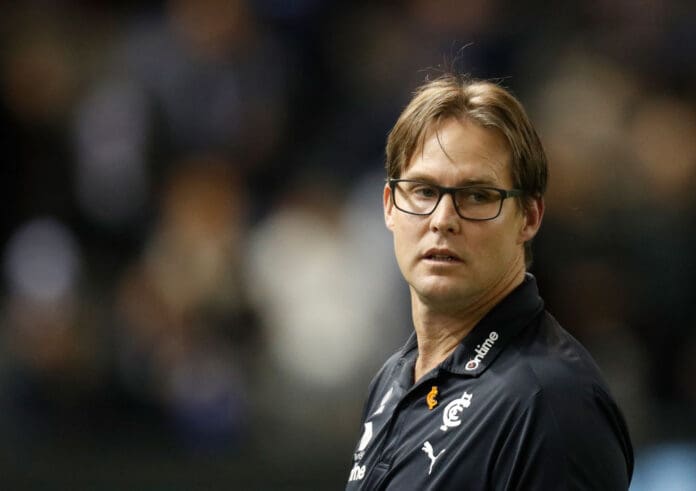 He has spent the best part of this season dealing with rumours about himself, star players, the board, and the impending external review.
There has also been a series of unfortunate events that have prevented him from implementing his full game plan. Whether it was injuries, suspensions, coaching changes, or relocations, Teague hasn't been given a clear runway.
While the decision is reportedly already made, I wanted to have a look at Teague's coaching within his first 50 games, and why I think he could coach the Blue's in 2022.
Injuries Injuries Injuries
While injuries don't justify the lack of intensity and effort seen over the past month, it doesn't help the situation. The Blues have been ravaged with injuries throughout Teague's past few seasons, with 2021 creating severe adversity and challenges for the Carlton list.
Throughout the 2021 season, only Adam Saad, Jacob Weitering, Sam Walsh, and Ed Curnow played in every single match.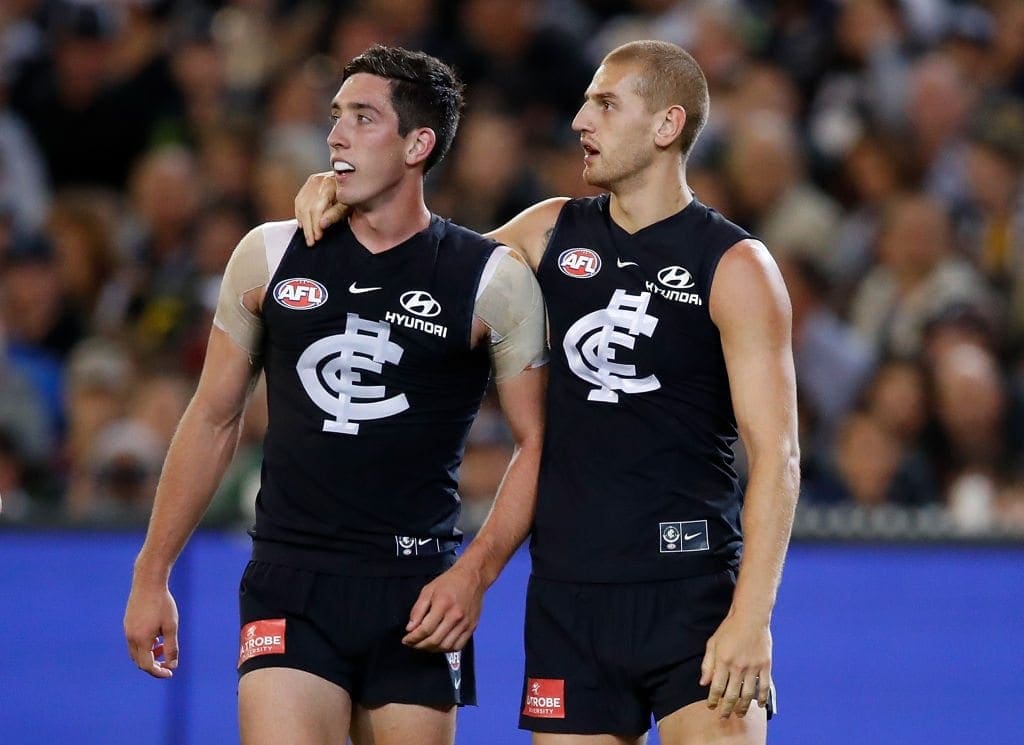 Patrick Cripps is the next highest, only missing two matches. The Blues co-captain's performances weren't up to his usual high standards, however, playing through injury for the majority of the season. This included needing weekly injections to even manage to get through each match.
The Blues have had at least 16 players that have missed over eight games of football. The majority of those are due to injuries. The following list is 16 players who could all of realistically pushed for a spot in Carlton's best 22. Kemp and Philp, while behind the others in the pecking order, are both first-round selections taken less than two years ago.
Caleb Marchbank - 22 games missed                   Zac Fisher – 12 games missed
Sam Philp – 22 games missed                             Michael Gibbons – 11 games missed
Brodie Kemp – 20 games missed                         Jack Martin – 11 games missed
Oscar McDonald - 19 games missed                     Matthew Kennedy – 9 games missed
David Cuningham – 18 games missed                  Tom DeKoning – 9 games missed
Charlie Curnow - 18 games missed                      Marc Pittonet – 9 games missed
Mitch McGovern – 17 games missed                     Zac Williams - 8 games missed
Will Setterfield - 14 games missed                        Sam Docherty - 8 games missed
Cornerstones Harry McKay and Liam Jones also missed key games in the final few rounds of the season, which increased the difficulty of coaching this side considering the importance of both players for structure and system.
As previously mentioned, injuries don't excuse the Blues for some of their efforts. But it does help demonstrate the point that Teague didn't have a fair run at the season. While expectations were high, the reality was something different. Any team that suffered similar injuries woes would have had a difficult 2021 campaign.
A bounce-back season in 2022 and pushing towards the finals is quite likely for any coach of this team, providing they have a better run of injuries.
Development of key players
While there have been some questions (often valid) about Teague's role in the lack of opportunity of some players (Sam Petrevski-Seton, Paddy Dow, Lochie O'Brien, and Josh Honey to name a few), there are a few who have shone under the Teague system.
Harry McKay has won the Coleman medal, Sam Walsh is a Brownlow contender and Jacob Weitering has turned into one of the league's premier defenders.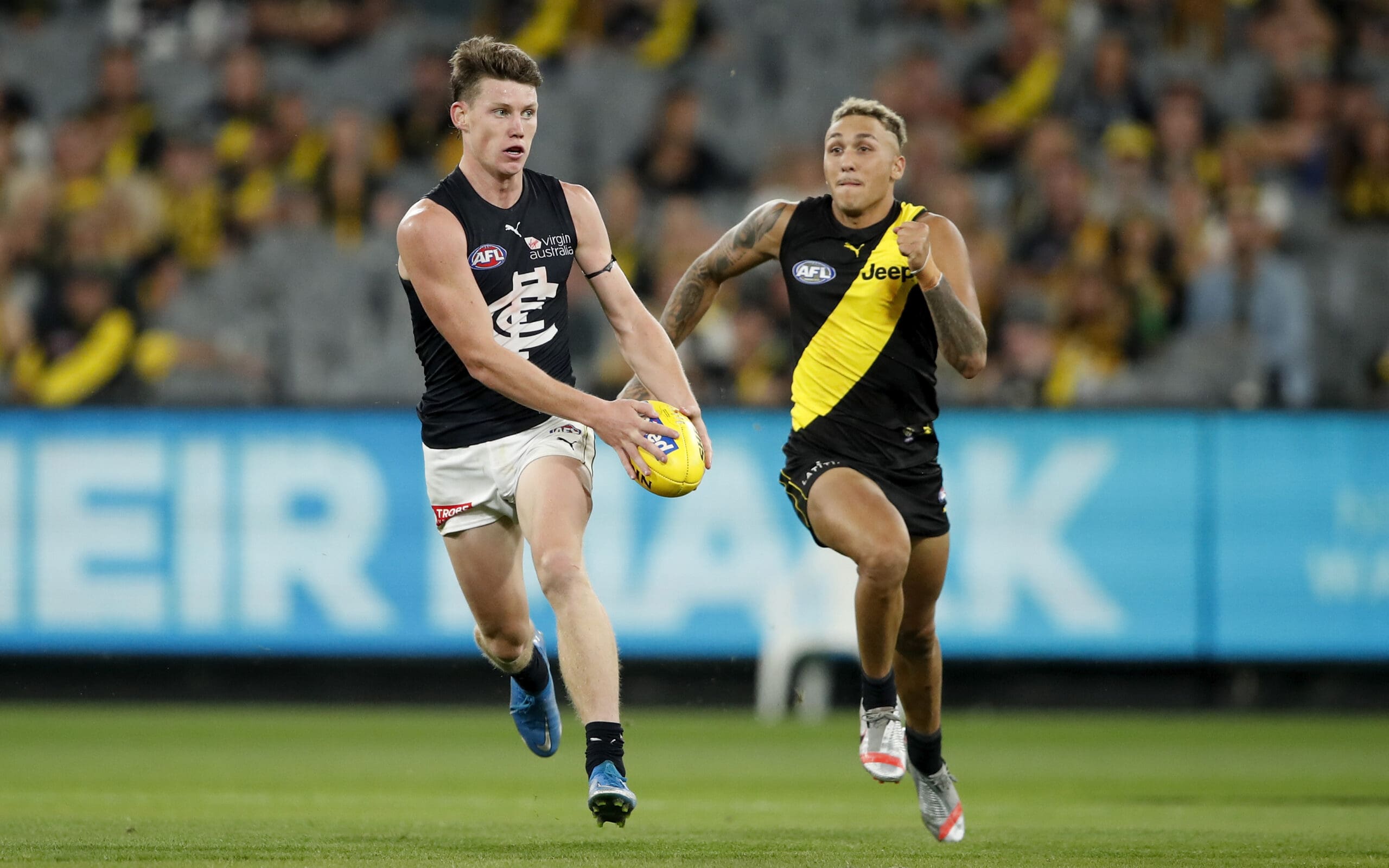 One area that the Blues have succeeded in is the development and performance of its superstar players. All three will be 24 years or under coming into next season. They have already established themselves as elites in the competition and could be the pillars for the club throughout the decade.
Before the arrival of Teague, there were serious questions about McKay and Weitering's potential and whether they could ever be All-Australian level players. Those questions have been answered.
While the trio's development could have come in spite of others at the club, they have made a calculated decision. The list is filled with talent, but other than these three (and Patrick Cripps) there is no one else on the list that is genuinely 'untradeable'. Teague's system allowed these three to flourish, which will set the club up for success as they begin their primes.
The next time Carlton is a genuine premiership contender, Walsh, McKay, and Weitering are the only players under 25 that are definitely on their list. Therefore ensuring their progression into the best few players of their corresponding position is a positive direction for the club.
The next step is to ensure that the list and structures are set up to maximise the success of these three players while adding in more team success.
This was supposed to be the year where all of the work of Teague's first one and a half seasons was going to culminate in a serious finals push. Unfortunately, that didn't happen and we didn't get to see what their best 22 would look like all fit and healthy.
There was some other important player development made too. Tom De Koning is rapidly improving, adding more scoring and around-the-ground play to his game. He has made his way to the club's number one ruck option. He could become one of the league's better ruckmen if his improvements continue to occur.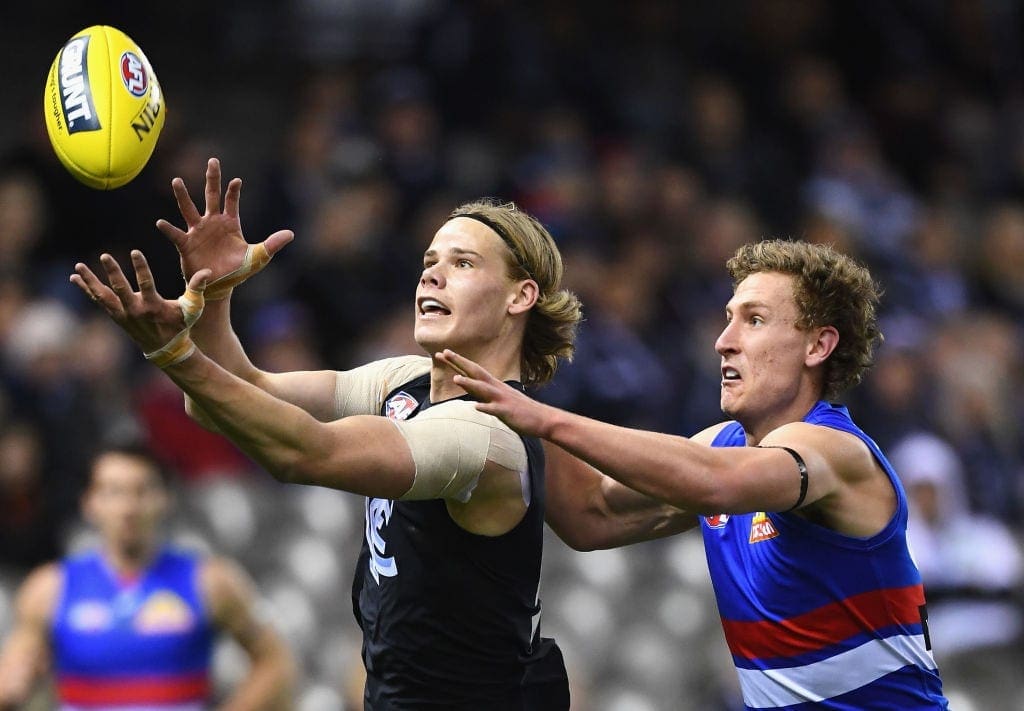 Due to the large absences, Teague was forced to experiment with lineups which also unlock some of the potential still on the list. O'Brien, Kennedy, Dow and Owies all showed flashes throughout the season. They could benefit greatly from more targeted and uninterrupted pre-season.
Teague's Coaching Record
Teague has fallen victim to unrealistic expectations. Yes, many of those expectations were created by himself, but they are still unrealistic nonetheless.
Very few media members saw Carlton as a genuine finals threat at the beginning of the season. Even fewer of those would have chosen the Blues if they knew the adversity (injuries, external reviews, etc) that the club would face throughout the season.
While many fans and media members are pushing for Teague's departure, has his time at the club really been that unsuccessful?
When he took over the club, they were sitting in the eighteenth position on the ladder at the end of Round 11, 2019. In the remaining half of that season, Teague changed some lineups, added some more experience, and began winning matches. Their run home even resulted in the club moving up to the sixteenth position.
The two years prior Carlton had found themselves with the wooden spoon in 2018 and sixteenth in 2017.
This improvement and winning began a culture shift for the club. Carlton went from looking like winning its sixth wooden spoon into an up-and-coming side.
The past two years have been a long time for everyone, but it is forgotten how troubled the team was before Teague took over.
Here is a look at the quarters won by Carlton before and after Teague.
Before Teague
| | | | |
| --- | --- | --- | --- |
| Season | Wins | Draws | Losses |
| 2019 (Rounds 1-11) | 17 | 1 | 26 |
| 2018 | 25 | 1 | 62 |
| 2017 | 35 | 2 | 51 |
| | | | |
| Total (percentage) | 77 (35%) | 4 (1.8%) | 139 (63.2%) |
With Teague
| | | | |
| --- | --- | --- | --- |
| Season | Wins | Draws | Losses |
| 2021 | 36 | 1 | 51 |
| 2020 | 39 | 1 | 28 |
| 2019 (Rounds 12-23) | 21 | 3 | 20 |
| | | | |
| Total (percentage) | 96 (48%) | 4 (2.5%) | 99 (49.5%) |
Even in his first season, he was able to turn 40% of quarters won without him into close to 50%.
While quarters won isn't the only stat that matters, it does demonstrate a more sustained effort from his team. They were more competitive more often with Teague than without him.
From a personal perspective, his record tracks against some of the league's best coaches. For every Chris Scott that sees success in their first year, there are coaches who face adversity. Teague is tracking similar to the two most successful coaches of the decade throughout their first 50 games of coaching.
W-L-D after 50 games as an AFL coach…

D Hardwick
16-33-1

A Clarkson
18-32-0

D Teague
21-29-0

— Joshua Kay (@js_kay) August 22, 2021
While hindsight is 20/20, in the mid-2010s there were very real concerns from Tigers fans about Damien Hardwick. They were burning (and microwaving) memberships after 2016 and another unsuccessful season. In the early part of the 2010s, Richmond was finding themselves just outside the top eight seemingly being ninth every season.
All it took was a little bit of patience, good luck and consistency to turn the Tigers into one of the best teams of the century. It also turned Hardwick from potentially being sacked, into a coaching genius.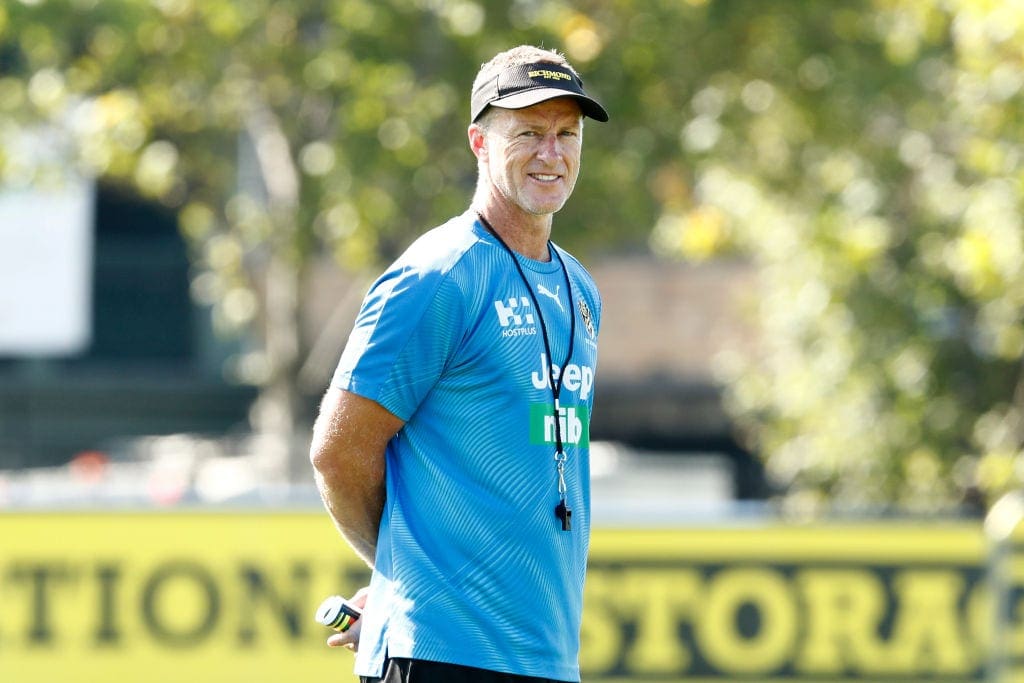 While I am not claiming that Teague is anywhere near the calibre of Clarkson or Hardwick right now, I feel that he hasn't had a fair opportunity to benefit from the development and coaching he has been doing over the past two seasons.
The five-goal run
One of the most reported factors about Teague's tenure at Carlton is his side's inability to stop the run of play. Since he started, the Blues have conceded 23 five-plus goal runs in 50 games. This is a glaring flaw in the Carlton attacking game style.
As there is a focus on five-goal runs, an emphasis will be made on games where the Blues have lost by more than 30 points. The following are the only such occurrences.
2021 R22 -  95 vs Port Adelaide
2021 R19 – 39 vs North Melbourne
2021 R14 – 36 vs GWS
2020 R9 – 31 vs Hawthorn
2019 R23 – 68 vs Geelong
In the Blue's other 24 losses, they have all been within 30 points. While the five-goal runs are painful to watch, it also highlights another factor. Carlton aren't too far off.
Their two biggest losses (Geelong and Port Adelaide) also took place in the final few rounds, where one side was trying to consolidate a finals finish, with the Blues out of the finals hunt.
In at least half of Carlton's losses, these five-goal runs have been pivotal moments in the match which have decided the outcome. It has either made the Blues throw away the lead or get too far behind to mount a comeback.
These moments are frustrating, and far too frequent for a finals contender. They also coincide with close to three-quarters of play where they aren't far off some of the best clubs in the league.
After the first few games conceding continuous goals, it became a mental burden on the side. After a couple of goals were kicked, the doubt started to set in.
While this is something that coaches can work on and address, the players should also be partially to blame. As the scores start to shift, unforced errors, costly turnovers, and bad entries into the forward 50 all begin to occur. Many of these errors come from poor skill and decision-making, not poor coaching.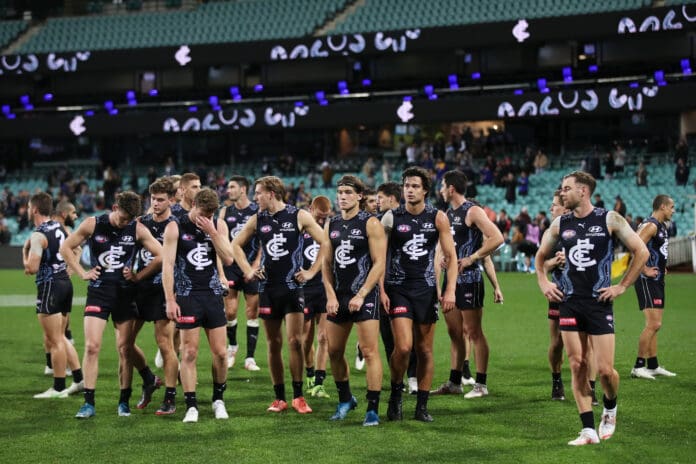 Teague has been able to get the best out of his side for large portions of the game. If you took away a handful of those momentum-swinging runs in the past two seasons then the Blue's could have been finals bound.
While there is a valid criticism of Teague's game style, it has become a double-edged sword. The same style that causes these run of goals also allowed his teams to over perform and nearly upset top-eight teams.
There is no certainty that a new coach will be able to emulate the highs and potential of this team, while also minimising these runs.
While he has made some poor decisions over the past few years, Teague has focused on growing as a coach and continues to improve the side. His love for the club and for the players was evident in his last press conference of the season.
Having a leader at the club who is passionate and proud of being a part of it speaks volumes. While he might have differences of opinion with some players and board members, I believe he is motivated by what is right for Carlton.
I think if the club decided to give Teague another season, we would see a great improvement from the side in 2022. If the final decision for a head coach is between anyone (other than Clarkson) or keeping onto Teague, I honestly think we should back Teague in.