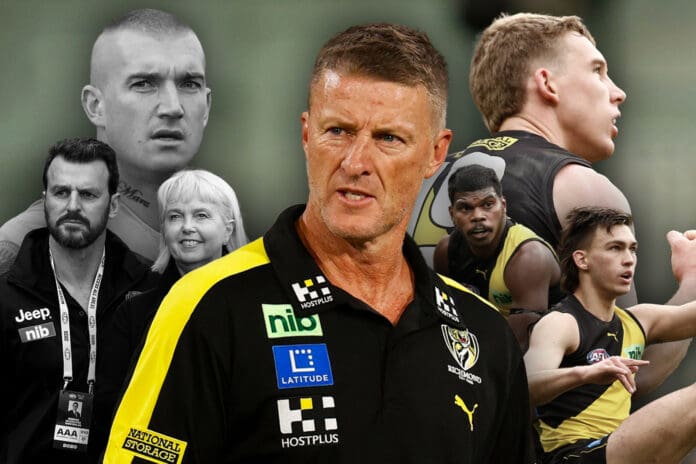 After three premierships in five years, Richmond missed the finals in 2021 and looked destined to farewell a dynasty that had changed the way the game was played and had instilled fear across the competition.
A changing of the guard was seemingly upon the yellow and black. A number of ageing stars coming to the end of their careers and battling bodies looked ready to hand the baton over to the new brigade of Tiger cubs.
At the end of the 2021 campaign, David Astbury and Bachar Houli called time on their careers and voided the much heralded Richmond defence of two important assets.
All signs pointed toward a Richmond fall-off in 2022 with opposition teams perhaps figuring out the blueprint to beating the formidable Tigers. And while this year they have been far from their all-conquering form of 2017-2020, they have shown that they aren't looking to drop out of contention in order to regenerate their list.
With a return to finals football this season, the Tigers have relied on youth moreso than in previous seasons. Their eyes cast much further down the road than just 2022.
It's a true passing of the baton at Richmond that may kick into full swing at the end of this season. Shane Edwards, Kane Lambert, Josh Caddy and Matthew Parker have all departed the club already, while the futures of Jack Riewoldt and Trent Cotchin are yet to be decided.
Riewoldt turns 34 after the season ends, with the Richmond champion reportedly keen to play on while he and the club are yet to agree to a deal.
Cotchin (32), is battling an ageing body that has been through the trenches, but he has given no real indication of where his future lies.
President Peggy O'Neal will bid farewell to the Tiger Army at the end of the season as well in a major shake-up at Punt Road. O'Neal will depart in December having overseen all three premierships since joining the club in 2013.
Her partner in crime, CEO Brendan Gale, is being mooted as a contender for the AFL's top job, which will be vacant at the end of the year. It seems unlikely both Gale and O'Neal would depart at the same time, leaving the club to find new leadership at board level.
But this potential opportunity for Gale could be too tempting to turn down.
So as the winds of change start to blow a gale - no pun intended - it's a terrific challenge for the Tigers to make the on and off-field transitions as smooth as possible.
The Tigers have a number of young players who have had an impact on the team this year. Noah Cumberland (21), Hugo Ralphsmith (20), Jack Ross (21), Josh Gibcus (19), Noah Balta (22), Judson Clarke (18), Tyler Sonsie (19) and Maurice Rioli (19) have all featured, and played well, in parts of this season.
On-field they have begun to introduce youth and it's paid dividends throughout 2022.
Cumberland has been a lightning rod of energy since coming into the team this year.
His development since being drafted with pick 43 in the 2019 National Draft has been a slow build but has been the right one based on recent evidence.
Ralphsmith has had a superb year off half-back in replacing the retired Houli. Not in Richmond's wildest dreams could they have foreshadowed such a seamless transition.
Gibcus has star quality written all over him as an intercept defender. While his form has tailed off slightly in the back half of the year, he has shown plenty of signs throughout 2022 of becoming an elite key defender.
The exciting Rioli has the second most points created from turnovers for any player in a given season between 2010 and 2022. He's only played 13 games this year and the rest of the top five for the metric played 21-22 games each.
He leads that stat by some way for the 2022 season alone. His 113 points created from turnovers have been registered at an average of 8.7 per game. Similarly to the above stat, none of the top four players behind Rioli this year have played less than 20 games.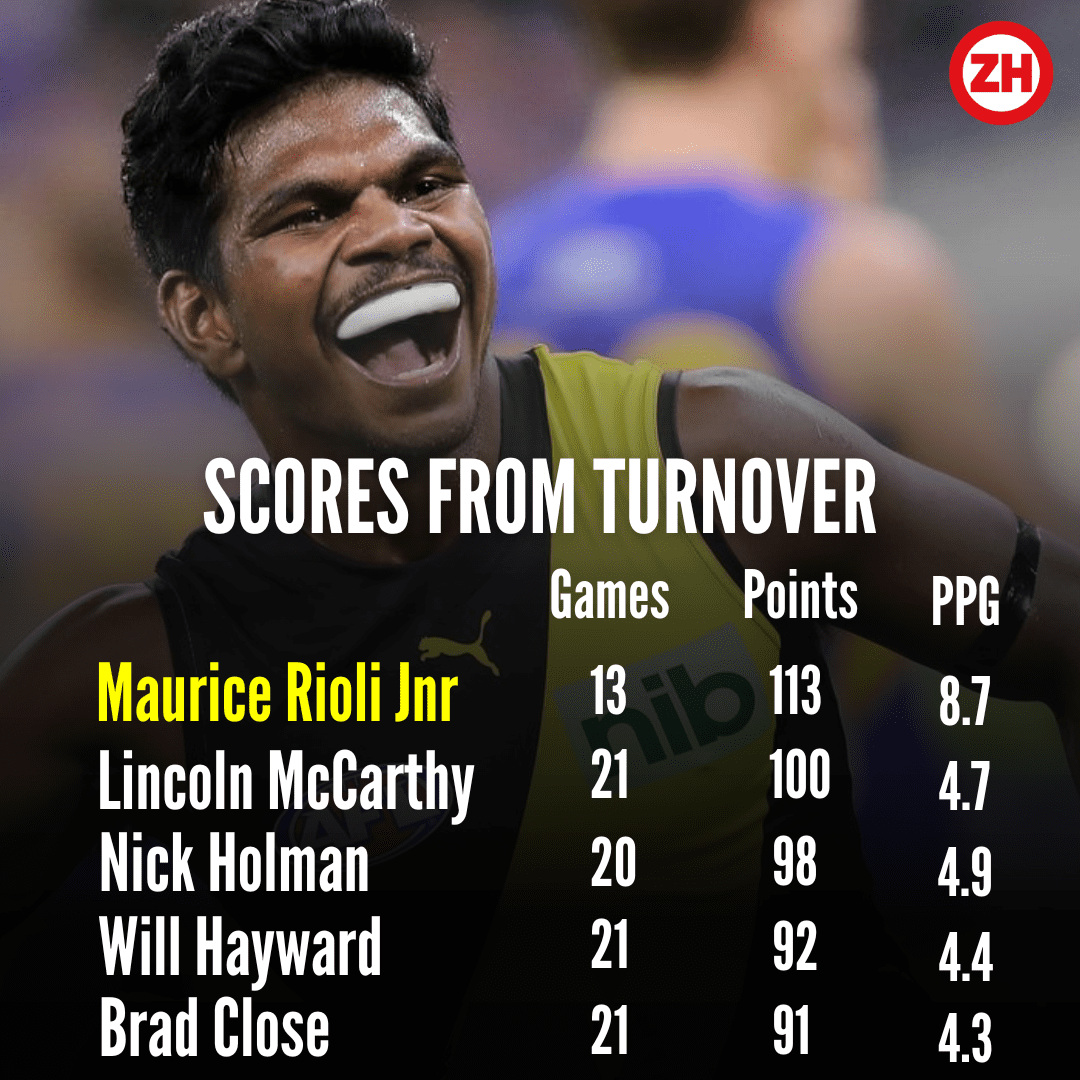 The 2022 draft hand of the Tigers is fairly strong as well, with Richmond's recruiting staff currently having Picks 12, 19 and 30 to use inside the first two rounds. Pick 19 coming from North Melbourne in exchange for Callum Coleman-Jones last year.
Sonsie has averaged just under 18 disposals per game in his maiden season and has credited a number of the experienced heads at Tigerland for making his arrival at the club and in the senior side so easy
"I've had a lot of help along the way," Sonsie told Zero Hanger.
"Dion Prestia, Trent Cotchin and Jayden Short have been a huge example for me and it's a really good experience.
The 19-year-old said that the club has been built around such a strong culture from top to bottom that it makes a period like this for the club and younger players very easy.
"It all just seems so organised," Sonsie said.
"When I was coming in I knew what I was doing and knew my role. I just feel so comfortable at the level.
"It's not just the younger group, it's everyone. It's such a tight bunch and we're all good mates, we have such good connection. It's the people. not just the players but the staff and everyone at the club all around (the place). There's so much support and they're with you for the whole ride all the way."
They also hold Pick 84 which has them in possession of 2845 draft points at this stage.
Proving the club's focus is on the present and future is the contract status of many at Tigerland.
Only nine players are contracted beyond the end of next year and only three of those players are locked away until the end of 2025 and beyond.
Star man Dion Prestia, Ivan Soldo, Samson Ryan, Liam Baker, Ben Miller and Cumberland are all signed until the end of the 2024 season. Baker having recently put pen to paper on a two-year deal.
Cumberland, Miller and Sonsie signed two-year extensions last week in a show of faith from the Tigers and another commitment to the future of the football club. Sonsie's deal will see him through to the end of 2025.
Tom Lynch and Nick Vlastuin's futures are locked away until the following season and Jayden Short has a five-year deal that keeps him in the yellow and black until 2027.
Daniel Rioli recently put his signature down on a new five-year deal that will also keep him at Punt Road until the end of 2027.
Rioli's move to half-back has aided the likes of Ralphsmith in covering for the departed Houli, with the former small-forward in the conversation for a potential All-Australian squad selection.
Senior coach Damien Hardwick has two years to run on his current deal after re-signing with the club in March last year.
Hardwick said recently that the club did have an eye to the future and were excited by their ability to regenerate the playing list on the run.
"It's been exciting (to blood some youth)," Hardwick said.
"It's exciting for our fans and our coaches as well. We basically introduced four first year players this year. Gibcus, Cumberland, Maurice Rioli Junior, Ben Miller was effectively another one who has come through and Tyler Sonsie is another we have got into the side."
Hardwick said that the club isn't looking to bottom out in order to rise back to the top of the mountain, paying tribute to his list management team for their work in building the current list.
"We're really excited about the fact that we are competing and contending but the fact of the matter is we are regenerating at the same time which is exciting for us," he said.
"It shows that with our list management team through good planning we are capable of staying up the top for longer which is important."
Speaking after Richmond's Round 23 win over Essendon Hardwick reiterated the importance of what the Tigers have been able to achieve with their list across the last two seasons.
"It reinvigorates the side," Hardwick said.
"Having four first-year players in the side throughout the year is something we've tried to do to give ourselves the best chance at sustained success. We've been pleased the way those guys have battled through various stages.
"It's a great pat and the back for our recruiting department but also our development staff. Sam Lonergan and his team do a wonderful job.
Hardwick said that despite a tough run with injuries and player availability throughout the last two campaigns, it has allowed them to uncover some potential stars they otherwise may haven't yet been able to unveil at AFL level just yet.
"We've discovered some hidden gems along the way," Hardwick said.
"We've debuted a hell of a lot of players and gave some guys experiences along the way so it's going to hold us in good stead going forward.
"The most exciting thing about Richmond I think is our future. I'm pumped with the playing list we've got and what it's going to look like going forward."
Richmond's list management team are well aware of what is coming and have been preparing for it for some time. As good recruiting and list management teams do, the Tigers have stayed one step ahead of this build.
Maurice Rioli, Jake Aarts, Nathan Broad and Ross are all out of contract at the end of the season and you'd largely expect most, if not all of them, to secure deals.
Aarts may be one who finds a new home in the off-season but he could also be offered a new short-term deal.
The obvious name not mentioned yet is Dustin Martin. Contracted for a further two seasons, the future of the three-time Norm Smith Medalist has been speculated on for the majority of the 2022 season and he is yet to confirm that his future lies at Punt Road.
Not that he has to of course. But with the growing talk that he may be in his twilight days at Richmond, it would make sense for him to put the rumours to bed and signal his intent to remain a Tiger for life should that be his desire.
But even if 'Dusty' does decide to head to Sydney - or wherever he so chooses should he opt to leave - the Tigers won't be singing to the tune of Delta Goodrem's number on single 'Lost Without You'.
In the absence of Martin, Western Australian Shai Bolton has stepped up and taken the reins as Richmond's most dangerous player. Much like Martin, Bolton has the ability to float through the midfield and forward line and has been able to fill the shoes of Martin as well as anyone could have hoped for.
Bolton averages two more disposals per game without Martin in the side - which is plenty when you're as damaging as Bolton is with the footy. His clearances rise from 2.6 per game to 4.6, a result of additional midfield time. Bolton's impact on the scoreboard has also become greater without Martin this season.
The 23-year-old averages two goals a game without Martin as opposed to one with the champion alongside him. And he averages 8.3 score involvements per game as opposed to 7.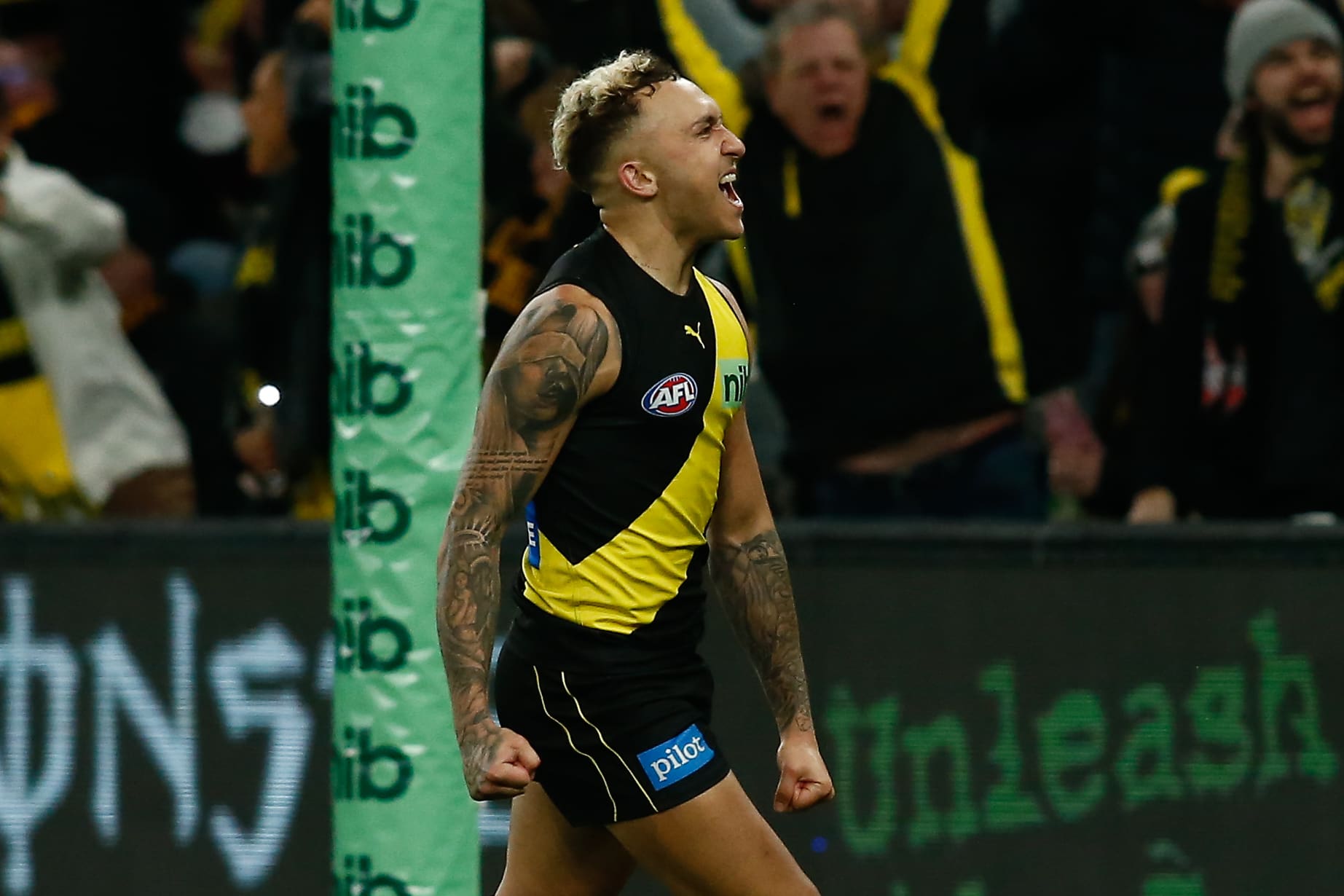 Richmond's dynasty may have been built off the back of Martin's meteoric rise, but it has developed a system that can hold up without him.
Martin has played only eight games this season, and while obviously the Tigers' fortunes aren't what they have been in the past, it's unlikely they'd be far greater with Martin in the side.
Hypothetically, if Martin was to ask for a trade at the end of the season the Tigers could drive a hard bargain given his contracted status, and it could fuel their regeneration of the list even further and perhaps faster. But at this stage he is a "Richmond man" as Hardwick puts it.
It mightn't be a quick rise back into contention for Richmond but it won't be a return to the doldrums of the early 2000s that are all too familiar for the Tiger Army.
Hardwick and his team are prepared for the passing of the baton that is dawning over the Jack Dyer Stand and could be back in the hunt before too long.