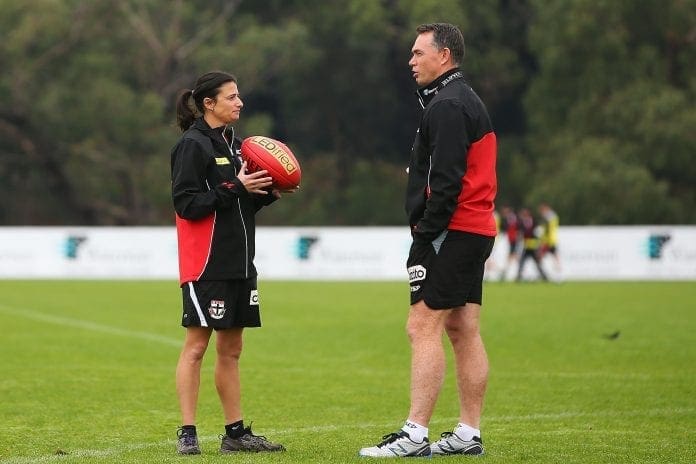 St Kilda AFLW coach Peta Searle has taken aim at North Melbourne's concessions after the Kangaroos easily dispatched her Saints over the weekend.
The Kangaroos were once again far too good for their opponents, defeating the Saints by 26-points at Arden Street.
Searle didn't take the loss too well and made note of the handouts the Kangaroos had been given since joining the league.
"North are an outstanding side in terms of having a great list. They started with a great list and they've been gifted top 10 players every year to top up and gifted people from Tassie, so they're a good side," Searle said post match, per Women's.afl's Mitch Cleary.
"You look at North's midfield and you look at all their superstars and they've been playing together for years not just at North, but together at Melbourne Uni, for a long period of time.
"gifted top ten players" https://t.co/oQ1G6Epo2k pic.twitter.com/kh1WLFEijP

— cutelin 🌻 (@caitylatter) February 7, 2021
"We're still finding out what our players can do and where they can play.
"So imagine where our midfield is going to go in three years' time when they've played together for a long time and are a bit stronger and a bit fitter."
Searle was seemingly bitter about the perceived lack of help her club was given when entering the league last season.
"For an expansion club, I would have wanted more than we got, I think anyone would," she said.
"We're happy with where we're at, but were we happy with our performance (today)? No.
"Do we know we're a better team than what we were today? Yes. And our girls are committed to … getting better and getting better fast."
North have rocketed to early premiership favoritism after two very cruisy wins to start their season.
Pretty special being able to sing our famous song at our traditional home - Arden Street. pic.twitter.com/2j2DrIez3e

— North Melbourne AFLW (@NorthAFLW) February 7, 2021
Searle said her side was in a good place but needed to be better to compete with the sides at the top of the table.
"They got the jump on us in the first quarter, I actually felt we only played one good quarter of footy the way we wanted to play," she said.
"We've demonstrated that when we play that way we can match it with the best, so our girls are disappointed, because they want to be better than what they produced today."