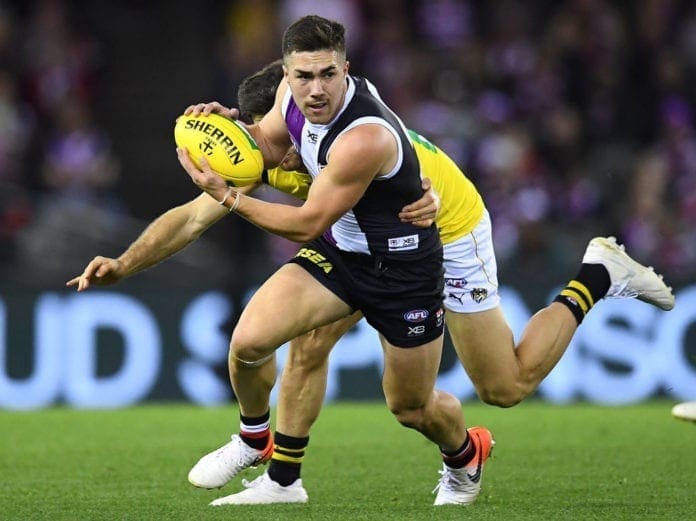 Luckless St Kilda forward Jade Gresham is feeling the "fittest" and "strongest" he has ever been as he eyes a Round 1 return to Brett Ratten's side this season.
Gresham has played just the 14 games for the Saints across the past two seasons, having suffered back and Achilles injuries in the past 18 months.
The 24-year-old was able to play the opening three rounds of last year before having his 2021 campaign cut short, with Gresham returning to a new cycle of recovery.
While the journey has been gruelling for the South Morang product, Gresham has been able to gain a newfound outlook on dieting and care for his body, which has seen the lively Saint further mature as he eyes a return in 2022.
"I think it's helped me a lot – I can take a lot of positives out of it – it's made me a lot more resilient," Gresham told AFL.com.au.
"I've learned a lot about myself in that time around how professional you need to be and how you need to look after your body.
"It [the injuries] has definitely made me way more professional.
"I've never really loved weights and all the other stuff – recovery and diet – but now I love that kind of stuff and got to know how important it is for me to train and how all the little things actually matter.
"I've come a long way in that aspect. I'd like to think I'm now pretty diligent in that stuff. You've got to be to get yourself up every week."
This season shaped as a critical campaign for Ratten's side, having slumped to 10th after a top-six finish the year prior.
Now looking to rise back into finals contention, Gresham is sure to play a key role in the Saints' ambitions for the year ahead.
With a healthy pre-season under his belt, Gresham is eyeing more time through the midfield as he enters his seventh season at Moorabbin.
"I definitely feel like I can play more in the middle. I'll still play forward, but I like to think I'm now the fittest I've ever been and the strongest I've ever been," he said.
"Hopefully all that time in rehab – you get really fit being in rehab – I feel really fit and healthy and hopefully I can stay like that. I'd like to think I can play a bit more mid, but also play forward as well."
Gresham is set to have his sights set on St Kilda's pre-season schedule in a month's time, with the Saints set to face the Blues in a practice match before clashing with the Bombers for the AAMI Community Series.
St Kilda will begin their 2022 AFL season against Collingwood on Friday, March 18 in what could be Gresham's first game in 349 days.