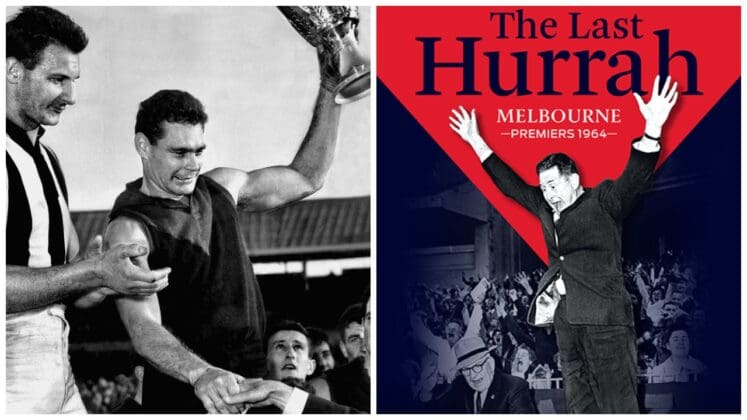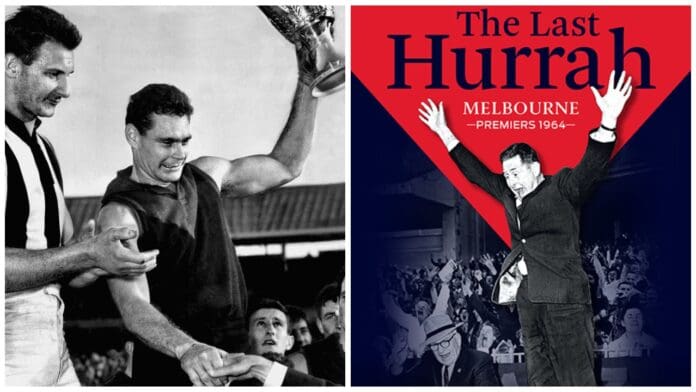 Those that have misunderstood the human venous system often hold a confidence that blood is near navy when it courses throughout the body and only takes on its familiar crimson tinge once it has become oxygenated.
Although spoil-sporting scientists will lead you to believe that this is untrue, perhaps there is an exception to the rule.
For anyone that has consumed any of Adam Woolcock's inimitable prose, you will know that the lab coat wearing loons have it wrong, as the wordsmith quite obviously bleeds both red and blue.
Those that wake each morning and perform the sign of the cross  beneath images of 'Tulip', and 'Barass' will be familiar with Woolcock's tireless toil to record the halcyon days of the Melbourne Football Club on Demonwiki, as well as the mostly chequered days of the recent past via his popular blog.
I watched Melbourne qualify for the Grand Final with an 83 point win. Surely you don't need any more of an introduction to the post than that....https://t.co/DPKpFwV9bx pic.twitter.com/srx3hgy7k8

— Adam 1.0 (@Demonblog) September 12, 2021
Though it doesn't require a Range Rover or a Jag, nor a cheeseboard or a Buller lift pass to understand both the eminence and the tempestuousness of the Redleg's past, it too doesn't demand a membership ticket to have witnessed the oldest club in the land's many contemporary shortcomings and their turn in fortune this season.
Still, as the expert on anything that has ever taken place beneath the grand old flag, Woolcock has this year raised the pen from the parchment on a paperback that has the ability to become obsolete within the space of a fortnight.
With his debut efforts charting the Demons' decade of despair between 2007 and 2016 in the aptly titled tome 'The Great Deepression', Woolcock ironically chose 2021 as the year to wander from this "heart of darkness" and make a return to the warmth of the past for his next venture.
Either as a break from the sorrow of recent seasons or as a distraction from the recent rise, the fervent follower's second effort 'The Last Hurrah' hit shelves in July of this year, with the magnificently structured work both documenting the riches of the Norm Smith era at the MCG and covering the movers and shakers of the club's last triumph nearly 57-years ago.
Finally got my hands on a hard copy of the book. Has come out well. In stores from Wednesday, or order online https://t.co/IKTFoncVGr pic.twitter.com/qkQWMLaNeL

— Adam 1.0 (@Demonblog) July 2, 2021
Across the breadth of his subsequent book, Woolcock spends time thoroughly illustrating the 13-time premier's fledging years in the competition, their near infantile death, the club's rise to prominence during Norm Smith's playing days and the crumbling precipice that was crossed following his sacking.
However, it is his efforts to educate his fellow barracker of the deeds performed by the class of 1964 that act as the publication's greatest contribution.
SEE ALSO: The Oval Ball Book Club: AFL 2020 - A Season Like No Other
Woolcock employs the use of newspaper-like vignettes to cover the last season that ended in late September joy for his side, with the entries cataloguing each cast member's backstory, given role and footballing afterlife.
Despite being someone that prefers heaven to hades in a footballing sense, the diehard's respectful recount allowed for the many grainy stills I had seen from that fateful decider and the guernsied thespians that covered the stage to finally dance with colour.
As a 28-year-old whose parents were both still well short of being able to walk into any front bar and park up in 1964, it was also wonderful to read of a town I know well and learn of a team from a time well before I was thought of.
Woolcock's peerless historical nous also affords readers a chance to truly understand the brilliant, but brash, figure of Norm Smith by ingesting the plethora of quotes, anecdotes and legends that are peppered throughout the dense chronology.
Yet having perused and pondered them all, I am still uncertain whether the man who played a role in 77% of his club's ultimate triumphs was a mastermind, a madman or both – a view that is likely to see me face punishment from one of these pieces of memorabilia that only Melbourne could produce.
Although it could never have been his intention due to an incapacity to fully bridle the current day crop of Demons, the author's comprehensive coverage forced me to see many similarities between the two sets of sides that represented the Demons nearly six decades apart.
SEE ALSO: The Oval Ball Book Club: Footy Banners - A Complete Run-Through
For example, both Smith and Goodwin's men managed to claim the minor premiership across their respective seasons following a pair of losses by Geelong on the final day of their fixture lists.
The ankle-booted men led by Ron Barassi also spent the vast majority of their campaign consecutively winning, with their steak finally halted at 11 – a feat that Max Gawn's charges fell shy of by a fortnight.
Each of these McClelland trophy claiming groups also drew their strength from defense, with the elder of the pair allowing just 60.7 points against per game, while the likes of May, Lever and Petty have leaked only three-and-a-half minors more each week.
Both sides also entered their deciders following hefty wins - an 89-point victory in'64 was bookended by an 83-point rout this season - and each were coached their by a pair of men with strawberry blonde hair at its dullest.
Sure, some of these facts may seem fanciful, and yes, all will become meaningless unless Melbourne can reverse the result of the 1954 Grand Final next week, but given that a week ago the names Barrie Vagg, Brian Roet and Bernie Massey read simply as monikers spat from a random name generator, I have Adam's unwavering research to thank for allowing the plot of this season's decider to take on an even headier complexion.
A bugbear of sorts is usually required to be raised within reviews of these sorts, but as I opened this title about another club's title a novice and exited as someone with a marginal ability to contribute to any drip tray chats surrounding the majesty of Melbourne's mid-20th century, I have next to nothing to offer by way of bemoaning.
SEE ALSO: The Oval Ball Book Club: 28 - A Memoir of Football, Addiction, Art, Masculinity and Love
The only possible comment I can make is that like my only viewing of Martin Scorsese's 2019 epic 'The Irishman', this particular work also took much longer than anticipated to consume given that I was consistently sent down search engine wormholes to continue reading about the many tidbits each work raised.
However, unlike during my high school days, you won't find me whining about any extra homework this time around.
Potential readers may be mildly dismayed to find that Woolcock's customary brand of wit and irreverence found in his weekly blog posts has been somewhat stifled. Yet, this is likely due to the veneration he has for those that last circled the MCG with the challis in hand.
Anyone photoshopped the cover of Dave Mirra Freestyle BMX to include Jaidyn Stephenson yet?

— Adam 1.0 (@Demonblog) August 29, 2021
Has Jackson got an emergency mouthguard from Witches and Britches?

— Adam 1.0 (@Demonblog) August 28, 2021
Either that or the fact that trawling the Trove archives for months on end was enough to have alleviated any need for nerves around the result and stymied any chance for knee jerk humour.
Due to the many hours Woolcock has spent pouring through online annals, dated reports and paper trails of long retired players, this latest edition to any library owned by one with a heart that beats true should fit snugly between the author's previous work and Ben Collins' house brick sized biography of Norm Smith, 'The Red Fox'.
As I know time is without doubt moving akin to an unlubricated snail for every one of Melbourne's 53,000 members at the minute and that your collective nerves are on tenterhooks, I implore you all to check out of the present and immerse yourselves in the past so as to see how your club's baton has become so dented as it is once again raised for passing.
Also, with 'Clarry', 'Trac', 'Horse', 'Pig',  'Nibbler' and 'T-Mac' on the verge of delivering Toorak providores a tidy profit, now could well be the last time that any work chronicling Smith and his curse will actually hold any weight.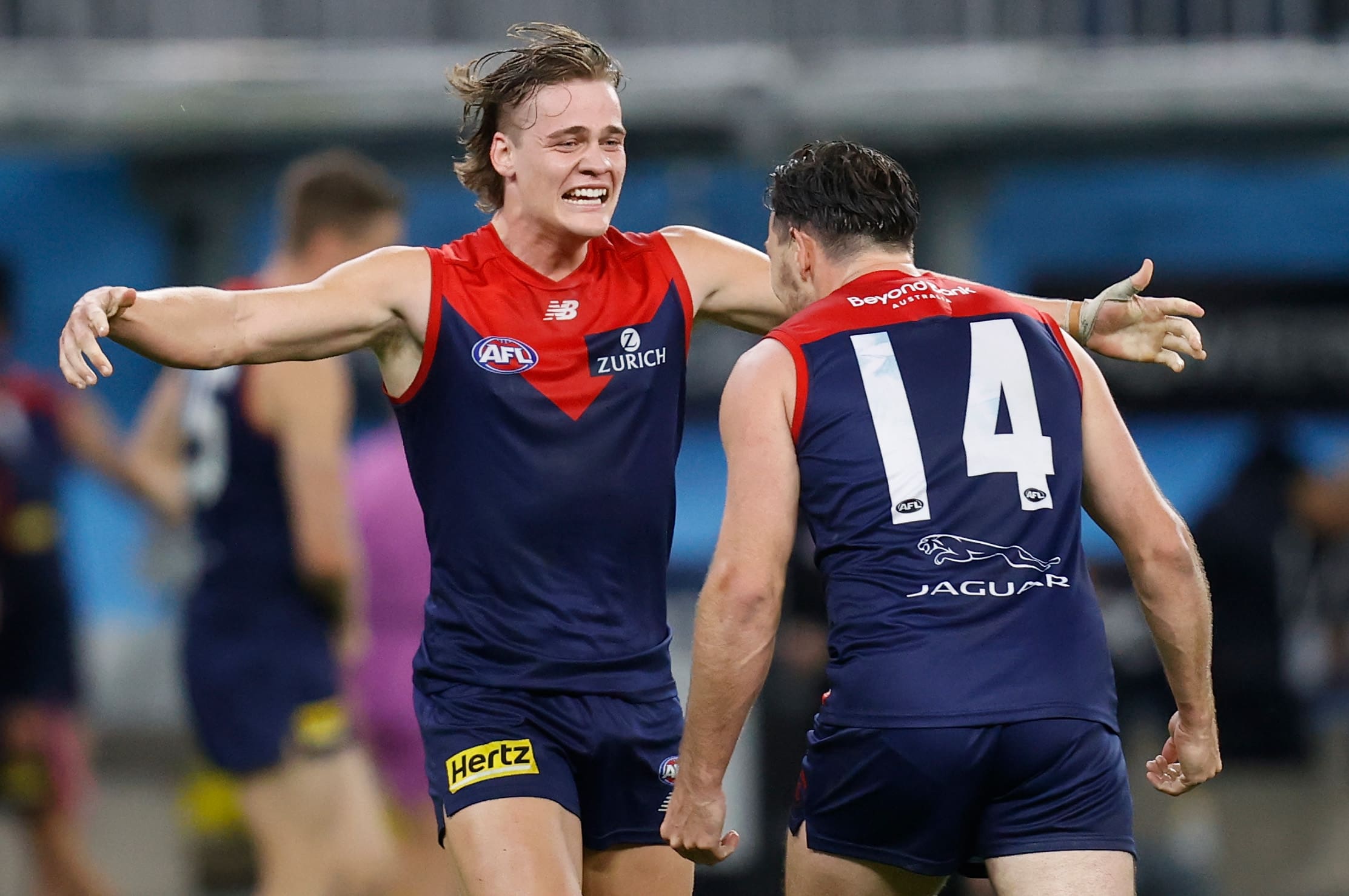 Given that any child born from October 1964 onwards has never witnessed Melbourne reigning supreme, even if their emblem isn't for you, you would have to be made of stone, reside west of the Maribyrnong or be a disgruntled butler to begrudge so many of something worth so much in the coming days.
In spite of lacking a dog in Saturday week's fight, I do hope that Adam, my own dearly devoted friends and any other red and blue souls that have ever wondered why they bother during traipses through Yarra Park are finally offered some longstanding joy and a drought breaking drink from the top-shelf.
I also hope that your current unfamiliar moods of contentedness allow me forgiveness for taking this opportunity to tack every hackneyed typecast onto one typed piece.
You can purchase a copy of Adam Woolcock's 'The Last Hurrah' directly from publishers Hardie Grant or at any good bookstore.