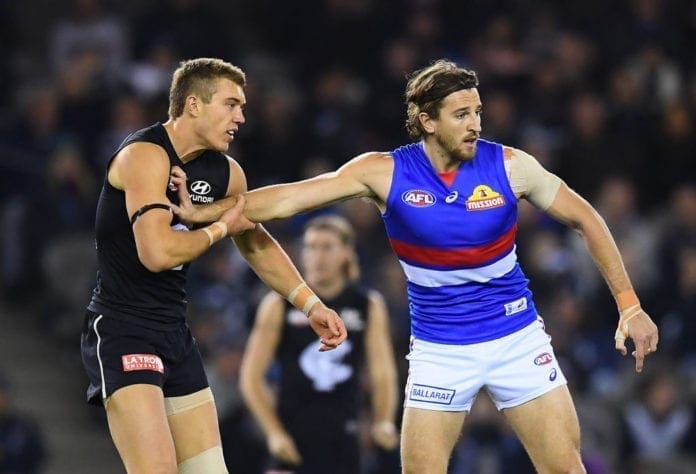 There are a number of teams that are fighting for a finals berth this year as seemingly year-on-year the list grows of teams that can sneak into the eight.
Richmond, West Coast, Geelong, Brisbane and Port Adelaide loom as the most likely to dominate top four discussions, but who are the boomers coming from the cellar for a top eight slot?
The trend with most teams in this cluster is that consistency isn't their best friend, hence why they finish just about square at the ledger.
So, we have decided to take you through why each team in this group can, and maybe more importantly, can't make finals.
1. Carlton
Why they can make the eight
The Blues may well have made the eight last year if not for a quarter here or a quarter there. If you go through their losses, eight of those were a direct result of an inability to stop teams from getting a run on.
Their biggest loss was by 31 points in a game they led by five goals at one point. Another year of experience and the addition of Zac Williams and Adam Saad, and the Blues should be confident they can learn and adapt in 2021.
You just have to look at Harry McKay to see the signs of improvement in Carlton's younger players. They are all stronger and wiser than 12 months ago and when you add a 100% fit Patrick Cripps, a year under the belt of fellow co-captain Sam Docherty and the possible return of Charlie Curnow, it's easy to buy in to the Baggers.
Why they can't make the eight
It's as simple as the Blues not being able to stop opposition sides from scoring bulk goals in a hurry. If they can't find a way to suppress such swings in games they will again find themselves behind the eight-ball as quickly as they were in front of it.
Then there's the pressure of expectation, a feeling unknown to most players on the Carlton list. Only Marc Murphy and Ed Curnow remain at the Blues from a time where expectations were as high as they are now.
If the Blues are unable to handle the heat they will fall away quickly to a side more willing and able to absorb the pressure.