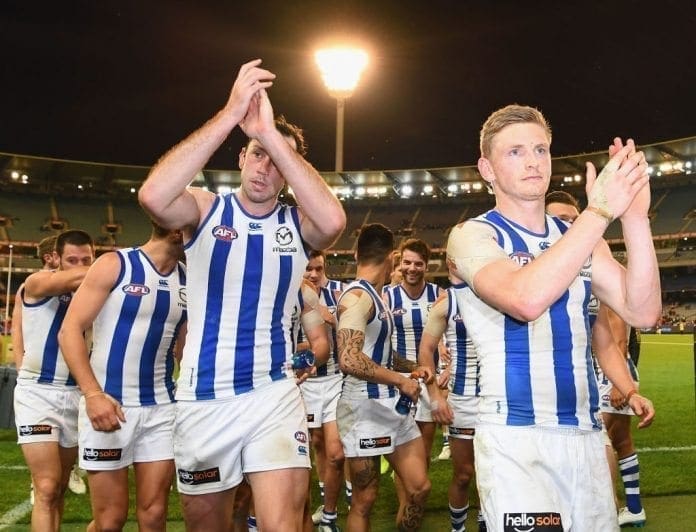 North Melbourne are battling through one of their toughest seasons yet as they face the gruelling reality of a rebuild period.
The Kangaroos currently have 23 players without a contract for next season, with the club likely to cull close to half of that crop.
Key Forward Ben Brown headlines the long list, joining out-of-favour onballer Jared Polec, Majak Daw, Paul Ahern, Jamie Macmillan, Mason Wood, Ben Jacobs, Ed Vickers-Willis, Taylor Garner, Marley Williams and Sam Durdin as first-team players facing an unstable future.
While many rebuilding clubs head down the path of trading away value for early draft selections, the Kangaroos will be holding onto a number of key veterans.
In an interview with The Herald Sun, Football boss Brady Rawlings named contracted quartet Todd Goldstein, Ben Cunnington, Shaun Higgins and Jack Ziebell as the four players who won't be placed on the trade table.
"There are big decisions to be made … It will be thorough," Rawlings said.
"Clearly, we're not throwing everyone out, but we've got to look at players who are going to help us in the future.
"We've made the call that, and we know they've given their all for this club, but if we don't see them helping us in the future, then that's what the decision will be, they won' be here."
Rawlings was recently appointed to his role and admitted he was well aware of the task at hand.
"When I took this job last year, we knew we had a bit of work ahead of us,'' Rawlings said.
"There's going to be short-term pain to get to where we want to get to.
"We think we've got a good group of 22 and unders and we want to add to that.
"Clearly, the draft this year is massive for us, we want to get in young elite talent.
"We got two first rounders (North's own and Melbourne's) and got Essendon's second rounder and it put us in a good position to net some quality.
"Those two first rounders are untouchable … we're picking the best kids possible.
"But we can't be bringing in 12 18-year-olds.
"We have to make sure there's experience around the 22 and unders."
Rawlings added that there are some names who will be held to their contracts despite being out of favour.
"I will not individualise but clearly with the guys out of contract, discussions have to be had," Rawlings said.
"I know what this club stands for and I know what our members and supporters expect from our players when they cross the line, and it's competitors who give their all and a never-say-die attitude.
"And players who have got that are players we can't afford to lose.
"Players who don't have that attitude find themselves in a position where they might not be here next year. It's as simple as that."
When speaking on Goldstein and Higgins, Rawlings said their experience was vital to the club's growth.
"We locked away Shaun and Todd last year, and we've got to make sure we have enough experience around the youth a well,'' Rawlings said.
"We certainly won't be offering them up for trade, no.''