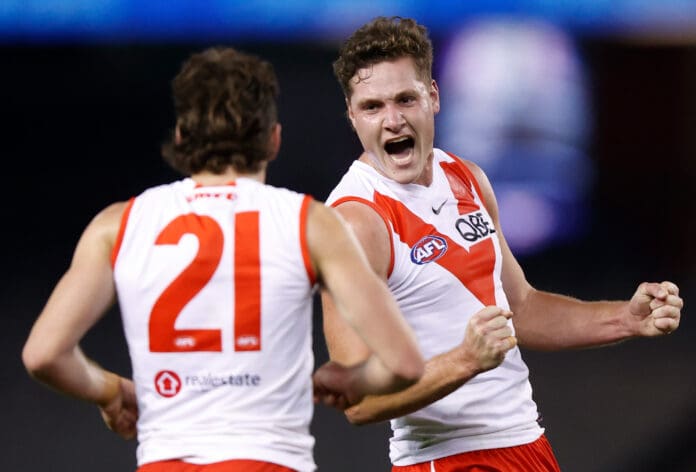 It would take a move interstate after being overlooked at the draft on multiple occasions for Sydney Swans forward Hayden McLean to finally live out his dream of being an AFL player.
Captain of the star-studded Sandringham Dragons 2017 grand final outfit in 2017, with future stars Andrew Brayshaw, Bailey Smith, Max and Ben King, and eventual teammate Joel Amartey all playing their part for the TAC Cup side, McLean was a surprising omission from his draft class later that year.
The athletic key forward would earn a training chance at St Kilda ahead of the National Draft and would also be in discussions with the Swans, only to miss out on a selection not once, but the following year as well.
After an impressive campaign with the Sandringham Zebras and speaking with teammates who had plied their trade in South Australia, the Beaumaris junior decided to jet across the border and sign with South Adelaide for the upcoming season.
The move was one to show AFL clubs he was open to playing in any corner of the nation, with the Swans soon making their advances for the key forward known with their SSP trial opportunity.
Alongside former Collingwood key-position talent Sam McLarty, McLean was invited to train with Sydney a week out from the 2019 Supplemental Selection Period deadline, packing his bags for the second time in months after initially trading the VFL for the SANFL.
With a contract eventually penned in the same month the season started, McLean's long journey of failed draft chances, training stints and state league showings had finally reached its dream destination.
Speaking to Zero Hanger, the 24-year-old reflected on his path to the AFL, believing each new challenge in his "very hard" route to the Swans had a purpose.
"I had that year with Sandringham VFL and thought I had a pretty good year. I had a few interested clubs and it just didn't go my way," McLean said.
"I talked to a few boys that were at the VFL and a few of them had played over at South Adelaide or ended up in the SANFL and they suggested it's another league that's a really strong competition with bigger grounds, which suited my game style.
"It was another thing to show clubs that I'm still pursuing this dream, that I'm willing to move to another state to give this another crack and keep going and show my dedication. The SANFL was a great competition, so I wanted to put myself up against the next best.
"I was only there for two and a half months, maybe three months. I moved over just after Christmas and I think I got picked up the last week of the pre-season. So it was a short time but I enjoyed it there and I think the Swans said as well that (they were impressed by) the move and the commitment.
"I think (Sydney) had always kept tabs since I was 18. In my draft year they were talking to me a lot and said maybe (they'd select me) in the Rookie Draft. That obviously fell through, so they just kept eyes on me.
"I think it was the last week when I was in Adelaide, they just called me to say they've got a spot and it's you or another player, just to come over and do medicals. I had a few interviews and spoke to the coaches and then within a couple of days they said that they were going to take me. I flew straight over, straight to training and then Round 1 came around pretty quick.
"At the time it was probably very hard for me. Missing drafts and moving and making those decisions, but looking back now I think it all happens for a reason. I think I'm better off from missing a few drafts and having to do it the hard way. I'm really appreciative and always had that competitiveness front of mind. Over time it might have felt like it was a bad thing, but looking back now it's made me where I am today, so I wouldn't change a thing."
Now in his fifth season with the Bloods, McLean is beginning to find consistency in his game and with the opportunities on offer under coach John Longmire to repay the favour, having spent a majority of last year on the sidelines or in the VFL.
It wouldn't be until the grand final where McLean would make his ninth appearance for the Swans last year, having played the opening eight rounds of the season before being left on the fringes.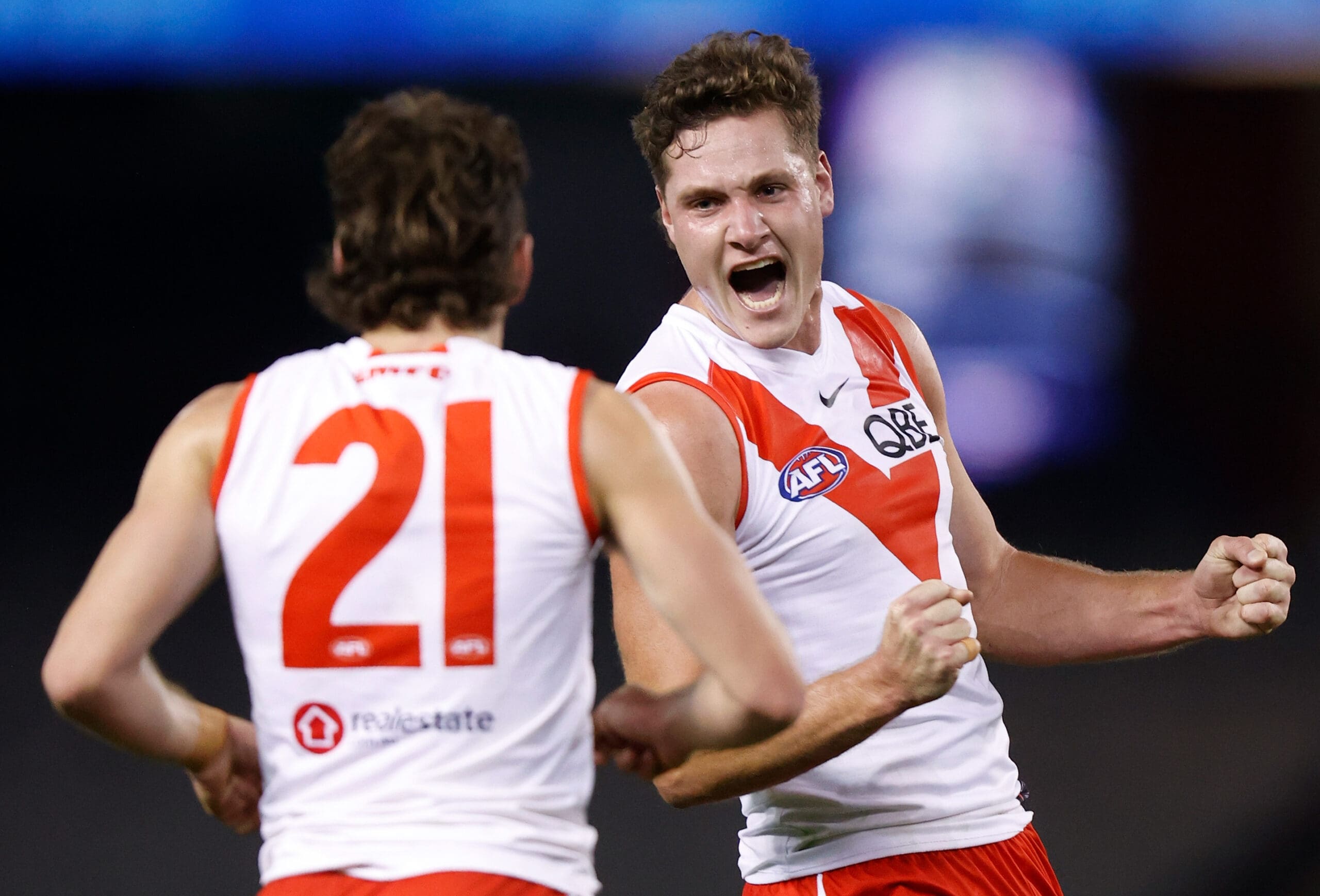 Missing just two matches this year so far to be in line to play at least 10 matches in a season for just the second time in his career, McLean has found promising form to boot seven goals in his past five games, shaking off a slow start due to an injury-interrupted pre-season.
"This year, early on, I just came back from a quad strain straight into the season. The first few rounds I guess weren't up to my level," McLean said.
"I've sort of found that form in the last month and have had a good impact, whether that's in the ruck or predominantly forward like the last few weeks. I think having that impact on the scoreboard the last few weeks and finding that form I've got that confidence at the moment to keep going.
"The coaches are really good, they know if you're doing well. It's just about backing up, keep putting games together, because the thing with our young key forwards is that we've got a few here and we're all competitive.
"One week you might not be in but the next you can be, and that's sort of what happened (for the grand final). They just kept encouraging me to play well."
Yet to secure his future for beyond 2023, McLean isn't paying too much attention to where contract discussions sit, leaving the talking to his manager and hoping his football can be just as loud.
"For me, it's just about trying to play the most consistent and best footy I can, and that's what I have done the last couple of weeks," he said.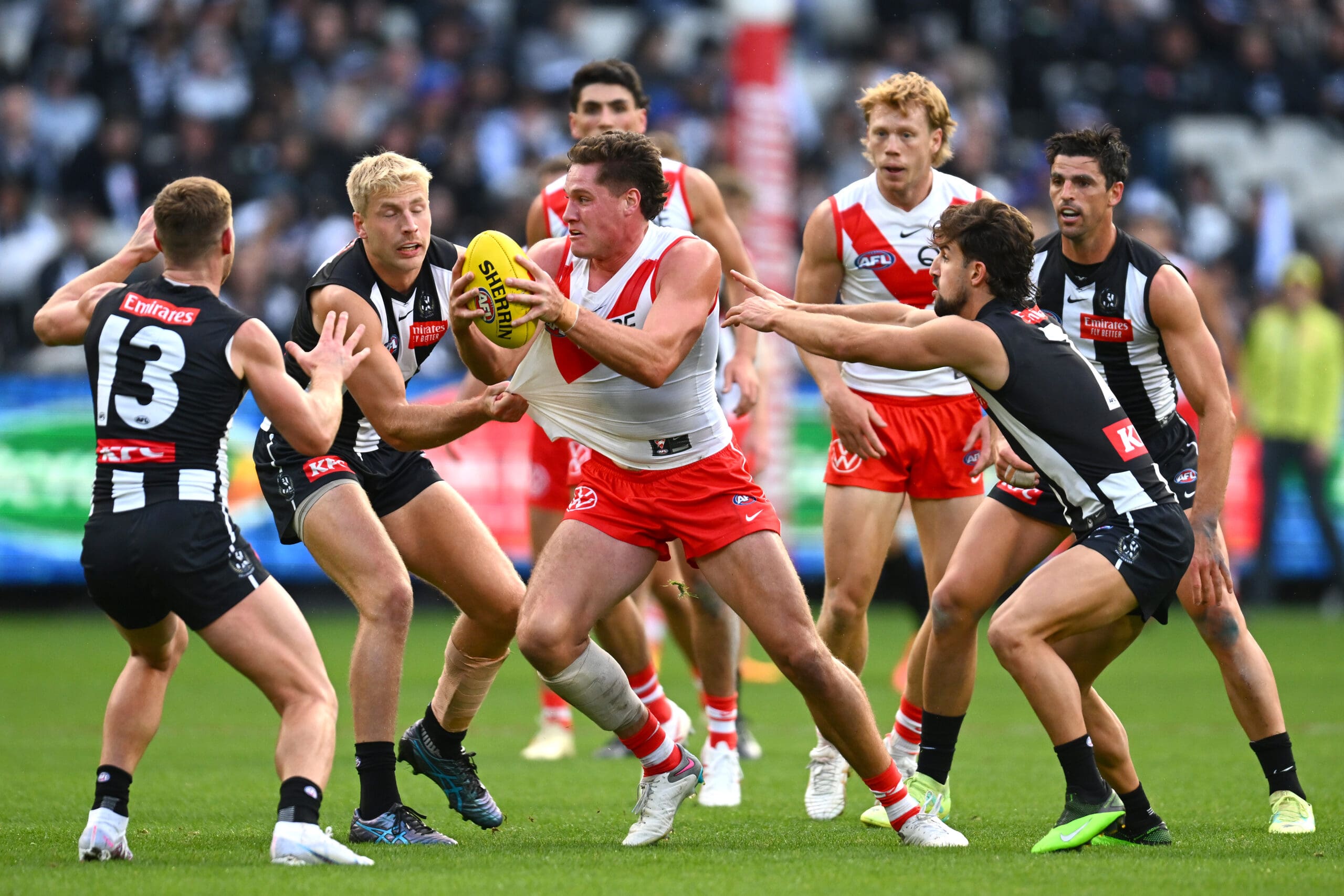 "I've been getting back to where I should be, but I know I can still go another couple of steps.
"I'll leave (contract talks) up to the manager and just try to put my best foot forward each week. I know that will do the talking and hopefully get a few things sorted."
The mid-season break allowed the Swans some time to reset, and more so for McLean to return to Victoria to visit family, play a few rounds of golf, and study up on his construction management and property degree.
For the Swans as a whole, they're still looking to hold onto the form that saw that claim back-to-back wins and snap a four-game losing run. A controversial last-minute finish against the Kangaroos and a home win against Carlton before the bye saw the Swans building momentum before the second half of the year, with the Moore Park club now setting its sights on St Kilda for Round 13.
The Saints have been a stingy defensive unit this year to rank No.1 for points conceded in the league, with the Swans' attacking force knowing their best can disrupt Ross Lyon's rearguard.
"I think having those two wins, against North Melbourne, which was a close one, then a better performance against Carlton, it's good to have those two wins before the break just to keep the mood positive and give the boys the confidence that we can know we can turn it around," McLean said.
"We showed a little bit in those games. So the message now is just to double down on what we know and hopefully get a few players back. We know what we can do and just need to keep going forward now. It's a strong back end and the top eight is close.
"Credit to (St Kilda), they're a good defence. They work well together. For us forwards we're just going to try and beat them one-on-one, but then also help each other out where we can, whether that's giving blocks or leading patterns.
"We know our best can match it with them. It's just getting that confidence back."
Thursday's matchup will see Swans champion Lance Franklin play his 350th career match, with the league to celebrate arguably this century's greatest player with yet another wondrous milestone.
While the Swans faithful will be loud in cheering on the 1,000-goal great across the coming days, the players aren't making too much noise in the build-up to the occasion. Seen as a 'humble and grounded' teammate inside the four walls at the Swans, Franklin will be treating the occasion like any other game.
"It's pretty quiet between us. We obviously all sort of know it's his 350th, it's a great achievement for him but in-house we're not talking too much or building it up internally. It'll be a special night for him and hopefully we can get the job done for him," McLean said of Franklin's latest benchmark.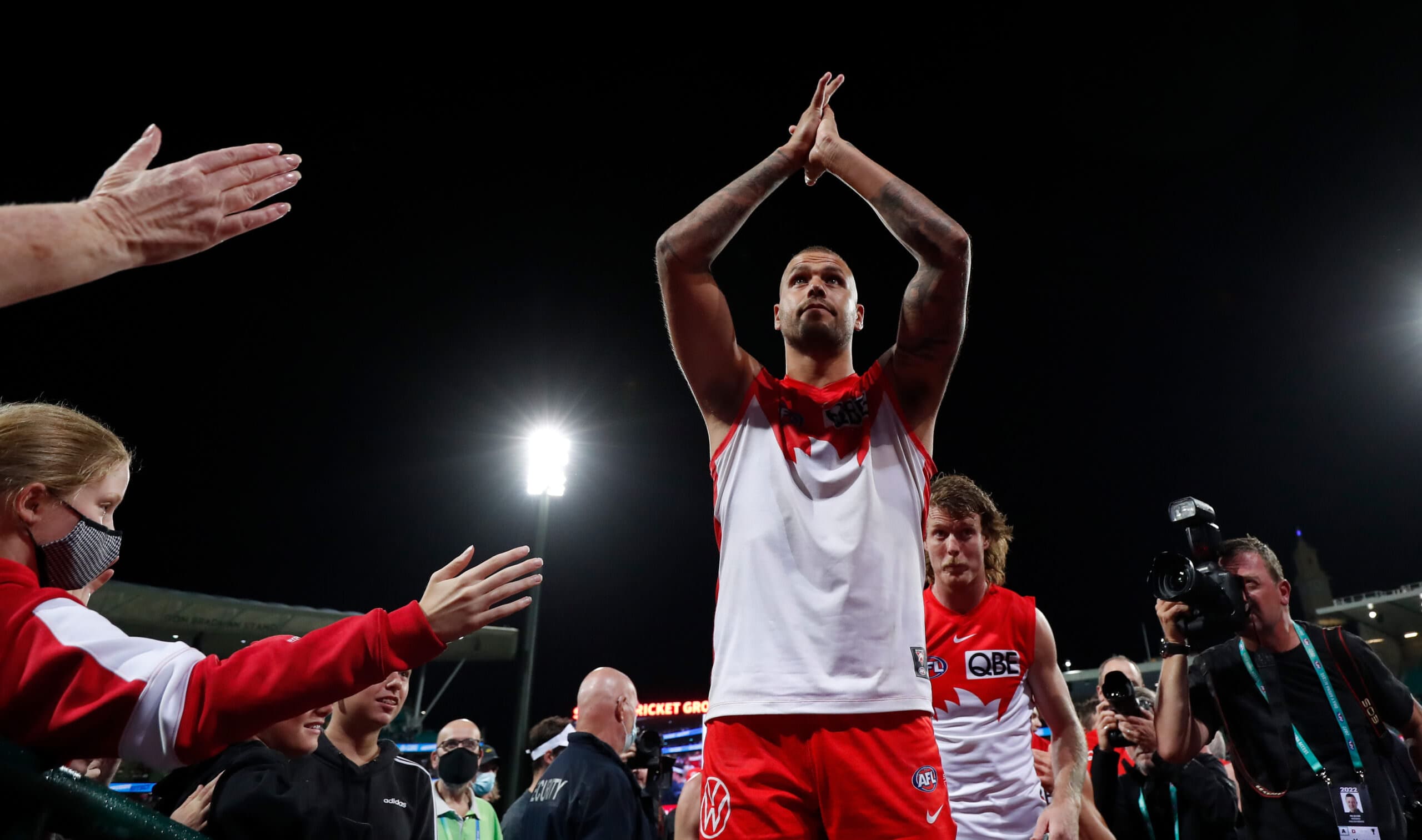 "He's been very good for us forwards, even Logan (McDonald) and Joel (Amartey), he's helped us out when we needed it.
"He's just a normal person. He's good around the club, he loves to have fun but when it's time to go you can see why he's so good, he's such a competitive beast and that's something that being around him you can learn. But off-field, he's just another guy, he's a great bloke and willing to help out.
"He's a pretty humble bloke, he's not too out there and he's pretty grounded. He just loves his table tennis and FIFA. So he's really competitive on and off the field."
The four-time Coleman Medal winner will begin to pass the torch over to the Swans' fledgling group of key forwards, with McLean, Amartey and Logan McDonald already sharing the workload this year in the veteran's absence.
The trio has shown glimpses of what's to come in life after 'Buddy', with McLean excited by what's on the horizon in the Harbour City.
"We've played a bit here and there in the ones and the twos and I played with Joel in juniors so we've sort of got that connection," McLean said.
"This year we had a bit of a taste in the seniors when Bud was out and it was good working with (Amartey and McDonald) and Pete (Ladhams) as well.
"It'll be interesting to see how it goes and I'm really keen to see what the future holds."