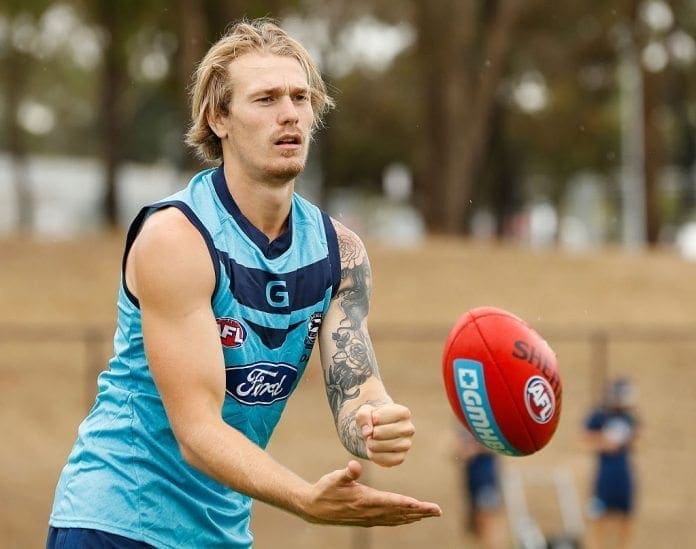 It's hard to imagine Geelong superstar Tom Stewart doing anything else bar playing footy at the highest level, but you'd be surprised to hear the elite defender didn't have his ambitions set on making the AFL until a lot later in his local footy career.
The three-time All Australian and Geelong best and fairest winner sat down on the Little Fish podcast to discuss his time with local footy club South Barwon - playing under and alongside Geelong legend Matthew Scarlett - and how his relationship with the AFL great led him to realise his dream.
Reflecting on both his junior and senior years playing in the Geelong Football League, Stewart discusses how he had always wanted to make the AFL from a young age, but lost that drive as he continued to play at a junior level.
Despite playing in multiple grand finals, having decent success winning flags in his junior years and never missing a game barring injury, Stewart claims he simply didn't have the passion or commitment needed to go all the way.
"I wasn't taking it seriously at all" Stewart explained.
"It was a Tuesday, Thursday night at the club and it was a social thing, and I was playing football just with my mates and that was all I sort of had the aspiration of."
Working five days a week as a carpenter, the prospect of playing in the AFL was not one of his priorities at the time. The star defender's mindset began to change soon after Scarlett came down to South Barwon, which Stewart claims was one of the most important parts of his early football career.
"To see a legend like 'Scarlo' come down to your local club was like 'holy s***', like this is like an icon of football," Stewart recalled.
"To play with him in a local flag was something I reflect for the rest of my life as one of the best moments."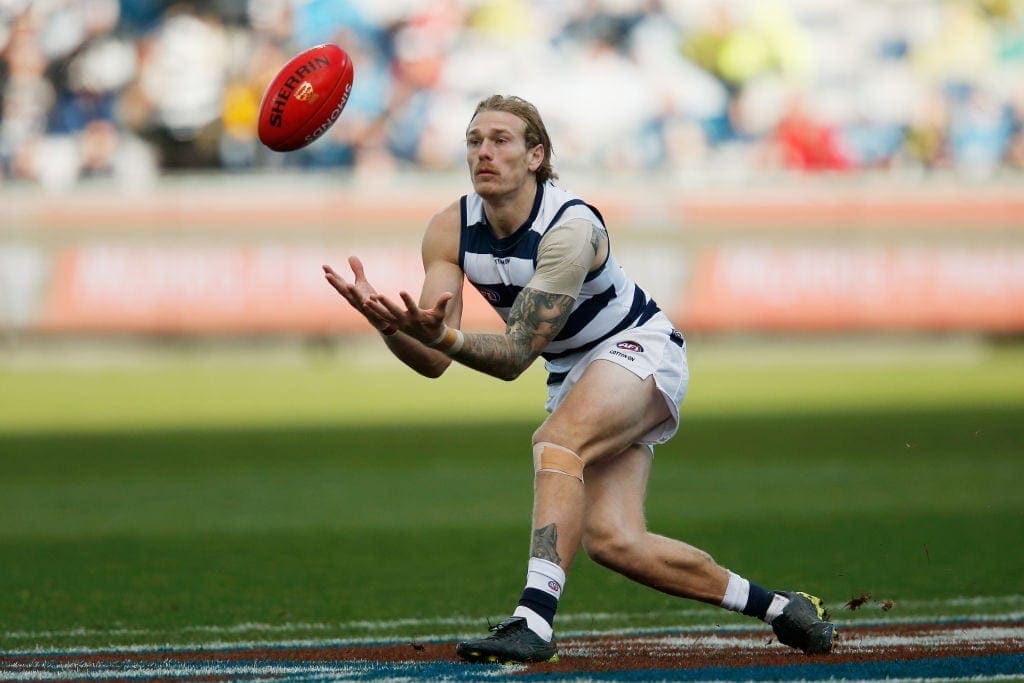 The major influence Scarlett had on Stewart came down to the many conversations they had together, through both a player-coach relationship and as teammates. 'Scarlo's positive reinforcement, encouragement and no-nonsense attitude led to the re-ignition of Stewart's passion for the game as well as providing the young defender with a much-needed boost in confidence.
"He just told me that he saw me do things at local level that he hadn't seen some of his AFL teammates do," he said.
"He said my biggest strength was being able to win a contest, and having that base for my game personally just gave me great confidence.
"To hear that from a person of his stature, like how could I not have confidence in myself."
The reinvigorated Stewart went on to have great success for the Swans, playing inter-league alongside Scarlett as well as the senior VIC Country team. His standout performances in these competitions led to a call from Troy Selwood, who was involved in Geelong's VFL program at the time.
"[Selwood] invited me down to train over the summer, and my thought process was if I go down and train hard and I don't get picked at least i'd go back to South fitter and at least help my local club at a higher capacity," Stewart said.
"They signed me pre-christmas, and I played every game that year."
TOM STEWART
Defender
Geelong

2021 SEASON AVG

24
Disposals

8.9
Marks

6.1
Rebound50s
After only a year in the Cats' VFL team, a meeting with Selwood, Geelong recruiter Stephen Wells, and former player Stephen Hocking secured Stewart's newly realised goal of getting drafted.
"They told me they were keen on me, that they were gonna draft me," Stewart revealed.
"It was genuinely surreal. Surely this is a dream, like I'm gonna wake up and realise this isn't happening."
Drafted pick #40 in the 2016 National Draft and debuting a year later in 2017, Stewart has gone on to play 106 games and counting for the Cats, averaging 20.3 disposals and establishing himself as one of the competition's best defenders.
The 28-year-old also went on to comment about his potential role within the club once he hangs up the boots, and how he feels he can make an impact off the field in a coaching role.
"The coaching side is something that really intrigues me because I feel as though it's somewhere I can have an impact," Stewart added.
"My goal is not to be a senior coach, I couldn't do it, I don't think I have the personality for that, but if I could be like a development, VFL crossover coach or an assistant coach or an academy coach, that's where I think I could have my best impact.
"At this moment that's where I'm sort of working towards."