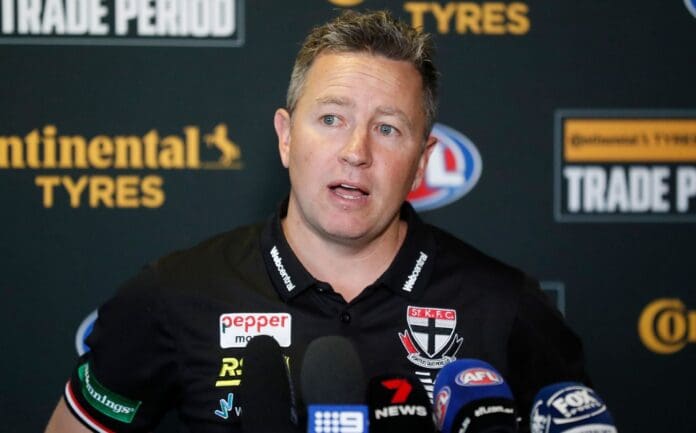 News out of the St Kilda camp reveals head of list management James Gallagher will finish his services at the conclusion of the year, ending four years in the job where he oversaw personnel changes at Moorabbin.
Having formerly represented the Adelaide Crows for a total of 38 games, stretched out across three seasons, the 43-year-old made the transition into banking, before his stint at the Saints.
Chief Executive Officer Simon Lethlean thanked Gallagher for his time with the red, white and black, whilst highlighting a greater understanding, upon reflection, for his sacrifices during the virus-affected years.
"James has contributed significantly to the improvement of our list and culture throughout his time at the Saints," Lethlean said. 
"He has an appetite for hard work and his care and passion for seeking to improve the quality of our list and the culture of our club was evident, no more so than when taking on more than just his primary duties throughout the COVID-interrupted 2020 and 2021 years.
"We wish James, his wife Laura and children Jack, Alice and Olivia, all the best for their move back home."
Heading into the club's milestone 150th year of existence, Gallagher communicated his appreciation whilst touching on the reasoning behind stepping away from the role voluntarily.
"It has been a privilege to hold this position, but it is a role that is all consuming," Gallagher said.
"With the changes to my family priorities, meaning that we won't be living in Victoria, I don't believe that this will enable me to commit to the presence required at the club to execute the role successfully and in the manner that the club and I would expect, leading to the decision to step away.
"I have absolutely loved my time at St Kilda and have been fortunate to work with a lot of wonderful people across the entire club, including our playing group, who are a terrific bunch of young men. 
"I wish only good things for St Kilda and I'm very optimistic that the club will head in an upwards trajectory over the next few years."
St Kilda pointed out in their club statement that the commencement process in recruiting a new head of list management will be a thorough one and one that'll be carried out under immediate effect.