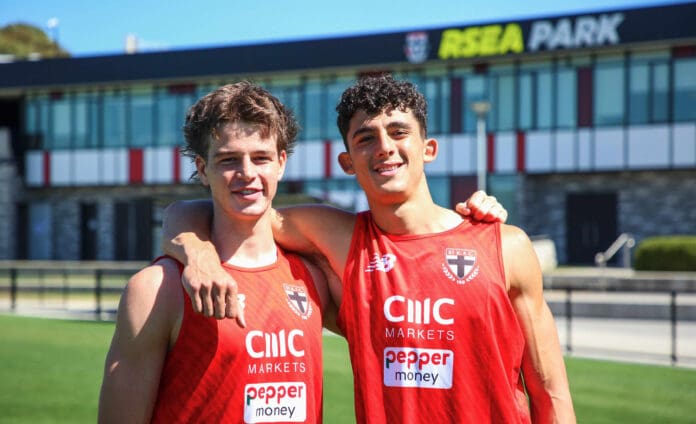 A pair of Saints youngsters will debut this week in the club's Round 1 clash with Fremantle, with Mattaes Phillipou and Anthony Caminiti confirmed to play their first game.
Much attention will be on Phillipou, who was drafted with Pick 10 in the National Draft last year, but the recent arrival of Caminiti during last month's pre-season Supplemental Selection Period should also have fans eager.
The 19-year-old only trained for two sessions prior to securing his spot on the list, including a best-on-ground performance in the match simulation.
Also a part-time student, Caminiti was studying a Bachelor's Degree in Engineering and working two hospitality jobs between his uncle's steakhouse and local café before his recruitment. The youngster is excited for the opportunity.
"I'm a bit nervous, but I'm so excited to run out there with the boys," he said.
"My goal once I got signed was to develop in the VFL and potentially get a game later on in the year, but I never expected to debut this early.
"It's been a whirlwind, but it's a dream come true."
As aforementioned, much of the hype surrounds Phillipou, with his pre-season and practice matches proving enough to warrant a debut in Round 1.
Often playing up forward recently due to the surplus in injuries at the club, the 19-year-old has also spent time in the midfield. He too is excited and keen for his first game.
"I'm super excited to be playing Round 1," he said.
"The family will be coming down for the game, my grandparents, parents, brother and sister, so it should be good.
"There might be a few tears, definitely a lot of excitement, but hopefully they're proud of me."
Teammates Zaine Cordy and Liam Stocker will also pull on the red, black and white for the first time this weekend.
St Kilda host Fremantle at Marvel Stadium on Sunday at 4.40pm AEST.