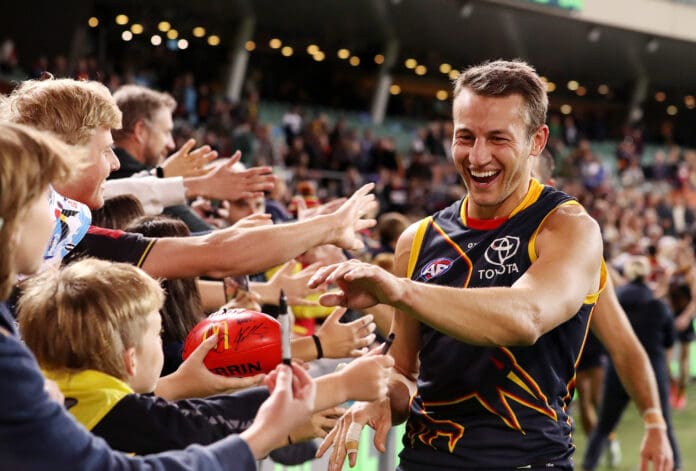 The AFL and the South Australian government have confirmed that Gather Round will be held in South Australia for at least the next three years, following the success of the inaugural event.
All nine games hosted in South Australia this weekend were sold out, with more than 220,000 fans attending across the round.
The new commitment will see South Australia host in 2024, 2025 and 2026, with plans for 2024 games to be played in the Barossa / McClaren Vale region.
AFL Chief Executive Gillon McLachlan said the first edition of Gather Round had been a success, hoping for similar levels of support in years to come.
"South Australia really turned it on. Gather Round and all the activity across the state, the nine matches, the footy festival and the community football engagement has been some of the best days and events the AFL has ever delivered," McLachlan said in a league statement.
"It has been a success because everyone in football got behind the idea, clubs, players, corporate partners and most importantly our fans, to deliver an extraordinary few days,
"While the concept has real momentum, and we plan on taking it to other states around the country, we also feel in order for it to be as successful in the other states we need to continue to build out the concept in South Australia,
"The reality is we only had a few months to pull this together, and we hope by locking it in now we are giving everyone a longer runway to put together a bigger and even better event, and our fans certainty around booking travel and accommodation.
"The match at Mount Barker was a special afternoon on Saturday and an important part of recommitting to South Australia was to establish the community legacy fund, ensuring local footy clubs' benefit from bringing the Gather Round to town."
The AFL is set to lock in dates for Gather Round in 2024 in the coming weeks, with tickets to be released later in the year.