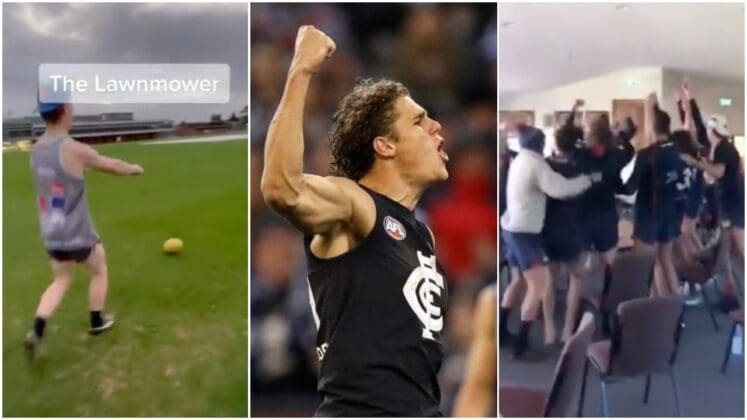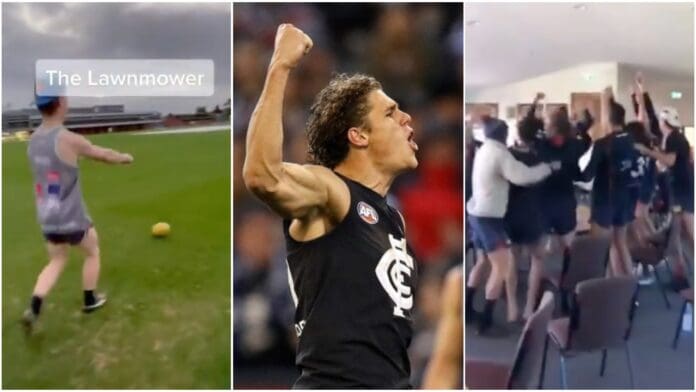 Another week, another Social Talk segment looking back at the week that was in the AFL.
Here's what made news on the socials this week:
Hawks And Clarkson Part Ways Early
In a succession plan that was set to see Sam Mitchell take over super coach Alastair Clarkson as Hawthorn coach in 2023, it looks like that may be happening sooner than expected.
On Friday morning, news circulated that Hawthorn and Clarkson were set to part ways at the end of the season and potentially even sooner.
The news almost certainly broke the AFL social media feeds.
Four premierships, the greatest coach of the modern era and one of the greatest coaches ever. It's unbelievable that Alastair Clarkson's time at Hawthorn is ending like this. It's so sad. Deserved better.

Congratulations on a magnificent career in brown and gold Clarko. Unreal

— Kate Salemme (@KateSalemme) July 30, 2021
So angry and upset right now. Thanks for everything Clarko. You sir are a legend and have created a legacy that will never be forgotten @HawthornFC @HawkTalkPod https://t.co/J5XCjpTNdG

— Aaron Olow (@aaronolow) July 30, 2021
Beveridge Takes Aim At AFL Over Boxing Training Ban
After the AFL banned sparring and combat boxing exercises in clubs this week, Western Bulldogs coach Luke Beveridge hit back at the AFL, saying that the AFL shouldn't be telling clubs how they can and can't train, he will continue to do boxing sessions until there was more clarification from the AFL.
Fair to say there were some mixed emotions.
Should we ban weights as well, in case someone drops one on their foot and they're not wearing steal cap boots 🙄

— Track Tout (@Track_Tout) July 29, 2021
Disagree. Ultimate responsibility falls on the League. Bevo should be careful with his comments.

— Radhakrishnan Muthukumar (@Radhak4Krishnan) July 29, 2021
Ben Cunnington's Battle With Testicular Tumour
After scans revealed a testicular tumour on Monday, quick and swift action was taken by North Melbourne and Ben Cunnington to safely remove the tumour on Tuesday, which gave Cunnington the best chance to successfully recover.
We wish Cunnington all the best and a speedy recovery.
Note: Remember men, testicular health is important!
Ben Cunnington is one of the toughest men on this planet, but we're all right behind him and his family right now. 💙🤍

— maddie (@maddiemelb) July 28, 2021
omg. all the best to ben and his family! sending all my love!

GUYS! this is a wake up call to check your balls for any irregularities!

don't know how? here's an article for you https://t.co/a070XIZkYY https://t.co/JTpK6eAHRB

— Swoop Luke (@SwoopLuke) July 28, 2021
All the best to Ben.
A speedy recovery!@NMFCOfficial https://t.co/VRa5TxTr3Q

— Stephen Quartermain (@Quartermain10) July 28, 2021
Charlie Is Back!
After over two years on the sidelines as a result of knee injuries, Carlton fan favourite Charlie Curnow is set to make his long awaited return to football this week when the Blues take on St Kilda.
It will be the first time Charlie Curnow and Harry McKay have been in the same forward line since 2019 and just their 24th out of a possible 124 times since both have been at the club.
The addition of Curnow is a massive boost for the club and it's fans after a disappointing showing last week against North Melbourne.
The Blues fans were certainly up and about upon the return of Charlie!
Carlton will finally pair Charlie Curnow with Harry McKay in the same forward line on Friday night.

It will be their 24th game together out of a possible 124 since arriving at the club. @AFLcomau

— Riley Beveridge (@RileyBev) July 29, 2021
There aren't too many players who get me out of my seat.

Welcome back Charlie Curnow.

Go well 💙 #baggers

— Paolo Antonio Sebastiani (@paulseb05) July 29, 2021
😭🙌🏽❤️ Love this guy so much. Beyond happy to see him back where he belongs. https://t.co/FbqHLGxfaq

— Melissa Oberhofer (@M_Oberhofer) July 29, 2021
Buddy Franklin Gets Reprieved
After initially receiving a one-week suspension and opting to challenge, Lance Franklin successfully won the appeal and will be free to play this week against Essendon.
Given the nature of the incident, there was plenty of backlash about Franklin's initial decision being overturned.
I sometims (often) think that the AFL is run like a reality show rather than a sporting league with integrity

Letting Lance Franklin get off shows how much they want to create desired headlines and outcomes

Helping him to 1,000 goals this season is one of those desired outcomes

— Boggie 🇺🇦 (@BoggieFootball) July 28, 2021
#afl https://t.co/xDR0YBcoZS pic.twitter.com/iak1khPDxe

— CCGS Thickshake Machine (@VonPodrick) July 27, 2021
AFLW Draft
In what is a special night for many young women that have worked tirelessly to fulfill their dream of playing in the AFL, the AFLW held it's annual draft this week which saw some of the best young talent drafted by each club.
Headlining the draft was Charlie Rowbottom, who was selected by the Gold Coast Suns with the number one pick.
We wish all draftees every bit of success!
Gold Coast Suns drafted Charlie Rowbottom with the No.1 pick in the AFLW draft. 🙌 pic.twitter.com/b0w3v7Zzke

— 7AFL (@7AFL) July 27, 2021
A bit of brotherly love from Charlie Rowbottom's brother, @sydneyswans' James Rowbottom ❤️#AFLWDraft pic.twitter.com/1TRPVPpSuv

— AFL Women's (@aflwomens) July 27, 2021
The newest @aflwomens stars gather at Princes Park today after last nights draft 👊 Zali Friswell, Tess Craven, Georgie Prespakis, Annie Lee, Charlie Rowbottom, Gabbi Featherston, Keeley Sherar and Stella Reid 🌟 pic.twitter.com/1ypOlqc2sH

— Michael Willson (@MichaelCWillson) July 28, 2021
Olympic Fever
The Olympics are in full swing and Australians around the country are cheering on their beloved athletes all the way to a hopeful gold medal, or any medal for that matter.
The Demons players cheering on Ariarne Titmus all the way to winning a swimming gold medal is absolutely wholesome!
This is SO GOOD. @melbournefc boys go crazy in support for Ariarne Titmus 🙏 pic.twitter.com/FluCg0fn2M

— 7AFL (@7AFL) July 28, 2021
How's These For Goal Celebrations
Tik Toker @cooperhamilton provided us with some quality fun this week, showing off some brilliant and hilarious goal celebrations.
Could you see these being used in a game at some point?
These footy celebrations will be hard to top 😂🤣

(via Tikok/coooperhamilton) pic.twitter.com/pfguCpyM4G

— 7AFL (@7AFL) July 25, 2021