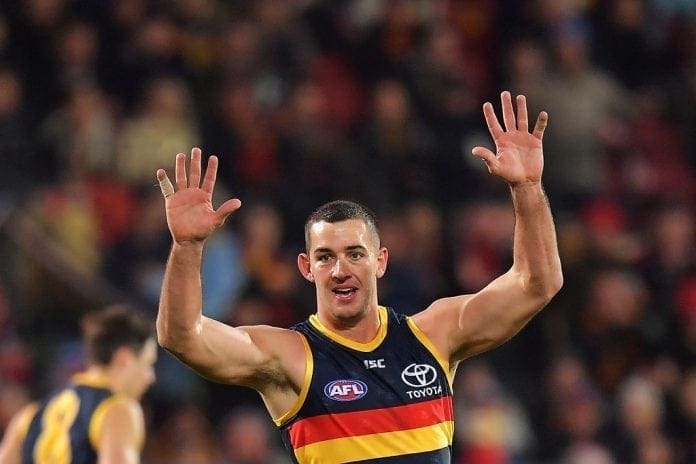 South Australia's chief health officer, Nicola Spurrier, has shed light on her comments encouraging fans to 'duck' and not touch the footy if it came their way during Saturday's Adelaide-Collingwood match, claiming they were "tongue in cheek".
Professor Spurrier on Wednesday advised fans to "duck and do not touch that ball" if it came towards them during the game.
Her comments sparked a significant fan reaction, with many supporters taking to social media to voice their confusion, as well as poke fun at Spurrier's remarks.
RELATED: Crows players to 'isolate immediately' following Collingwood clash
However, addressing reporters on Thursday, Professor Spurrier clarified her earlier comments, saying fans were allowed to 'catch' the ball if it came towards them, but adding that they should hand-sanitise immediately afterwards.
"Regardless of Covid, this ball has been touched by many sweaty men on the field. Sanitise your hands before you start eating your chips."

- SA Public Health Officer

(via @Stevo7AFL)

— 7AFL (@7AFL) June 3, 2021
"I've had a bit of an update from some more football knowledgeable people in my department today to tell me that there's about 50 per cent of people that really try madly to get ball, and there's about 50 per cent of people that are like me, and just duck.
"To be perfectly honest, whenever you touch an object – and in this case this is an object touched by, I don't know how many, very sweaty men on a football field – sanitise your hands afterwards. That's advice I would give pre or post-COVID.
"To put this into perspective, these (Collingwood) players don't have COVID. They have come from Victoria where there has been an outbreak, there's really good signs that its getting under control.
"I'm perfectly comfortable with the ball, just take that tongue in cheek".