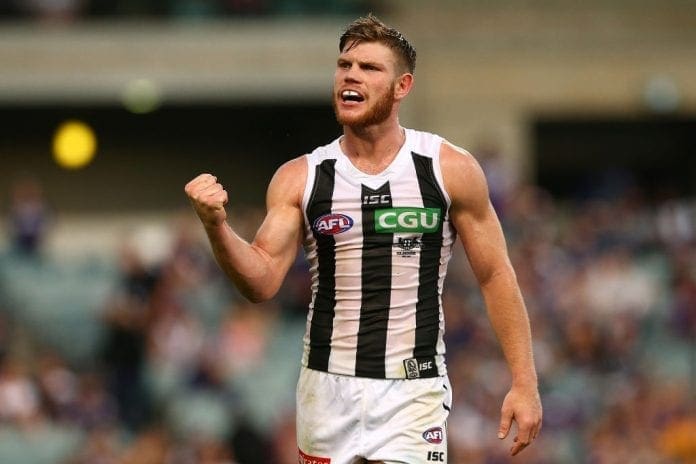 Collingwood's Taylor Adams has poured more fuel on the fire in a sledging contest between himself and Melbourne's Bernie Vince, ahead of this week's Queen's Birthday Clash at the MCG.
Following the Pies' win over Fremantle on Sunday, Adams declared that Lynden Dunn's form so far in 2017 has come down to the new Pie being at a successful club.
"[Lynden] hasn't been part of a real successful club and I just get the feeling he loves being here at Collingwood," Adams told ABC Radio Perth.
"It's just given him a spring in his step and the way he leads around the footy club and out on the field, it's crucial to our back six and our 18 out there."
Vince then took exception to Adams' comments, questioning the Pies' recent lack of success.
 "What, is he (Dunn) at a successful club now, is he?" Vince asked in a press conference on Tuesday.
"That's the first I've heard of it but we might be able to use that one as a bit of motivation. Not sure what he's done at Collingwood yet though."
Adams was not done there, however, responding on RSN927 radio on Wednesday morning.
"Nobody is under any illusion about where their footy club is at and what they've done. It's a pretty fiery game so it will probably add a little bit of fuel to an already burning fire," he said.
"I would like to see more of it to be honest.
"Like the NBA, I love how honest and raw they are. It's almost cocky but it's just confidence."
Honesty is a trait often-lacking from press conferences in the AFL, with both players and coaches extremely well trained to deal with questions from the media.
This recent exchange between two rivals is something we would also like to see more of as it not only potentially adds a bit of spice to an already simmering contest, but it allows fans to see more personality traits of the players.
Plus, who doesn't like an old-fashioned sledging war?