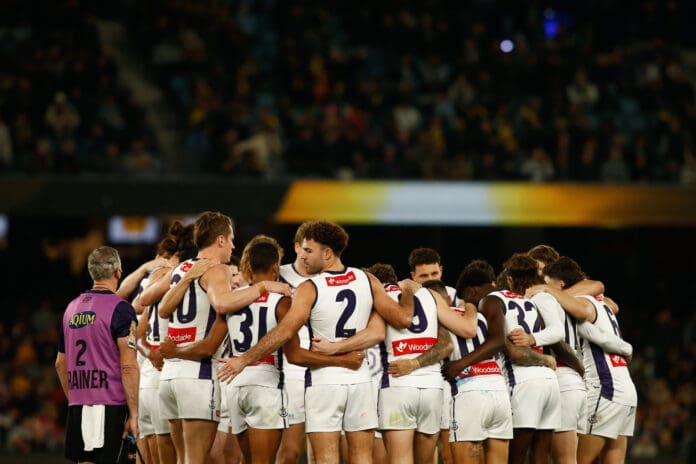 The Fremantle Dockers made an unexpected, astronomical climb to be finals football participants last season, but their mass list changeover at the end of last year may not draw the desired result of the club's list department and flag-starved supporters.
In 2022, after notching a seven-year-best 15 regular-season victories, the Dockers toppled the Western Bulldogs in an elimination final fightback before they were outclassed by Collingwood the following week in a semi-final, bringing their promising season to a grinding halt.
Fremantle, headed by lead executives Peter Bell and David Walls, did plenty of business during the league's player movement period, as former Gold Coast Suns and Hawthorn midfielder Jaeger O'Meara made the cross-country switch to Cockburn, joining marquee recruit Luke Jackson, who was acquired by the Dockers via a highly-speculated trade with Melbourne, and ex-Suns forward Josh Corbett.
However, in settling multiple transactions for imports, Fremantle also sent a host of 2022 regulars packing, as well as losing dependable stalwart David Mundy to retirement, bringing into question how coach Justin Longmuir's new-look side will gel this year, particularly through the early stages of the season.
Rory Lobb, now a Western Bulldog after Fremantle eventually acquiesced to the towering goalkicker's trade demand, was an instrumental piece of the Dockers' 2022 forward-line puzzle, as his 36 goals led the way at the club and his 118 score involvements ranked top-three.
Griffin Logue, presently a member of Alastair Clarkson's inaugural Kangaroos squad, was a temporary member of Fremantle's forward sector last season, but, ultimately, will be a much-missed utility for Longmuir, while Lloyd Meek sought more adequate playing opportunity at Hawthorn following Jackson's transition to purple.
Blake Acres generated a career resurgence throughout his Cockburn tenure, particularly last season when he was among the league-leading midfielders in kicking efficiency (10th, with an efficiency percentage of 71.8), and will now chase premiership success with Carlton, while Darcy Tucker also chose the route of enhanced senior opportunity, joining Logue at Arden Street.
Longmuir, decidedly conscious of his losses, made an eyebrow-raising concession about his club's inability to retain the aforementioned defecting talls during a recent chat with AFL Media.
"(Logue) last year probably wanted to be a backman, and we played him forward a lot and he missed out on the team early in the year," Longmuir began.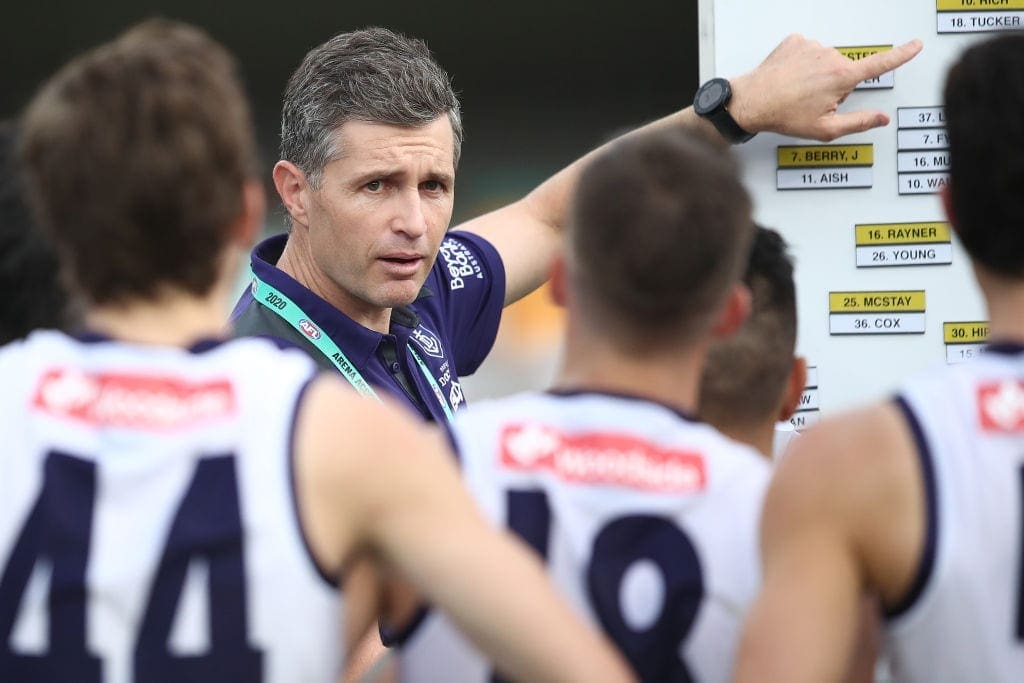 "Maybe he's one I could have sold a bit more of a bigger picture to, and (Meek) was probably the other one.
"(Meek) probably saw us getting Luke Jackson, saw he was behind Sean Darcy, and probably didn't really see an opportunity for him at the footy club. Maybe I could have sold that to him a bit better and had those conversations a bit more regularly with him."
Longmuir confessed that Lobb's departure request did not surprise the Dockers hierarchy despite his contracted status for 2023.
"We held Rory to a contract last year and he never firmly committed to us as a club, so I don't think (pitching a bigger picture) really applies to him," Longmuir concluded.
While Fremantle will be eagerly anticipating the arrivals of Jackson and O'Meara especially, the fact that key contributors have been cast aside in the process may mean the net result is a regression from last year's surprising progress, particularly when considering the often-thrown-around industry concept of 'shared experience' among playing lists.
Clubs seeking to stage an imminent premiership assault should look to do so with a mostly-constant playing group, says veteran list manager Matt Rendell, who recently detailed the common conundrum of shared experience to The Age.
"[Clubs] love this term, shared experience. It's having enough of your best team playing with each other for enough games. Clubs get to finals, [coaches] understand how their players work, how to get them motivated, how to get them at their best, but that takes time. It takes some time," Rendell said.
"But, if you can get a group coming through together, like Adelaide and North Melbourne are, who are back at square one, and one part way through it in Hawthorn, and Essendon, who are already in there somewhere -- they are ahead of Hawthorn -- it's that shared experience over four or five years, six years even, that's how you can build a list.
"Don't forget, Geelong did this, way back in the 1999 draft and 2001 draft. They took a heap of players ... by the time they got to 2007, they had five or six years of shared experience. I reckon eight or nine of them ended up playing 300 games."
Longmuir's Dockers, who breached the post-season barrier for the first time since 2015 and have achieved continuous winning improvement since the 42-year-old's hire at the conclusion of 2019, face a potential shared experience problem as a result of their vast list turnover.
Dealing away the likes of Lobb, Logue, Meek, and Acres, and losing Mundy, in spite of the debatable inevitability of those circumstances, poses a sizeable blip in Fremantle's sojourn to a maiden premiership.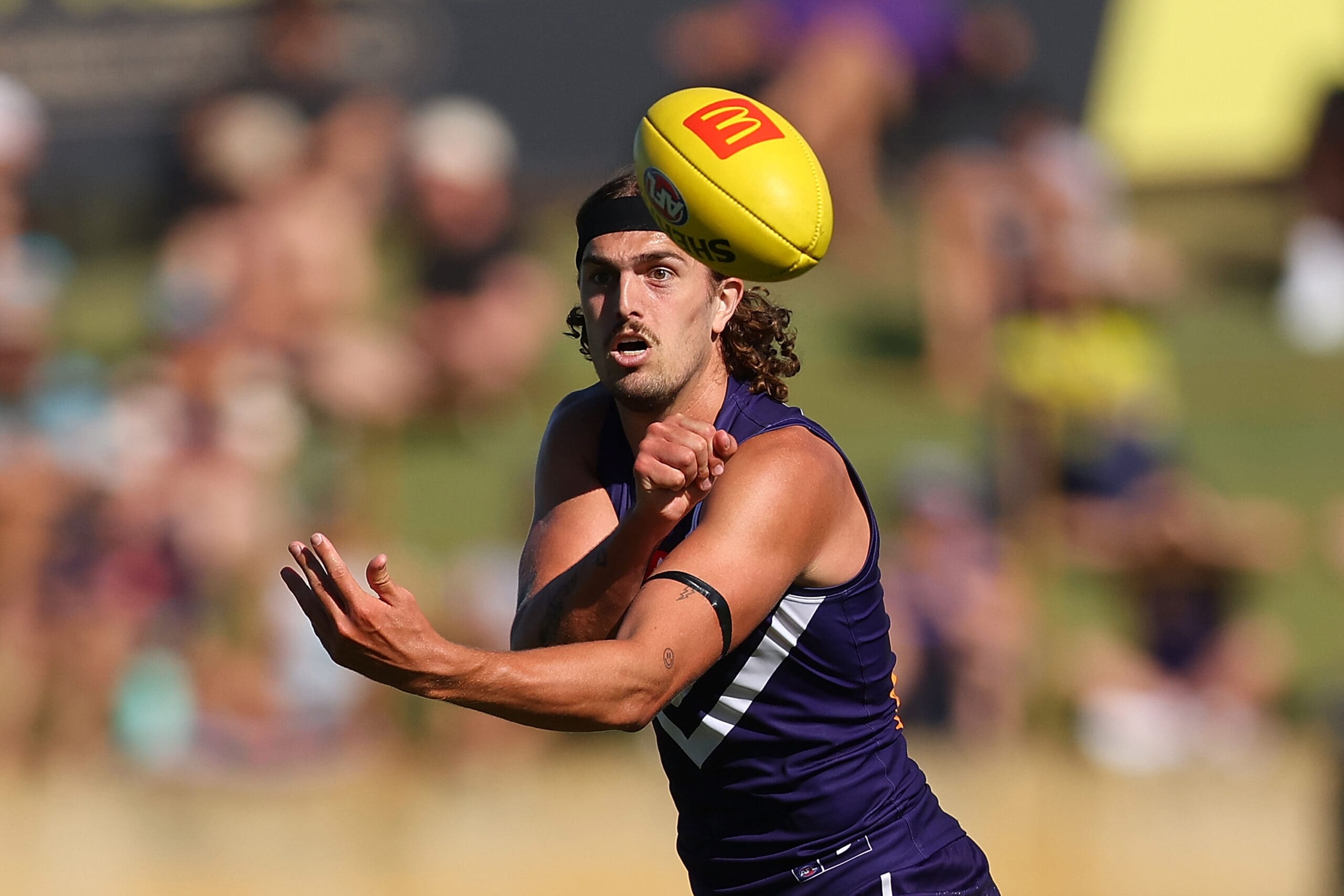 The incoming Jackson, O'Meara, and Corbett, not to mention the club's newest draftees, who, while they will each positively contribute along the way, also bring with them different experiences compared to the core group of pre-existing Dockers who lived the ups and downs of 2022's home and away season and finals series, as well as the long road that began in 2020 and led here.
Before this off-season, Longmuir, in 2019, inherited a largely similar playing list, with the exceptions of subsequent trade acquisitions James Aish and Acres in 2019, and Will Brodie and Jordan Clark prior to their barnstorming 2022 campaign.
All of this is to say that preceding this off-season's turbulent list shake-up, Fremantle had arguably achieved considerable player continuity – apparently glorified by list managers – under Longmuir.
Therefore, the all-important query remains: will the Dockers' new-look roster complicate their goal of repeating 2022's success and going a step further in 2023?
In any case, Longmuir, new captain Alex Pearce, and the Dockers will give themselves every chance of not only matching but furthering their 2022 progress.