According to the age-old proverb, the road to hell is paved with good intentions.
Yet, while there is a more than just a modicum of truth to be found within this musty phrase, the Gold Coast Suns have proven that their journey away from the flames has been walked on a path sealed with similar aims.
After being handed the game's biggest star, a string of top-10 picks and a set of demountables prior to their debut campaign in 2011, the Suns' efforts to construct anything close to inhabitable across the winters since have largely proven fruitless.
But with the Ablett-era now a distant memory and the vast majority of these draftees peaking at rival clubs, the league's ugly duckling has since been forced to continue their build with inferior materials.
Still, with a current record of 8-8 and a percentage north of 100, the club from Carrara, cobbled together with a new set classy kids and recycled role players, appears to have finally come into their own.
Following Noah Anderson's after-the-siren winner against Richmond last Saturday, the bar before Stuart Dews' side was raised to a height not seen since 2014.
However, with the race for the eight this season proving faster, tighter and more unforgiving than it has for many years, there will inevitably be unlucky absentees. And given the Suns have the least experience of those jostling in the peloton, their first steps in September may yet have to wait.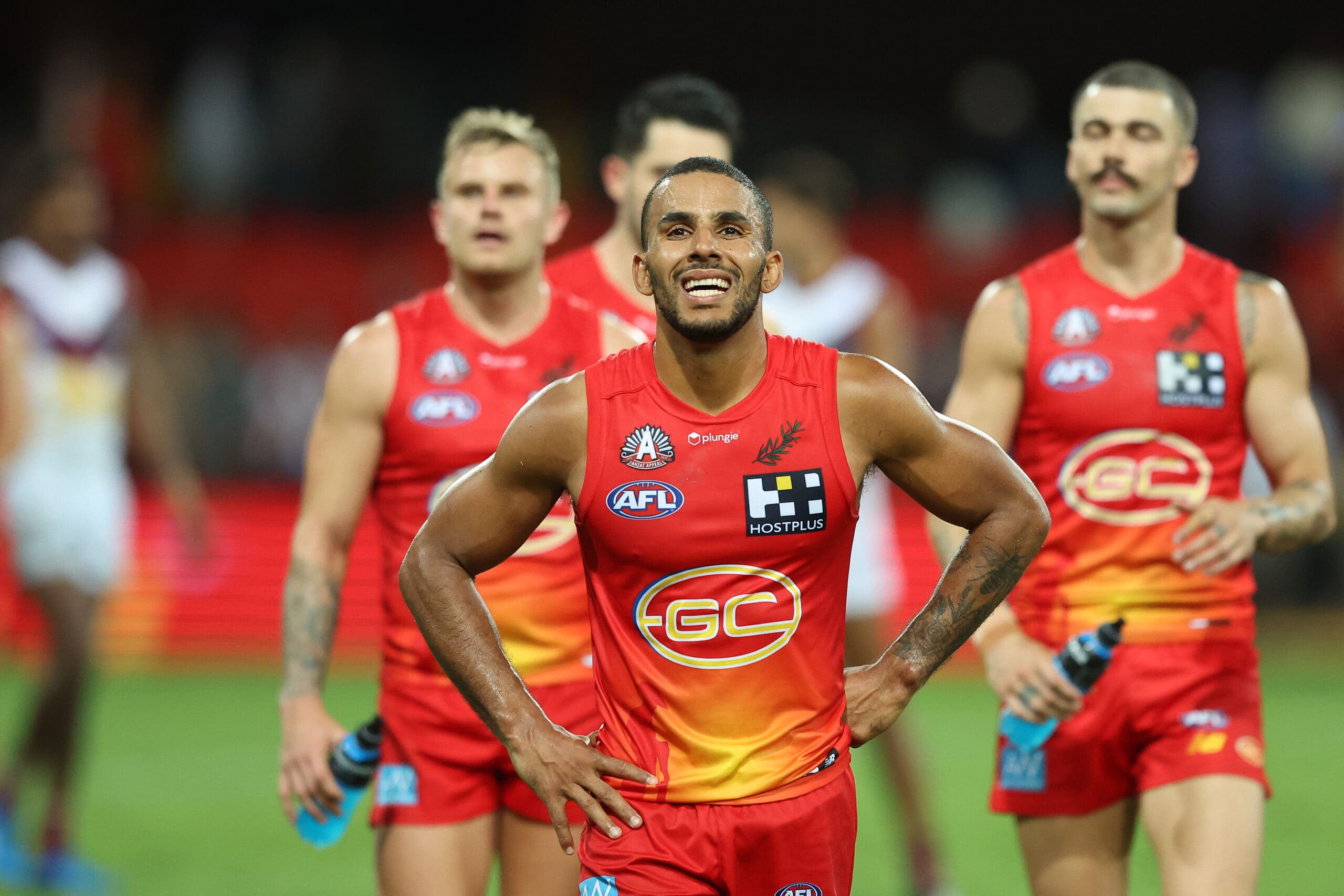 With 13 wins and a healthy percentage almost certain to be enough to see a finals invite show up in the mail, the equation before Gold Coast is simple – find five wins from their final six outings and keep their sole loss respectable.
Though seemingly straightforward, hurdles in the form of Essendon (A), Brisbane (A), West Coast (H), Hawthorn (A), Geelong (H) and finally, North Melbourne (H) are what lay ahead down the straight.
For fantasists, optimists and their camarilla of members, victories against the Dons, Eagles, Hawks and Roos will already be penciled in, with a Q-Clash win over the rusty Lions a dream pre-selection.
But for those unwilling to invest in a 'Suns 4 September' campaign just yet, there remains a view that not all of these barriers will be cleanly jumped.
Yet, irrespective of which side of Cavill Avenue you stand on, hinging the success of the Suns' twelfth season on whether they can finally crack a place in the eight or not is completely unhinged.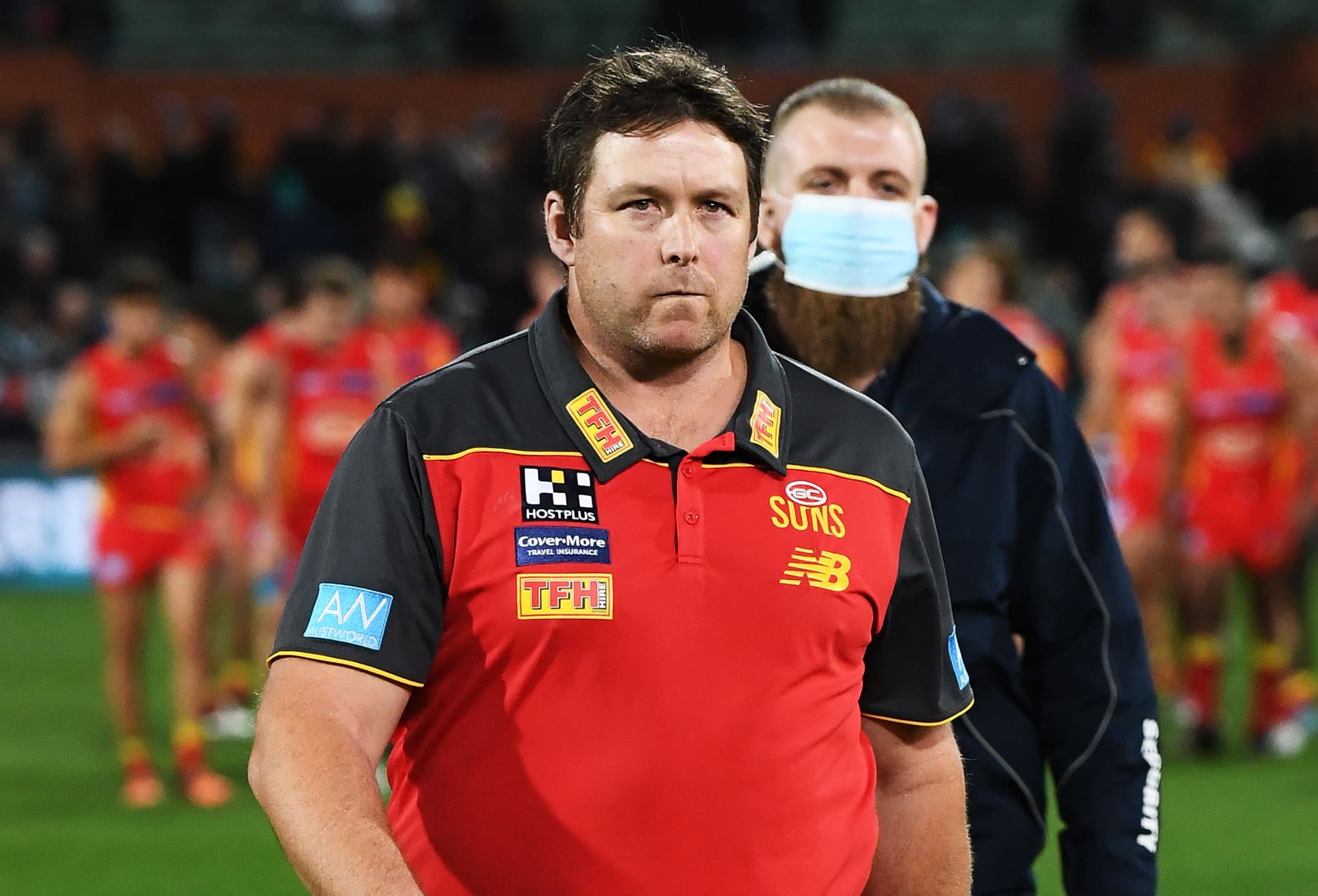 Still basking in their taming of the Tigers, two of the Suns' poster boys fronted the cameras for a rare stroll down media street on Monday night.
While bonded together after being taken with the opening pair of selections at the 2019 National Draft, the relationship between Anderson and his little mate, Matt Rowell, was forged well before their shared flight north.
Though the bright lights of the big time and the scorching rays of the Sunshine State are a far cry from their roots in Melbourne's leafy east, despite their relative inexperience at the level - and in life itself - the pair know a thing or two about team success, having claimed NAB League glory together at the Oakleigh Chargers.
But while all those around him had begun to lose their heads and dream of palatial dining rooms and ensuites complete with bidets, the Gold Coast's golden child claimed that the club's foundation was still under construction.
"I think those sort of wins create really good memories, and that's what footy clubs are built off," Rowell told Fox Footy.
"I think we've got the right people at the footy club now and we're starting to play some more consistent footy. It was really good to create a really good memory in a game like that. We'll remember it for a long time."
Still, a close win at home isn't sufficient enough of a base to carry double-story frames. A foundation built on sand requires much sterner reinforcing.
Matt Rowell and Noah Anderson reminiscing on Noah missing a post-siren kick to win his u13's comp. 🤣😂

📺WATCH #OntheCouch from 6.30pm EST on CH504 pic.twitter.com/gRJX0VzQKk

— Fox Footy (@FOXFOOTY) July 11, 2022
When spearhead Ben King hit the deck in early February and grabbed at his right knee, the hearts of those who went chips in for change on the 'Glitter Strip' were sure to have been laying even lower.
However, following the on-the-fly emergence of 'Cholboult', these same punters are now swimming in their riches. The diverse success stories of Alex Davies and Hewago Paul Oea have also warmed hearts and added mettle into a previously transient locker room.
Add in the club's recommitment to Dew, despite the obvious lure of Alastair Clarkson, and unlike Bart Simpson for a fraction of the mid-90s, there is clearly a soul at Carrara. It has just arrived via unconventional means.
Though the expansion franchise spent their early years trying to mirror those around them by recruiting and retaining high-end talent, their circumstances – both geographic and comparative – have necessitated a more creative approach of late.
Aside from the spiky hair, the safety pins and the scything lyrics, one of the key pillars of punk subculture is the 'Do It Yourself' mentality. Whether it be producing fanzines, running open mikes or even pressing their own records, members of the fringe community have long produced results with little more than lint from the pocket and pure determination.
And with the likes of Mabior Chol, Levi Casboult, Nick Holman, Brandon Ellis, Oleg Markov and Jarrod Witts making ends meet off-Broadway without the aid of veteran stars, even if none are likely to own any of their albums, the sextet have, in essence, become the AFL's answer to 'Bad Religion'.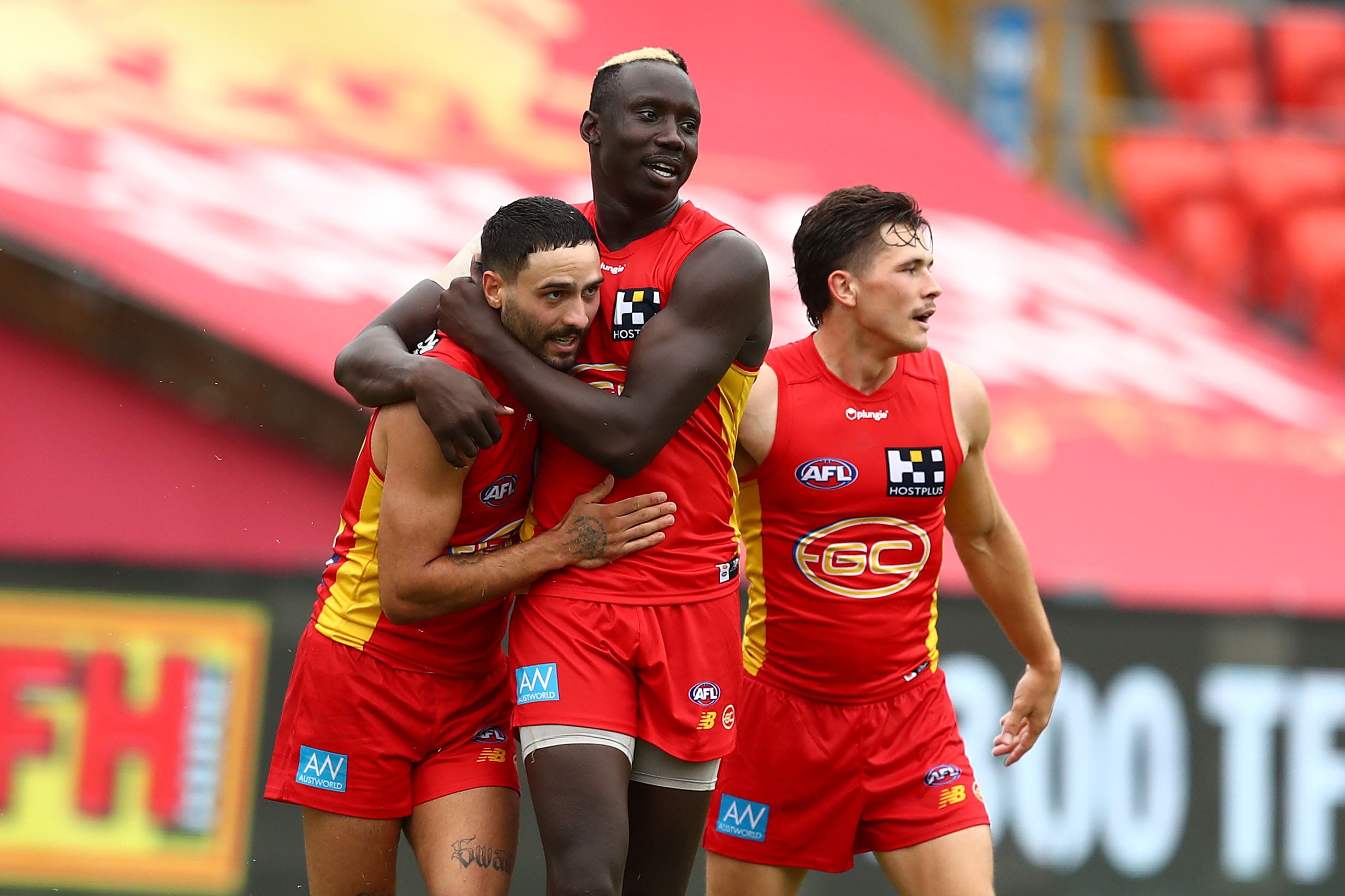 Asking these tried and tested names to perform whilst acting as mentors to displaced teenagers is not a methodology that outwardly screams success. But with wins in the bank against the ilk of Carlton, Sydney and Fremantle so far this season, the evidence is becoming tougher to refute.
But with their largest victories coming in a far more holistic sense, it would be remiss to let the wins and losses column define the true success of this burgeoning club's season.
While there may be an evident buy-in from Dew's eclectic crew, the foundation beneath should prove too fresh to stand up under the pressures of September, let alone all of the throes on the road just to get there.