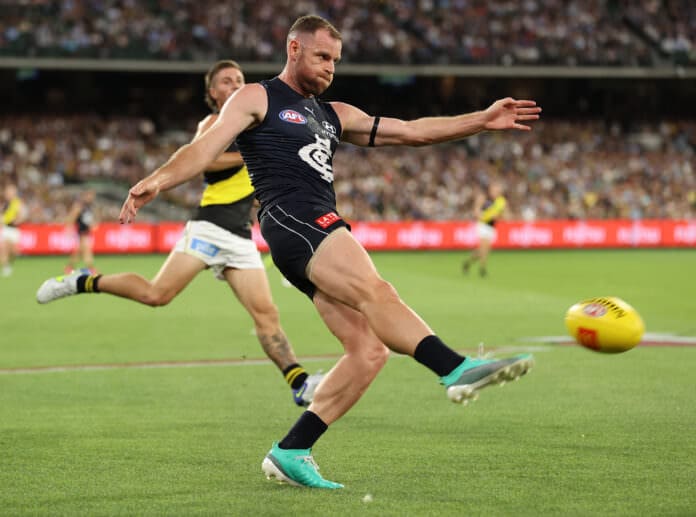 It was an impressive Round 1 win by the Blues, but we need to see more before declaring them the real deal.
No doubt Thursday night's 25-point win over Richmond was impressive - not to mention emotional - given the starring performance of former skipper, Sam Docherty - but it feels like we've been here before.
Not with Round 1 wins - given the Blues have lost their traditional season opener against the Tigers in every season since 2012 - but with false dawns.
The Blues have had six senior and/or interim coaches in that time - Brett Ratten, Mick Malthouse, John Barker, Brendon Bolton, David Teague, and Michael Voss - and each of them, with the exception of Malthouse and caretaker Barker, have seemed to promise a return to the glory days before failing to live up to the hype, and, ultimately being relieved of their duties.
However, in the wake of Carlton's win over Richmond, fans and pundits alike are suggesting this time is different and Carlton in 2022 is 'the real deal.'
Indeed, it was an impressive victory, punctuated by a number of impressive individual performances, but let's put things into perspective.
First, it depends on how you view Richmond in 2022.
Many, including this writer, envisaged Richmond leaping back up the ladder this season after missing the finals in 2021.
With a full pre-season for the first time since 2017 and a number of players - including Dustin Martin - returning to full fitness, some expected the Tigers to recapture the form that saw them claim the 2017, 2019, and 2020 premierships.
However, while it's too early to suggest they won't be a genuine contender, the reality is Richmond's is an aging list, and Carlton simply defeated the 11th-placed team from last year.
Second, the inconsistencies of Carlton and its players in recent years suggest we need to see more of this particular type of display on a more regular basis.
Good performances aren't completely unheard of down Lygon Street, they just haven't been repeated often enough.
In 2020, Carlton defeated Geelong - who made the grand final that year - by two points, yet lost to 15th-placed Hawthorn by more than five goals.
The same can be said for individuals on the list.
Matthew Kennedy was sensational in the Blues' season opener, with 33 possessions and a goal, as he was in the AAMI Community Series against Melbourne (37 and two).
Taken at pick 13 in the 2015 National Draft, Kennedy played 19 games in two seasons with GWS before moving to Carlton in exchange for pick 28.
He's shown glimpses in his time at the Blues, but also found himself delisted and placed on the rookie list in 2021 (although this was partly due to financial pressures caused by the COVID-19 pandemic).
The question with Carlton and Kennedy (plus a number of other players in a similar boat) is this:
Is what we've seen so far in 2022 the new norm, or is it just another flash in the pan?
Either way, the moral of the story is we need to see it more often before we can say the club are bona fide contenders - or that Kennedy is a bona fide star.
The Blues are back baby pic.twitter.com/a7kj26KIpD

— Jon Ralph (@RalphyHeraldSun) March 17, 2022
Third, and in line with the previous point, is the early success of the clubs with new coaches entering 2022.
There were three clubs - Carlton, Collingwood and Hawthorn - entering the season with a new coach, and all three won their Round 1 match.
The old saying is that change is as good as a holiday, and - speaking from experience - there is almost always a lift when a new coach takes the helm.
There's a new voice, a new way of operating, and a renewed sense of optimism which helps refresh the group and makes the players feel as if anything is possible.
However, this doesn't last forever.
Sometimes clubs are able to kick on with the momentum they create, whereas others fall back into old habits when the freshness wears off.
As exciting as the respective wins of Collingwood and Hawthorn were, only the most ambitious of supporters would expect their club to play finals this year.
And, given they, like Carlton, defeated teams that missed the finals in 2021, why should the expectations for Carlton be any different?
Again, we need to see if the Blues can continue their impressive start.
Blues fans, this isn't to say your side is no good and can't be a contender in 2022 - it's just saying we need to see a block of work before the hype of the weekend is justified.
Thursday night against the 2021 grand finalist Western Bulldogs provides a perfect platform for the Blues to take another step towards proving the doubters wrong.