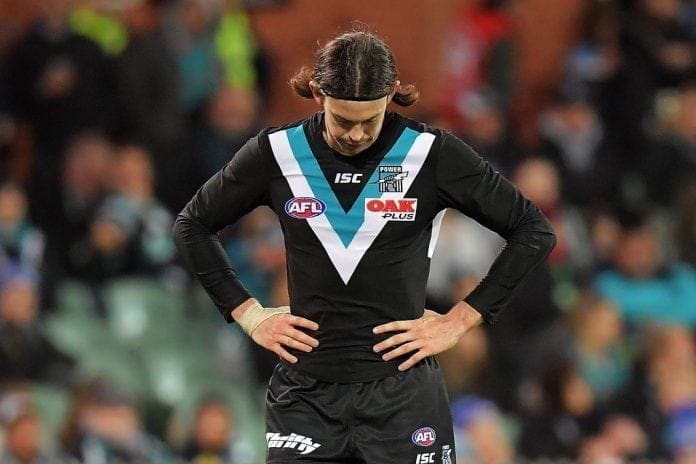 The future is uncertain for defenders Jasper Pittard and Jack Hombsch, as Port Adelaide looks to recapture its 2017 form.
The aggressive off-season moves Port Adelaide made in 2017 to secure Jack Watts, Tom Rockliff and Steven Motlop failed to improve the Power, as they tumbled out of finals contention with four losses in the final five matches of the season.
In response to the poor results of 2018, David Koch's promise that Port Adelaide would be aggressive once more at the trade table and in free agency looks set to conclude the careers of the two defensive players in Alberton.
"No one is off the trade table as far as we are concerned," Koch stated to Triple M's Dead Set Legends.
As far as Pittard, 27, and Hombsch, 25, are concerned, even teammate Brad Ebert is unsure whether they will be with the team following the trade period, acknowledging they may be on the move shortly.
While the players have not been told they will be traded against their wishes, Port Adelaide is refusing to offer them a first team position, according to Mitch Cleary from AFL.com.au.
"While they're yet to be actively shopped around to other clubs, Pittard and Hombsch were informed they both face a fight to secure a spot in the Power's best 22 in 2019," Cleary reported.
The hope is that trading the defenders will create the cap space to sign West Coast ruck/forward Scott Lycett, and potentially provide room to make a further aggressive signing.
For Pittard, this development continues the fall from grace he has endured after being named in the 2016 All Australian squad and placing third in Port Adelaide's 2016 Best and Fairest.
Despite 2018 being injury-plagued, Pittard did spend time as a healthy omission from the first team, alongside Hombsch, playing SANFL, as Port Adelaide preferred to play younger options, Riley Bonner and Darcy Byrne-Jones.
Port Adelaide will also welcome half-backs Hamish Hartlett and Matthew Broadbent, as they return from season-long injuries.
Pittard may find himself a SANFL regular in 2019 if he decides not to request a trade, buried under half-back depth only a year after rejecting free-agency to extend his contract at Alberton until 2020.
Similarly, Hombsch is behind All-Australian Tom Jonas, as well as Dan Houston and Tom Clurey in the race for the key defensive positions in 2019.
As rumours continue about the futures of Jared Polec and Chad Wingard, Port Adelaide may be preparing for further player turnover.