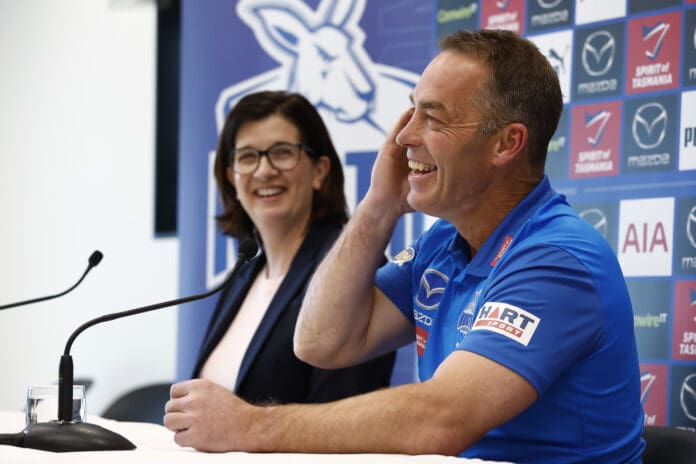 North Melbourne have confirmed the addition of Will Thursfield as the Kanagroos' new national recruiting manager.
Thursfield's arrival comes eight months after the Roos saw their own national recruiting manager Mark Finnigan, list boss Glenn Luff and national recruiting officer Ben Birthisel all depart Arden Street in the same week.
Thursfield brings with him five years of experience from within the Tigers' recruiting and list management strikeforce, with North Melbourne talent boss Brady Rawlings excited with the club's newest off-field addition.
"Will comes to us with great experience, he is no stranger to the AFL landscape after his time as a player and an administrator," Rawlings said.
"Will is a person of high-end character and we are thrilled he is joining our club to take the next step forward in his career."
North Melbourne is pleased to confirm Will Thursfield will join the club as national recruiting manager 🤝

— North Melbourne FC (@NMFCOfficial) December 1, 2022
Thursfield's arrival follows the recent appointments of Alastair Clarkson (senior coach), Jennifer Watt (CEO, Todd Viney (general manager of football) and Brett Ratten (part-time assistant coach) from this off-season.
Thursfield's tenure with the Kangaroos will commence in February next year.
With the Roos tipped to remain among the lower rungs of the ladder next year, Thursfield is likely to have access to some of the top draft talent in 12 months time.
This week North Melbourne added a total of eight players through either the National or Rookie Drafts, with their incoming cohort headlined by top-four draft selections Harry Sheezel and George Wardlaw.
Pre-season training under Clarkson has already kicked off, with North Melbourne's senior players set to join the pre-season program in the coming days.