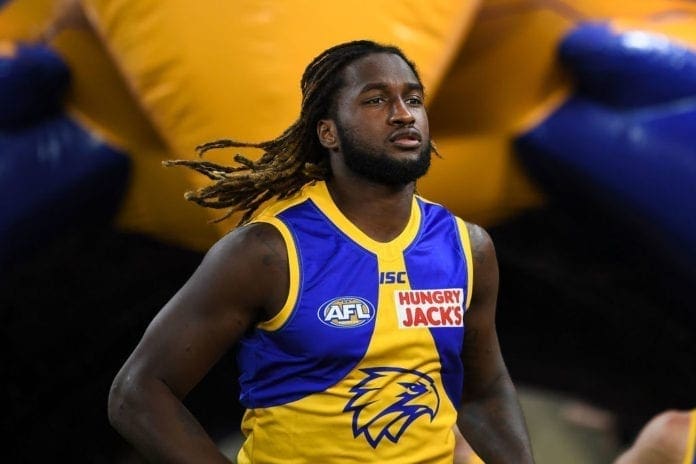 West Coast star Nic Naitanui has thrown his support behind the AFL's vaccination mandate, which requires all players to receive the vaccination to return to their clubs.
The decision is one that many sports around the world have undertaken but is no doubt one that may ruffle a few feathers.
AFL and AFLW players have until February to be fully vaccinated or they will not be permitted to train or play under the new guidelines.
Adelaide's Deni Varnhagen has taken a leave of absence from the club due to her vaccine stance. Varnhagen is a registered nurse and the Crows have confirmed she will not be returning as of yet.
Melbourne premiership star Tom McDonald is vaccinated but recently said he didn't agree with the mandate being in place.
"I'm vaccinated and most players would have been, but ... it's ethically wrong to force people to (have) a medical procedure," McDonald said.
"We're on track – we would have gotten 90 per cent of the state – and I don't see why we needed to cause such issues and division by forcing people in many jobs where it's probably not as necessary."
McDonald has come under fire for saying that he was getting the vaccine to protect himself, with many believing that getting the jab is more about protecting the more vulnerable around you.
Naitanui believes the mandate is the best way to ensure the game can get back to its pre-covid glory days.
"It's a tough one," Naitanui told SEN.
"I've always been for everyone having a choice. But when it comes to the vaccination - I've got both of my needles.
"And like a lot of other people have said, I'm not really getting the vaccination for myself, I'm getting it for others who are more vulnerable.
"For me, I understand (why we need it), especially being a Perth team, we're back and forth from every state every second week. It makes sense to get the vaccination.
"But it's going to be interesting the next few weeks and months to see who decides to and who decides not to get it, and how it impacts their playing careers."