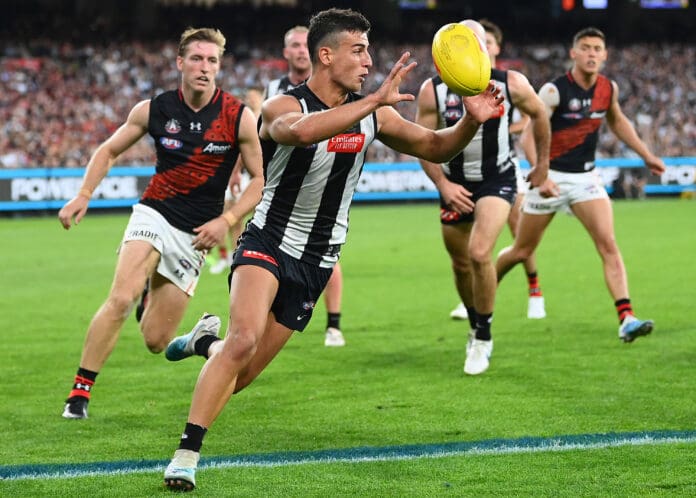 Ahead of their clash with GWS on Friday night, it is believed that Nick Daicos will return to the Collingwood side as a replacement for Taylor Adams as the Magpies look to book their position in the 2023 Grand Final.
Daicos suffered a hairline fracture back in Round 21 during a Hawthorn upset and concerns were quickly raised around the league as to whether or not he would return at any part of the season in time to feature in this year's final series.
After a six-week rehab period, Craig McRae spoke to reporters on Wednesday stating that he wasn't sure if Daicos would've returned after injuries involving the bone usually take longer to recover.
"No, I wasn't confident (he would return in 2023). There was some concern (his season was over)," McRae said.
"When a bone has to heal no one knows how much time that is going to take. There is hope, but it doesn't mean it is going to happen.
"Credit to the medical staff and to Nick, obviously, to follow the plan. Now he gets back for a preliminary final."
Adams is set to miss out due to a hamstring issue that became apparent during a match simulation at training last week.
He was seen walking himself off the ground but enough damage was done to place him in significant doubt for this weekend.
McRae was asked if he would potentially be ready to play in the Grand Final if his side was to make it, but McRae was also unsure due to the time constraints from their preliminary final on Friday to the Grand Final the following Saturday.
"That's the unknown," McRae said.
"We are hoping so. He is progressing really well. It was only a minor hamstring strain; what that means is he is a chance. You would see the work he is doing. It is a race against the clock, but we've got to get there first."
McRae has also revealed that Jack Ginnivan will remain as the substitute for Collingwood, resulting in John Noble not regaining his position in the team.
"I had a chat to Johnny early in the week. He is disappointed, as you would be, but the quality human that he is he has trained so well this week," McRae said.
"I keep using the analogy of waiting in the slips. If something comes through you've got to catch it."
The Magpies take on the Giants this Friday night at the MCG at 7:50 PM (AEST).
Collingwood WON BY 1 POINTS