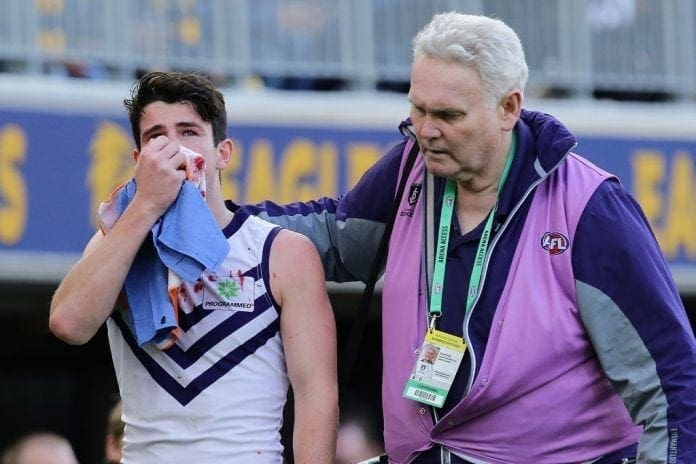 Mark Brayshaw, father of young Docker Andrew, has opened up on his emotions during his son's altercation with Eagles star Andrew Gaff.
Gaff was handed an eight-match ban from the AFL tribunal on Tuesday night for the incident that left Brayshaw with a broken jaw and three dislodged teeth.
And his dad has spoken about how much he felt for Gaff in the aftermath.
"The first I really knew about this, I got a phone call from the club doctor at the Dockers," Mark told SEN Breakfast.
"I used to be the finance guy at Freo, and Ken Withers (the club doctor) was there. I'm a friend of his.
"He rang me and he said, we think he (Andrew) has got a broken jaw, his teeth are pushed back, but it's not too bad.
"I know that sounds silly, so I heard that, if Ken Withers thinks it isn't too bad, it isn't too bad.
"Once Ken Withers gave me the comfort that Andrew was going to be ok, I started thinking of the bigger agenda.
"I suddenly started thinking at the time, you could just see the game change and the dynamic.
"I started to watch young Andrew Gaff and he looked horrible out there.
"I just thought, oh god. I knew the narrative would change.
"It was just nasty and horrible.
"I found myself thinking, here is a young bloke who has made a blue, he has got free agency, he has got the finals and maybe the Brownlow Medal…it was just horrible."
Mark also revealed that he met with Gaff's parents and admitted he had to consider his other son, Eagles youngster Hamish, in the scenario.
"We met the other day," Mark said of the parents.
"Craig (Gaff's dad), he rang me, and left a message. I called him back straight away. We had a really good chat.
"He apologised and I said, it's not really for me to accept it, but both of us, Debra (Brayshaw's mum) and I, accept your apology.
"Please, in amongst all your considerations, don't worry about us. I said, I wish I could shake your hand and have a beer about it in person.
"The other dimension of this is my other son Hamish.
"He gave me a lift home from the ground. By the time we got home, we had analysed it and he had some footage.
"You can actually see my Andrew spread his legs a little bit and lower his centre of gravity.
"Hamish said to me, Andrew Gaff is one of his best mates, he is just the most delightful bloke you've ever met.
"My Andrew has inadvertently has lowered his centre of gravity and a chest punch has become a face punch.
"When I spoke to his dad, I said, these things happen, he will be fine, but how are you feeling? He and his wife were upset and embarrassed and apologetic.
"It's a horrible thing to be in."