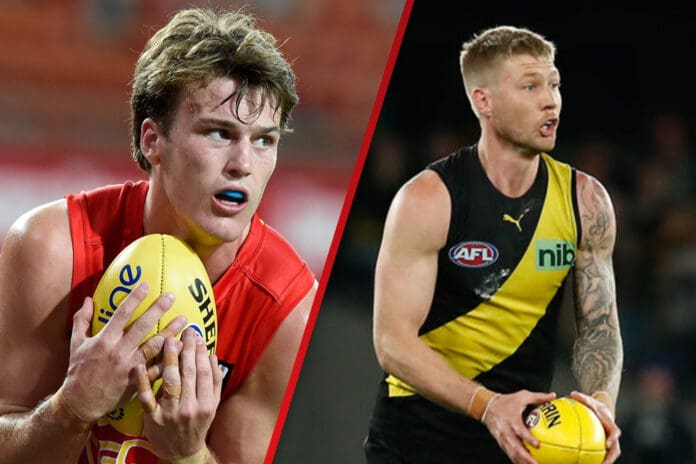 Welcome to Zero Hanger's live blog for Tuesday night's AFL Tribunal hearings, where two cases will take place following charges from Round 2.
The first case, scheduled to commence at 5:00pm (AEDT), will determine the length of suspension for Richmond defender Nathan Broad after his Rough Conduct charge from the Match Review Officer that was referred directly to the Tribunal.
The MRO assessed Broad's actions - a dangerous tackle on Adelaide's Patrick Parnell - as Careless Conduct, Severe Impact and High Contact, warranting a minimum three-game suspension.
The second case, scheduled for 6:15pm (AEDT), will hear Gold Coast player Charlie Ballard attempt to overturn his one-game suspension for Striking Essendon's Matt Guelfi.
Ballard was banned for one match after the MRO viewed his actions as Intentional Conduct, Low Impact and High Contact.
Charlie Ballard sees suspension overturned, free to face Cats
Verdict summary: 
"It was common ground that the initial contact was to the body and that it slid up to the head.
"If Ballard had intended to commit the reportable offence of a strike to the body, the charge would be made out.
"But the force you intend to apply to a blow to the arm or chest, in order to constitute a reportable offence must generally be greater than the force you intend to apply to the head in order to constitute a reportable offence.
"Put simply some blows would be a strike if intended to land on the head but would not be a strike if intended to land on the arm or chest.
"This is one of those instances.
"We accept Mr. Ballard's straightforward evidence that he intended to fend off Guelfi and did not intend to strike him.
"It is consistent with our viewing of the video evidence we find the strike to the head was careless but not intentional.
"As I understand matters results in a fine."
- Jeff Gleeson
The grading of Intentional Conduct has been reduced to Careless Conduct, resulting in a fine for Ballard. The total fine is yet to be confirmed.
7:38 - The jury has retired to deliberate.
7:33 - Footage of incident between Rhys Mathieson and Kysaiah Pickett from 2021 finals series being shown to draw similarity to Ballard's charge, however latter is less culpable, Anderson argues.
Anderson: "We submit this is an offence as careless and should appropriately be graded as such."
7:28 - Anderson has requested the jury take six points into consideration.
First: Ballard was blocked illegally by multiple Essendon players.
Second: Ballard was in a rush to cover Harrison Jones amid pending kick.
Third: Initial contact was to the arm region.
Fourth: Vision shows that Ballard had an open hand.
Fifth: Ballard would not want to intentionally give away a free kick during "crucial stage" of the game.
Sixth: Ballard has a clean enough record. 
7:25 - Anderson: "Our submission is that there was no intent to strike, and there was an attempt to fend to the arm."
7:22 - Footage of Lance Franklin's hit on Richmond's Trent Cotchin from last year is now being shown, as requested by AFL counsel Pane.
7:19 - Pane does not take issue with the fact Ballard made contact with Guelfi's arm and that it slid up. "In my submission, it would still be a strike. It is a strike in the normal understanding of that term".
7:15 - Pane: "He was intending to make contact and it was intended to be forceful contact".
7:10 - Footage of Junior Rioli's hit on Geelong's Sam De Koning from last year is being used as an example to deem the level of intention.
Further footage of Nathan Wilson's hit on Bulldog Cody Weightman from 2021 and footage of Kyle Hartigan's hit on Carlton's Sam Walsh from the same year is also being shown. Drawing the difference between an act at the contest and an act away from the ball.
7:07 - AFL counsel Nick Pane is now questioning Ballard. Asking Ballard of his thoughts during the incident.
"I wouldn't say forceful," Ballard said in response. Questioned free kick call at the time. "Didn't feel hard."
Ballard confirmed he had a clear view of Guelfi.
7:03 - Reverse angle footage shows Guelfi and Ballard step toward each other, with Ballard's first contact with his arm making contact with Guelfi's right arm. The arm slides up and makes contact with Guelfi high.
6:55 - Footage from behind the goals shows Ballard receiving a block from Essendon player Jye Menzie, before Ballard moves closer to Guelfi.
6:53 - Ballard: I thought there was a chance Kyle Langford's set shot would fall short and I tried to get close to Harrison Jones (his direct opponent). Guelfi laid a block to get in his way and Ballard looked to fend off and avoid the block. His intentions were to avoid the block in the most efficient way.
6:50 - Anderson has called on Ballard to speak.
6:46 - We're back! Ballard's counsel are contesting the assessment of "intentional" conduct. It is being argued the Suns defender was attempting to fend off Matt Guelfi
6:38 - A five-minute break has been taken.
6:35 - The vision Anderson has mentioned has been attained by the Tribunal and is being shown to all.
6:28 - Further confusion around the sourced vision has continued. With Ballard's counsel and the AFL having differing footage prior to the hearing.
6:24 - Ballard's counsel, Adrian Anderson, has stated the vision shown is different to the vision he has used in his preparations for this case. AFL counsel Nick Pane concurred he had the same vision as Anderson, which was zoomed in further.
6:22 - A medical report has revealed no treatment was required for Bomber Matt Guelfi following the hit. Footage of the incident is now being shown .
6:20 - We're underway for case two, with Charlie Ballard hoping to avoid a one-game ban for Striking.
Note: Gold Coast are scheduled to face Geelong this weekend.
Nathan Broad suspended for four games
Verdict summary:
"The tackle was unquestionably dangerous. Mr. Broad doesn't attempt to say otherwise.
"Broad had Parnell wrapped up, Parnell was vulnerable. He had no realistic prospect of protecting himself and his head was slung to the ground with considerable force.
"He has suffered a concussion and there was the potential for additional injuries.
"Mr. Broad has pled guilty to all elements of the charge and we take that into account.
"It is to his credit that he has not sought to minimise the nature or consequences of his conduct.
"His remorse is also evidently genuine. He reached out to the Adelaide football club and to Mr. Parnell on numerous occasions. We take that into account.
"We have said previously and we repeat tonight, players must do all that they reasonably can not to cause avoidable injuries to their fellow players.
"Every player is now taken to be aware of the damaging and sometimes long-term consequences of concussion.
"If not for the early guilty plea to all elements of the charge, and the clear contrition our starting point for the sanction may have been more than four matches.
"Taking into account all of the circumstances I've mentioned. We start with a base sanction of four matches.
"We have considered Mr. Broad's good record, but we do not consider that it is sufficiently exceptional or compelling to justify a reduction from four matches. We impose a four-game suspension."
- Jeff Gleeson
5:50 - The jury has retired to deliberate. Verdict incoming.
5:47 - Past jury member once noted most players go their whole careers without being reported. Broad's record is "good, long and favourable", but there are some difficulties in assessing the exceptionalism - AFL Tribunal chairman Jeff Gleeson.
5:42 - Broad's counsel asks "how far do you have to go?" when it comes to exceptional and compelling circumstances to reduce penalty due to good behaviour.
5:37 - Broad's counsel have echoed their stance that Broad will accept a three-game ban and that his good behaviour should be considered and reduce a four-game penalty to three games.
5:34 - Broad's counsel: The Lycett example is not comparable. Lycett's tackle on McHenry was in open play. Lycett only wanted to take McHenry to the ground and the tackle looked different.
5:30 - "I shouldn't have done it. I didn't mean to do it." Broad said to Crows forward Darcy Fogarty during Saturday's game after the incident.
Broad spoke to Matthew Nicks post-game, seeking Parnell and looking to offer an apology. Broad also acquired Parnell's phone number from former teammate and Adelaide staff member Shane Edwards.
"I don't want you to accept my apology. I shouldn't have done it. It was sh**house. I hope you're okay and recover well," Broad texted Parnell.
5:28 - Broad's counsel admits his client's actions were harmful and unjustified.
5:24 - Both sides are arguing the ability to grade a level of "carelessness". Broad's counsel states this should be "fraught with danger".
5:18 - The AFL counsel's submission is that four weeks is appropriate. Broad's "slinging action" and Parnell's injury saw the level of impact "not at the low end of injury" - AFL Counsel Nick Pane.
Pane: 150 games of a good record is not exceptional and should not reduce the ban.
5:16 - Broad's counsel have stated two submissions. First being that without taking character into account that three weeks is appropriate. Second is that a period of four weeks is appropriate, reduced to three weeks with consideration of good character.
5:11 - Footage of Scott Lycett's tackle on Crow Ned McHenry from 2021 is being shown. Lycett received a four-game ban for that charge.
5:09 - Nathan Broad has pled guilty to the classification of the charge and will argue the penalty of the charge.
5:05 - We're underway! With footage of Broad's tackle on Parnell being shown and analysed across an array of angles.
Note: Richmond are set to face Collingwood, the Western Bulldogs, Sydney and Melbourne in their next four matches, shaping as a pivotal next month for Damien Hardwick's side.