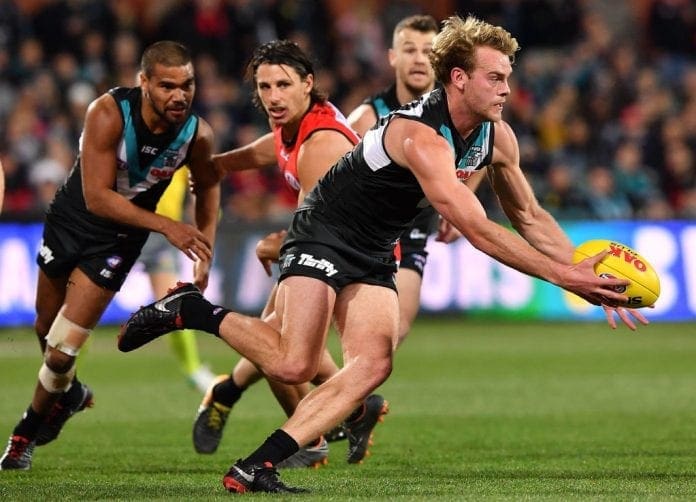 Jack Watts has again found himself in hot water after the release of a video where he was seen snorting white powder off of a woman's chest at the annual Munich festival Oktoberfest.
Following the emergence of the video on Sunday, both Watts' manager Paul Connors and the Port Adelaide Football Club have released statements indicating that the substance in the video is a legal German substance known as 'Wiesn Pulver'.
Wiesn Pulver is a tobacco and drug-free powder consisting of menthol, sugar and glucose, widely used at Oktoberfest.
However, Port Adelaide chairman David Koch has publicly slammed Watts' actions as "the height of stupidity", speaking to FIVEaa Breakfast on Tuesday morning.
"It was simply brainless. We're not hiding from it. It's a terrible reflection on not only him, but it's a terrible reflection on the club, the playing group, our members – we're embarrassed."
Whilst Koch acknowledged that "it was a consensual act between two adults", he also expressed that "putting yourself in that position is utter stupidity."
Koch said he is "absolutely ropable" with Watt's actions.
"I'd absolutely throw the book at him if I had my way".
Koch's comments come on the heels of scathing remarks from AFL greats Garry Lyon and Malcolm Blight, with the latter exclaiming that the former Demons first overall draft selection "might be the worst No.1 pick ever."
Talking with Sportsday SA, Blight explained; "He's 27 years of age, what he did – who'd want to do that anyhow and who cares. But what I want to talk about is his football career".
"Of all the No.1's, five years either side of him… Adam Cooney – Brownlow Medallist. Brett Deledio – best and fairest winner. Marc Murphy – best and fairest winner. Bryce Gibbs – best and fairest winner. Matthew Kreuzer, great warhorse. They're the five before him, head and shoulders above him.
"The five after: Tom Scully – works his butt off every game he plays. David Swallow – terrific player at the Suns. Jonathon Patton – when he play's, he's had some injuries, but a beast. Lachie Whitfield – All Australian. Tom Boyd – premiership player.
"That's his peer group. You know where he sits? Screamingly last.
"He might be the worst No. 1 pick ever."
Meanwhile, Lyon believes that while "it's not a hanging offence, it's just a silly look."
Speaking on SEN on Monday morning, the Melbourne Hall of Famer deemed Watts' actions worthy of sanctioning.
"We know that drugs are a huge issue in society and sport. For the look itself, he deserves to be fined at least. From what we are told it's not illegal, but the look is terrible."
Watts is in the midst of a tumultuous off-season which has seen the 27-year-old embroiled in a texting scandal in October.
Having played 19 games to date with his new club, Watts and the Power will open their JLT Community Series against the Crows at Memorial Oval on March 2nd.