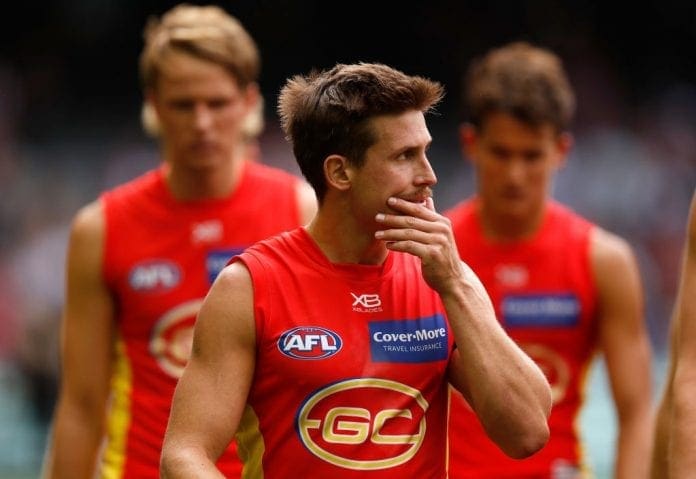 Gold Coast Suns co-captain David Swallow has been cleared of serious injury, after he sustained a knee injury during the Suns' loss to St Kilda on Sunday.
Swallow was moved to full forward after having trouble with his knee early in the contest, but Gold Coast Head Physiotherapist Lindsay Bull told the club's website he could front up against Fremantle this weekend.
"He's got significant bone bruising and swelling around his knee but structurally his knee is actually in really good condition which is really pleasing," Bull told goldcoastfc.com.au.
"Dave will do everything he can to be available for this weekend but we'll need to assess where he's at towards the end of the week."
While Swallow received good news, the same can't be said for Ben Ainsworth, who injured both his medial and lateral co lateral ligaments in the opening quarter of the match.
Ainsworth is expected to miss over a month of football, and could be sidelined for up to six weeks.
"Ben had a St Kilda player come across his knee as he went to kick and unfortunately injured both his medial and lateral co-lateral ligaments in his knee alongside having some significant bone bruising as well," Bull said.
"Ben's in a brace currently, did really well to play out the game and we'll need to assess where he's at more towards the end of the week to see whether he comes out of the brace.
"At this stage we're looking at around 4-6 weeks for Ben's return to play."
Defender Sam Collins is also in doubt for Sunday, after displaying concussion symptoms straight after the game following a collision in the dying seconds.
"Sam showed some signs of concussion straight after the game unfortunately so he'll have to pass our really strict return-to-play concussion protocol this week in order to be available against Fremantle," Bull added.
Nick Holman, Corey Ellis and Jack Leslie all played in the NEAFL on the weekend, returning from injury.