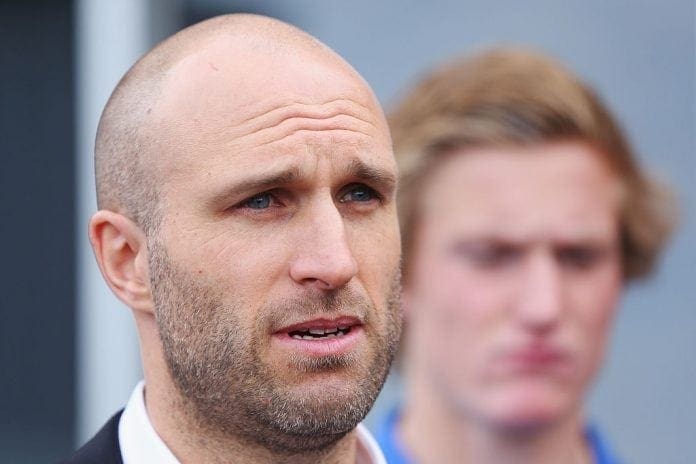 Former West Coast and Carlton great Chris Judd believes AFL clubs should look to limit the use of player's mobile phones, a move that would help minimise distractions inside the changerooms and gyms.
The two-time Brownlow medallist believes clubs stand to gain benefits from close monitoring and limiting phones as it will enhance bonds between teammates and potentially negate abusive trolling online.
"The phones are a big one," Judd said on the Dyl and Friends podcast.
"It is hard to get (an) edge as time goes on because (AFL club) programs get better and better (but) I think the management of things like phones is such a huge edge for sporting teams in the future if they decide they really want to take it seriously.
"All teams talk about connection being such an important part of what they're trying to do, and mental health issues are rife everywhere.
"You can walk into a locker room at footy clubs and every player has just got their head in their phone. And some of these players are getting trolled while they have got their head in their phones so it is a double whammy.
"But even if they are not getting trolled in that time, they are still missing out on an opportunity to build and create a connection with the people who have walked in the room."
A number of AFL clubs have already put in a ban on phones in meetings, while others have lighter policies.
Hawthorn coach Alastair Clarkson once confiscated his players' phones on an interstate trip following a poor run in form.
Players are warned about the dangers of social media, however Judd believes phone use will become a major talking point in the future.
"I do suspect there will be more organised management of phones and some clubs are starting doing it a little bit," Judd said.
"In the future, I think those seemingly smaller areas is where teams will be able to get outside returns.
"There are so few things that every player (on your team) is doing that is potentially negative to their performance.
"If you find one, what a gift. What an attraction. How easy is that (to address)."
The 37-year-old didn't join social media until the twilight of his career, mostly using online media for business interests.
Former Carlton and GWS defender Dylan Buckley said players would quickly jump onto social media when they could.
"It is so hard, it is honestly an addiction for a lot of people," Buckley said.
"Even when I was playing footy, it was the first thing you would check.
"You want to find that comfort."