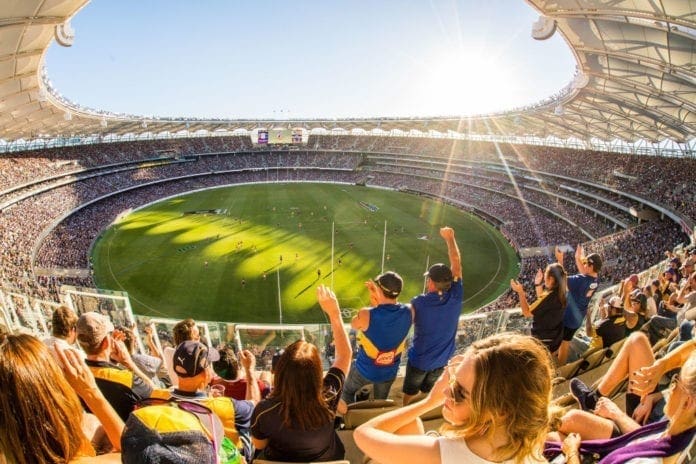 A push is beginning inside Western Australia for the state to have a third AFL team.
Western Australia is currently represented by the West Coast Eagles and Fremantle Dockers in the 18-team league, with the Eagles first playing in 1987, and the Dockers in 1995.
Since then, all of the Brisbane Lions, Port Adelaide Power (both 1997), Gold Coast Suns (2011) and Greater Western Sydney Giants (2012) have joined the competition.
The AFL are currently looking at adding a Tasmanian team as the 19th team in the league, although there are still plenty of stumbling blocks in the way of that move being made official, and a timeline for such a move is unclear.
It's likely if the AFL goes to 19 teams that the league will quickly look to take the competition to a 20-team league given an added game per week will add to revenue opportunities both on the ticketing front and in terms of a TV deal, which was recently re-negotiated with Channel 7 and Fox Sports.
Both the Eagles and Dockers average excellent crowds in their home games at Optus Stadium, with derbies in particular often going close to selling out, but City of Joondalup mayor Albert Jacob and Bunbury mayor Jaysen Miguel have told The West Australian that their respective regions would be perfect spots for a third team in Perth.
"The City of Joondalup by itself is 160,000, but we are not just talking the City of Joondalup – we are the CBD and Arena Joondalup is the centre of sport – but the City of Wanneroo is already 210,000," he told the publication.
"So straight off the bat you are talking 370,000 people. Plus the northern half of Stirling.
"And if you go out to Swan and Ellenbrook and those other areas, pretty quickly you start to get up to half a million people sitting in this catchment.
"It works as a northern identity, not just a Joondalup identity, and in this region, more than 40 per cent of the people were born overseas. The Federal Government has said we need a migration push and the State Government is saying the same thing and this is where a lot of them are going to move.
"They don't have those traditional allegiances, particularly to the Eagles but also to the Dockers. This is the catchment, it's the obvious choice."
In backing the south west and Bunbury region, Miguel said a $13.6 million upgrade of Bunbury's footy centre at Hands Oval would help.
"There are 85,000 people down here. The Bunbury and South West region have a history of producing some pretty good AFL players," he said.
"There has been a lot of work done previously about grass roots footy and cricket. The AFL keeps talking about grass roots, so why don't they actually looking at setting up some of their bases in grass roots areas?
"We have all of that. We are a city, but we still have a country feel and that's what makes us what we are. And why we have been so successful and why we have been able to produce so many talented athletes in all codes."
The AFL have made no comment on any possible expansion bid outside of Tasmania at this stage.
The Tasmania team, who are widely expected to be the 19th team, are waiting for funding approvals to build a stadium, with the AFL set to contribute to the effort.
The only Australian top-level sports which play inside Tasmania are cricket through the BBL, Sheffield Shield and One-Day Cup, and the NBL through the recently created Tasmania JackJumpers franchise.