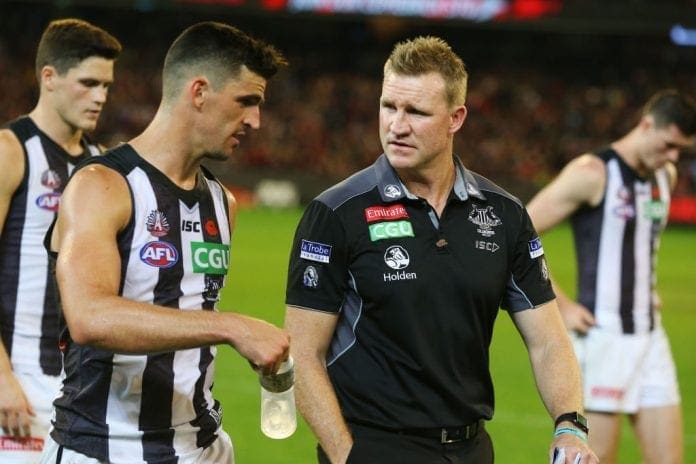 The Collingwood Football Club have covered the headlines so far this week following the release of a 35-page review that deemed the club was littered with systematic racism.
President Eddie McGuire and fellow board members were quick to respond to the claims, fronting the media just hours after the report was leaked in hope of clearing the air.
Unfortunately McGuire's statement wasn't met with forgiveness nor acceptance, managing to throw salt into the wound as many were outraged from the club's reaction.
A key part of the report into Collingwood's racism was how the club had tried to spin its way out of such issues and cared more about media image than actions. So what do we hear today... 🙄

— Richard Hinds (@rdhinds) February 1, 2021
They appear intent on proving a key point of the report authors: "There is a gap between what Collingwood Football Club says it stands for and what it does."

— Chip Le Grand (@Melbchief) February 1, 2021
While the blowtorch has come down hard on McGuire, Port Adelaide champion Kane Cornes believes that some of the spotlight should be turned to long-serving leaders Nathan Buckley and Scott Pendlebury.
Buckley first joined the Magpies in the mid-1990's as a player and was captain of the club from 1999 until 2007, when he retired from the game, soon moving into the coaches box.
By 2012, Buckley was appointed the successor to Mick Malthouse and has been coach of the club since.
Pendlebury was drafted to the Magpies in 2005 and has since become the club's all-time record games holder, amassing 316 games in his time at the Holden Centre.
Collectively, Buckley and Pendlebury have played major roles under McGuire's reign and Cornes hopes to hear what the pair would have to say on the matter.
"I wonder how Nathan Buckley is feeling on the back of this. How he was feeling watching that press conference," Cornes said on SEN SA Breakfast.
"Of course, 'Bucks' has been at the Collingwood Football Club since 1994. He's been a strong leader and behind Eddie McGuire the most famous name at the Collingwood Football Club.
"He got there in '94, played for a long time and has coached there basically ever since (apart from 2008 and 2009), under Mick Malthouse and now as head coach.
"He would be embarrassed right now. He would be ashamed not stamping this out earlier under his leadership and under his watch as captain, as assistant coach and as coach.
"I'd also wonder how Scott Pendlebury is feeling. He's been captain since 2014, he's the most decorated player to ever play for the Collingwood Football Club, he played with Heritier Lumumba as well.
"It's not all on Eddie. I think Eddie misread the room badly yesterday. His opening remarks were off but a lot of what he did say was good and positive and that they're desperate to make change.
"They weren't denying any of the allegations. You could tell they want to be better and be a pillar for society and the AFL and be a club that sets the benchmark.
"But Scott Pendlebury and Nathan Buckley would have some culpability in this as well. I'm looking forward to hearing them speak."