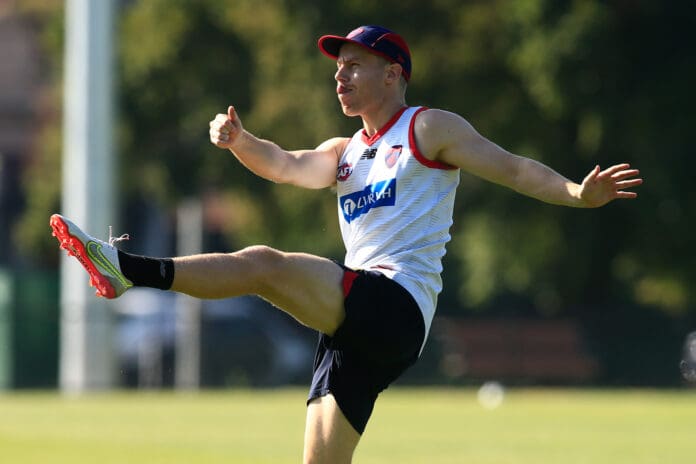 Melbourne winger Lachie Hunter has shared an insight into his first pre-season with the Demons, as well as the manner with which he looks back on his time with the Bulldogs.
The 28-year-old was dealt to Melbourne by the Western Bulldogs at the end of last year in exchange for a future third-round draft selection, following a season during which the left-footer managed to play just 10 senior games.
Speaking on RSN on Tuesday, Hunter admitted his prolonged acclimation to a new environment but maintained his confidence in being able to get on the same wavelength as his teammates come the season's commencement.
"[It's] getting used to feeling normal, it does take a while," Hunter began.
"On the weekend, I picked up Jack Viney's drink bottle by accident (as it was labeled with No. 7, Hunter's digits at the Bulldogs) ... I'm still getting used to things, but I'm sure, come Round 1, I'll be ready.
"I really didn't know many of the boys before I went across, but it is like the first day of school, you walk in a bit nervous, meeting everyone and trying to learn everyone's name."
Hunter claimed his season preparation has gone largely according to plan, with the exception of an unfortunate incident with the boot of a teammate.
"[The pre-season is] going really well, I held up and [had] no real injuries, I copped a broken nose the other week from a Max Gawn right boot to the face, but apart from that, I've been all good," he said.
Inquisitioned about discussions Hunter had with members of Melbourne's coaching staff regarding his role at Gosch's Paddock, the ex-Dog revealed it would be a lot of the same as the duties he performed in the West.
"Look, position-wise, it won't be too dissimilar to what I [was doing] at the Dogs," Hunter started.
"That wing role seems to be there at Melbourne with Ed Langdon on one side and hopefully me on the other, so, some similar stuff that I've always been doing," Hunster said.
"I've always run hard defensively [and] hopefully use the ball well going back the other way."
The 173-game veteran had high praise for Langdon, his new running mate on a wing, who was one of the league's best at the position last season.
"[Langdon's] got an unbelievable tank, he's right up at the top end," Hunter said.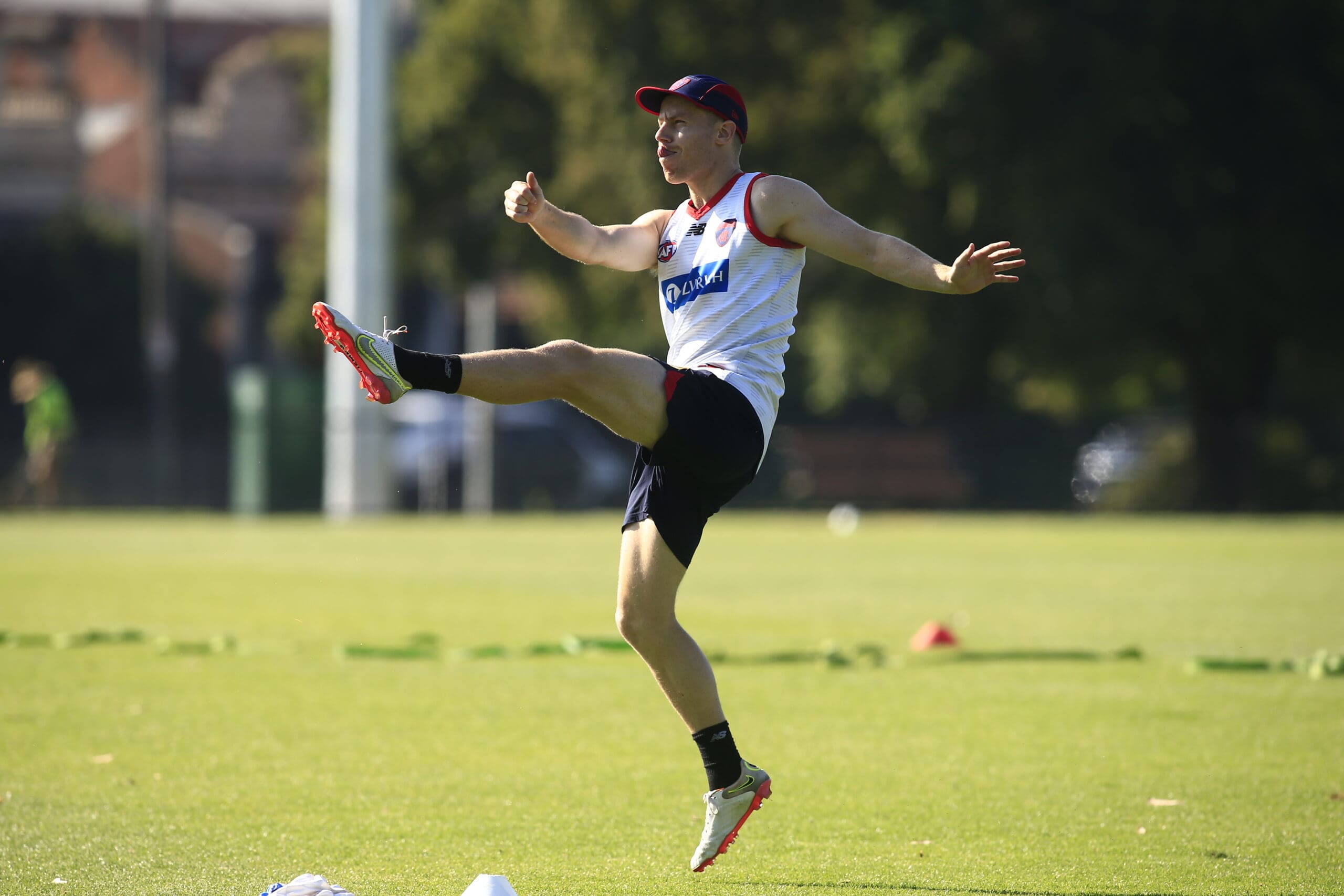 "He doesn't really come off the ground at all and whoever does play on those wings is a real mainstay, which is quite different to how other clubs approach [the wing position], so, you'll be hearing no complaints from me if I get to stay on [the wing] for a long time.
"He's got a great tank that goes throughout the whole game, I'm not being too rude here against him, but he's not one of those players where they can get you with their absolute top-end speed and make you look silly - they're probably the worst ones to play on."
Speaking on who he thought the most impressive Demons have been during his short time inside the club's four walls, Hunter praised a pair of youngsters in addition to the expected household names.
"There's been a few [who have caught my eye], Jacob van Rooyen really impressed me early on, we were playing a few games early on, he was in my forward line and I was kicking the ball to him, I was asking people how many games he'd played and it turned out he hadn't even debuted yet, so that was a bit of a surprise to me," he said.
"(Kysaiah) Pickett, when you try and lay a tackle on him there's not much chance of that happening, so that was something, you can always tell that on TV but that was interesting to see, and I suppose all the general people you'd expect inside, Clayton Oliver, (Christian) Petracca and (Jack) Viney, they go about business how I expected they would and that's always impressive to watch."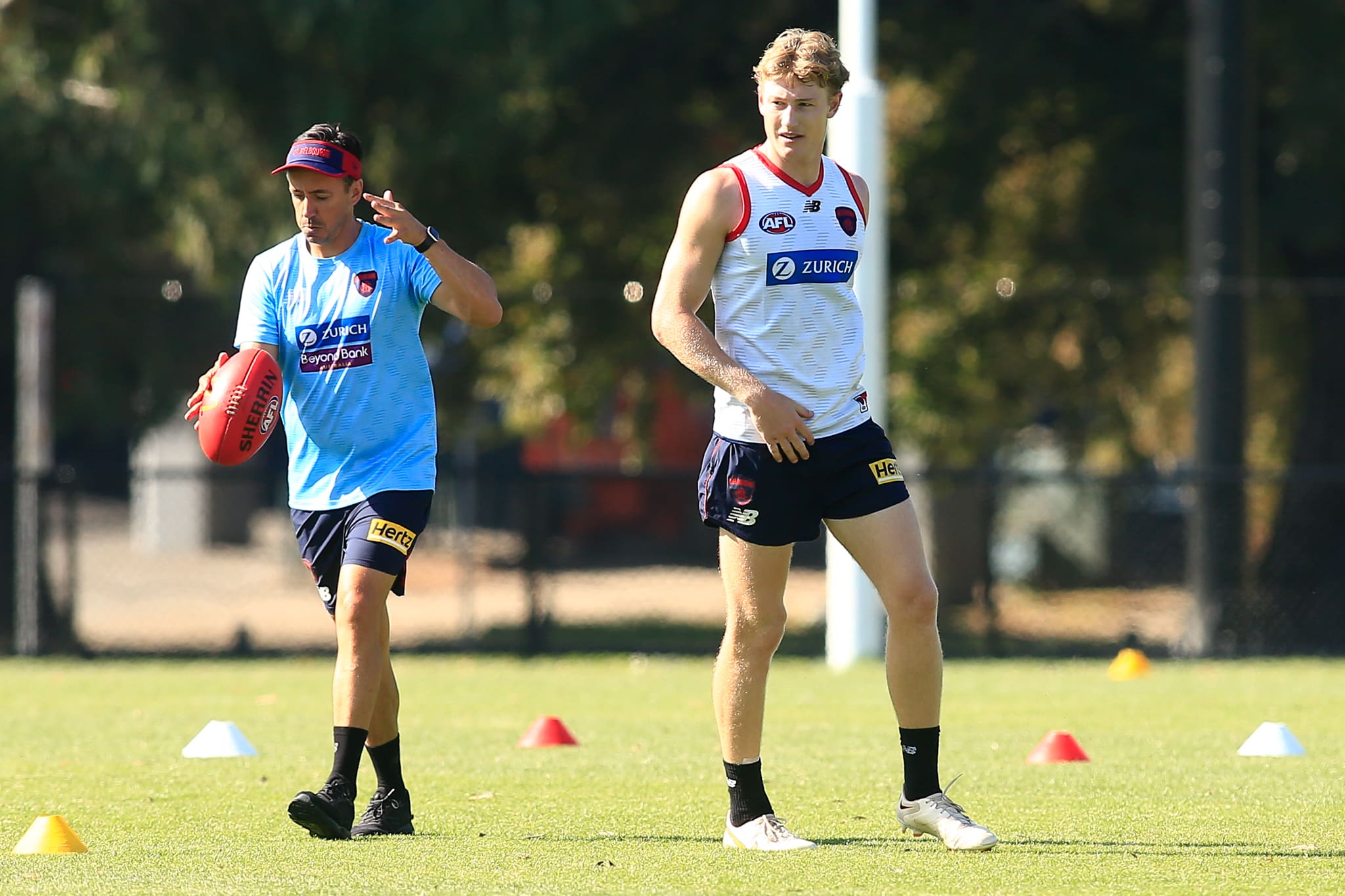 Hunter was also quizzed on the way with which he looks back on his tenure at the Kennel.
"I look back there largely with really positive memories," he started.
"I mean, I grew up barracking for the club, obviously my dad played there and I spent 10 years there, and ultimately, while there are some things that I would change there towards the end, I look back there with really fond memories.
"I won a premiership there and made some lifelong friends and [I] still talk to a lot of the players and staff, so [I have] really fond memories of [my time there]."
Hunter and his Demons will spend the week preparing for their first practice match of the pre-season against St Kilda at RSEA Park on Friday afternoon.
Their second and final practice hitout will come when they host Richmond at Casey Fields, before embarking on their season-opener against Hunter's old side, the Bulldogs, on March 16.