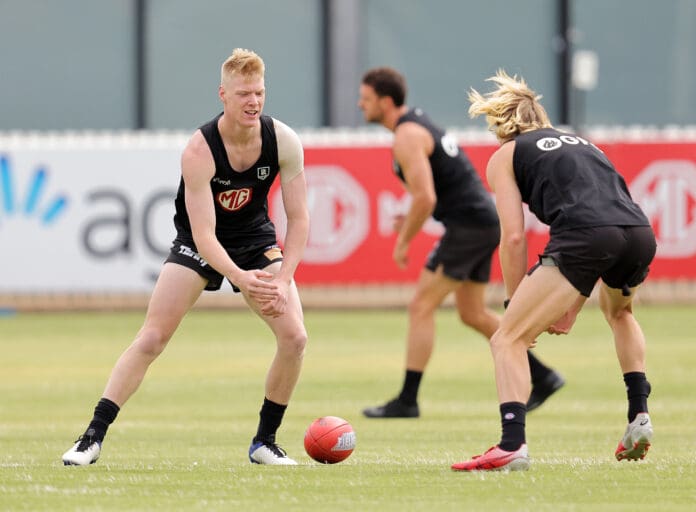 Nothing has come easy for Port Adelaide's Jake Pasini, who has fought setback after setback in his battle for an AFL debut. 
The 22-year-old key defender has managed numerous obstacles in his short AFL career, including his second of two shoulder reconstructions and an ACL rupture last year. 
Since being rookie listed in 2019, the Western Australian has found, at times, incredible form in the SANFL — and is highly regarded internally as a successor to the Power's backline. 
Speaking to Zero Hanger, Pasini opened up on the unique beginnings of his AFL career, and how he has since built his case for a senior debut. 
"It's great (to play again), obviously, I missed a fair bit of footy," he said. 
"My first year I didn't play any games at all, because of COVID. And then my second year I did my shoulder in a practice match… and then last year I did my knee. 
"It's been a weird start to my AFL career."
Pasini's 18 months on the sideline
Pasini was sidelined his entire first year, as both Port Adelaide and Adelaide were barred from playing in the SANFL due to the COVID-19 pandemic. 
And, when his chance came to play SANFL football in 2021, the Swans District product underwent a shoulder reconstruction after an injury in the pre-season.
The 22-year-old had previously dealt with a shoulder injury in his Under-18s season.
"It wasn't the best," Pasini said of being sidelined. 
"I'd had experience out of the game with my (first shoulder injury), so that sort of helped me get mentally through it, and I had a massive support group around me.
"Kenny (Hinkley) was great, he always checked in on me and let me go home to be with my family a bit after surgery."
The 193cm defender went on to play eight SANFL matches after surgery in 2021, averaging 13 disposals and four marks across his first campaign. 
How rupturing an ACL became a "bittersweet" moment
Pasini hit his stride in 2022, winning 17 disposals per game at a whopping 90% efficiency in six games at the SANFL level.
He was in line for an AFL debut against North Melbourne in Round 9 before landing awkwardly in training and rupturing his ACL.
"It was pretty devastating," admitted Pasini.
"I was thinking I was playing pretty good football leading up to that.
"I did the ACL on Tuesday training here at Alberton, had surgery on Thursday, and then Friday Kenny rang me up and told me I would've played that week.
"It was bittersweet I guess, it was pretty crappy to know I did my ACL a few days before then. But, it was good motivation."
Port Adelaide, which had offered a two-year contract extension to Pasini before doing his knee, kept faith in the defender and held true to their offer.
Pasini's bush walks with an ex-Magpie
Pasini found support from all his coaches during the difficult time, but it was Port Adelaide development coach Tyson Goldsack who took him under his wing. 
In 2018, the ex-Collingwood defender suffered an ACL rupture of his own.
"(Goldsack) took me on a few walks up in the bush when I first did (my ACL)," revealed Pasini. 
"He was a great mentor for me and he talked me through what he did to keep himself in the right frame of mind. He actually really did help me a lot."
Ruled out for the season and under a new contract, the 22-year-old took the chance to grow during his time away from the game.
"Mentally, it was good to stay away from football for a bit," he said.
"Footy is pretty tiring and everything, and it was good to get back home and just relax with my family for a bit.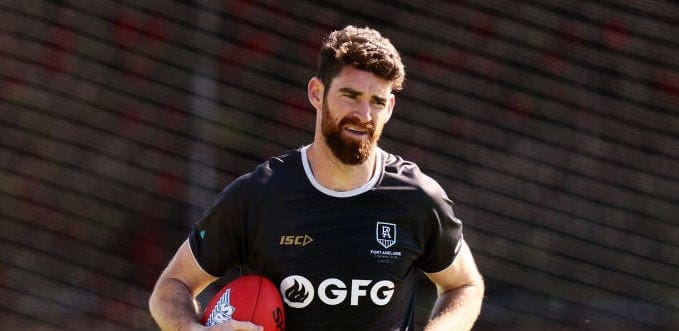 "I worked on what I could have, got my upper body a lot stronger and when I could start getting back into the gym and working on my lower body, I took the opportunity.
"I sort of took it all in my stride."
From mentee to backline leader
Throughout his time at Port Adelaide, Pasini has found inspiration and assurance from captain and fellow backman Tom Jonas, alongside mentorship from other senior defenders.
"Pretty much all the backs, Tom Clurey, Trent McKenzie, Aliir Aliir, it's unbelievable to have boys like that to mentor me," he said.
"It'd be unreal (to play alongside them). It'd be unbelievable to run out there and be with all the boys." 
Pasini is able to play both as a lockdown defender and intercept defender, and feels confident in his ability to play on smaller forwards if needed. 
Now, more confident in his versatility and body, the Western Australian has been able to pass on his experience to newly drafted backmen Kyle Marshall and Tom McCallum.
"They're a great bunch of young boys and they're learning quickly," Pasini said of the rookie pair.
"I try as much as I can to lead them back there when Tom (Clurey) isn't playing, I try to take charge and they give me great feedback as well.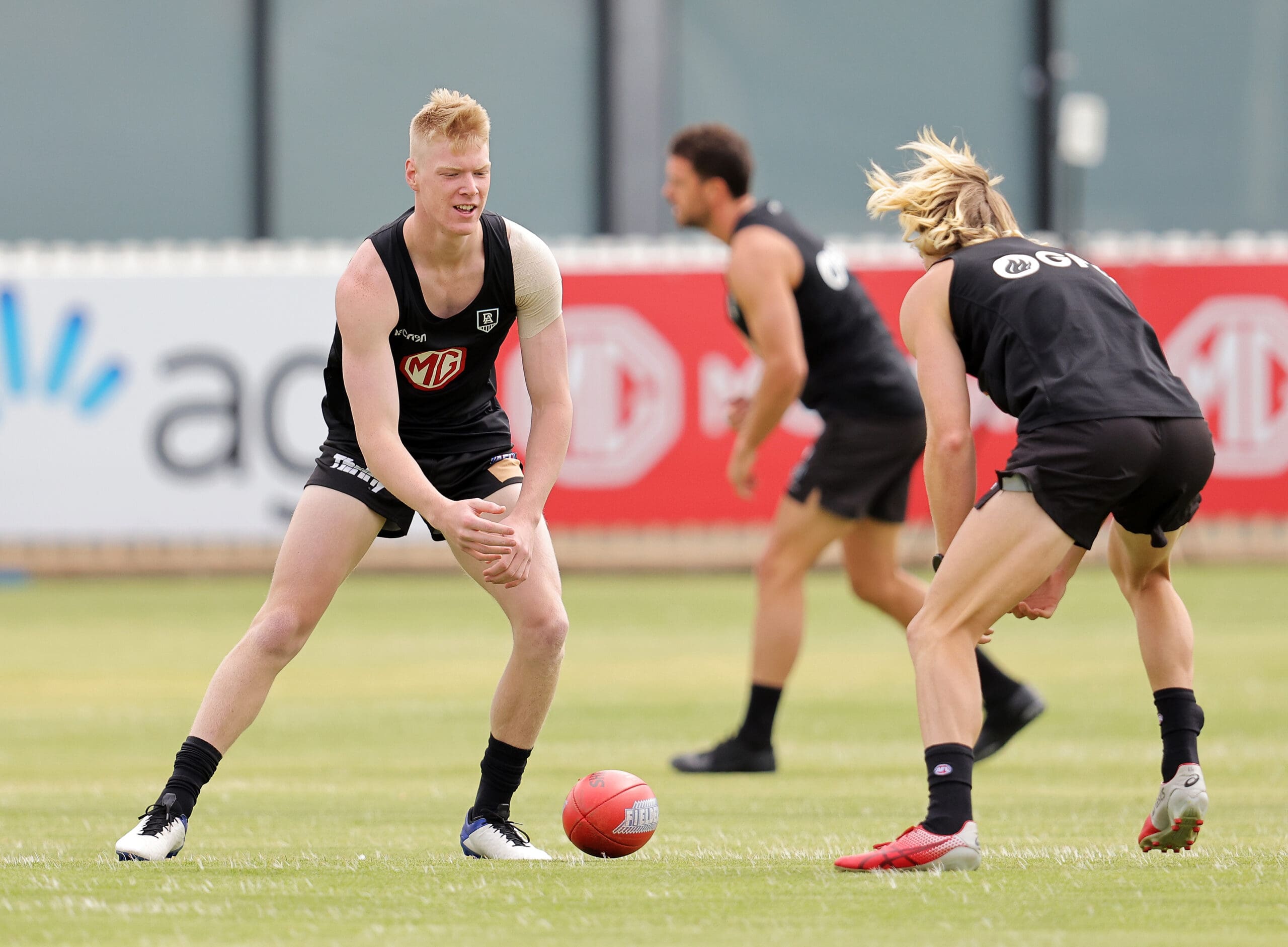 "It's a great crop of backs… it's exciting to know what we have ahead, hopefully, we can get there." 
With Power skipper Tom Jonas suspended for a bump on Eagles youngster Jai Culley, Pasini is a chance for selection on Friday night against St Kilda. 
The 22-year-old believes he isn't far away from the form that nearly earned him a maiden AFL appearance in 2022, and continues to build his case this season.