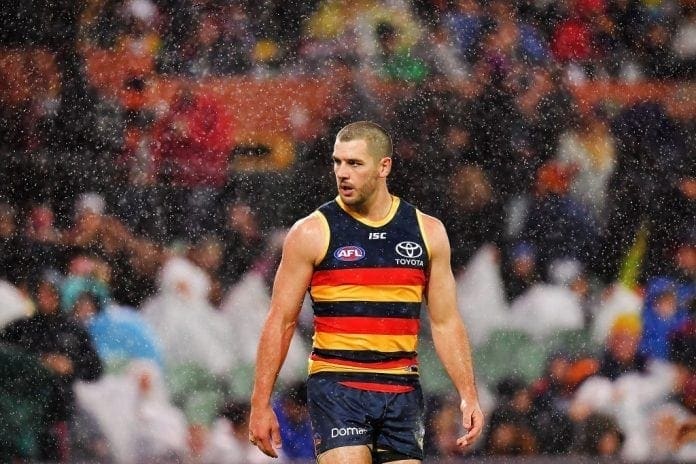 Adelaide Crows forward and ex-skipper Taylor Walker has doubled down on the comments he made in 2018 regarding the club's now-infamous intensive pre-season camp.
Walker is on the record in 2018 stating the camp was "one of the most beneficial and rewarding camps I've ever been on".
While addressing the fresh concerns of ex-Crows players, notably Eddie Betts, Josh Jenkins and Bryce Gibbs, claiming "something was not right post the camp", Walker reaffirmed he "took a positive experience out of it".
'Tex' recently featured on Triple M and directly addressed the new camp recounts that have come to light in recent days.
"As the captain at the time of the footy club and those boys being past players, [it's] not great," Walker started.
"It's quite upsetting to hear those guys are still feeling the effects of the camp.
"What I will say is the camp, a lot of people took different things out of it and I personally I've said I took a positive experience out of it, but that does not take away from the feelings of hurt that those boys are going through at the moment."
Asked if he, as then-club-captain, provided adequate support to struggling teammates after the camp, Walker stated categorically that he did everything in his power to assuage player concerns.
"I can put my head on the pillow at night and put my hand on my heart and say I did everything I could," he said.
"I knew something was not right post the camp, I knew blokes weren't feeling that great about it.
"There were fractures within the group, like some of the boys have said and I was having one-on-one meetings.
"I was having some confidential meetings at my house to try and work out exactly the path to take and I can honestly say that I did everything I could to try and fix it."
Adelaide chairman John Olsen and CEO Tim Silvers published an open letter to Crows fans on Monday evening, throughout which they addressed Betts and Jenkins' disturbing recounts.
"It has been confronting to hear Eddie Betts and Josh Jenkins describe their experiences during the 2018 pre-season training camp on the Gold Coast, as well as the subsequent hurt they have carried," the letter reads.
"We apologise to Eddie, Josh and any other player, coach or staff member, who had a negative experience during this time."
Olsen and Silvers' letter also acknowledged Gibbs' recent public comments, as well as the difficulty Adelaide now faces in remaining united and overcoming the recent revelations about the camp.
"Equally we are sorry to hear Bryce Gibbs express his disappointment at the way in which the camp and events surrounding it were handled and its impact on the playing group, and we acknowledge there are others who may feel the same way," the letter continued.
"We know that moving on as a Club will be difficult. Everyone will do it in their own time and in their own way, and we sincerely hope that with the passage of time the healing process can take place.
"We are committed to emerging from this painful and challenging period and getting better. While we cannot rewrite history, we remain determined to learn from the past."