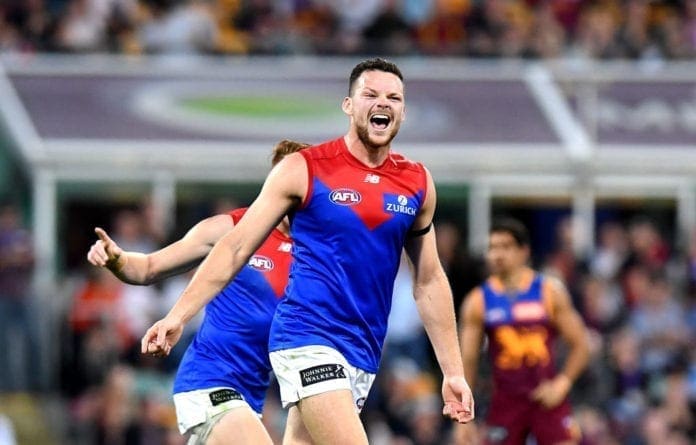 Melbourne defender Michael Hibberd has explained how some home truths delivered by Simon Goodwin to Steven May were the catalyst for propelling the former Sun to prominence.
Speaking to The Age's Jake Niall, Hibberd stated that after May joined Melbourne at the cessation of the 2018 season, the now 29-year-old did so as an unfit backman that lacked the requisite level of professionalism.
However, after a series of tough talks with Goodwin, May was geared into action, with his efforts across the past pair of seasons seeing real dividends in the Demons' back half.
"I'm very close with Steve, he's one of my best mates," Hibberd told Niall.
"To see early on, he'll openly admit he was probably just a touch out of shape when he got to the club and I think Goody realised. What we're seeing now is what we could have been getting earlier. And he had some injury setbacks.
"But he's just so important to our team. Sometimes you've got to be hard on the ones that you love, I guess, and Goody obviously loves him as a player and loves him as a leader."
Hibberd credited Goodwin's jabs as the reason for May's spike in both output and masterfulness across Melbourne's rise back to the last Saturday in September for the first time in 21-years.
"He's an incredible leader for this club and an incredible player. And some of those tough conversations have turned around Steve and his career," he continued.
"But I mean this was always going to happen, when he was in the team the first few years he was so pivotal to us."
Though a maiden All-Australian blazer was not in the post for May after his stellar 2020 season, the barrier was breached this year when the burly man-marker earned his first honour.
Whether or not last season's snub was a spur for retribution across this year's fixture is unknown, but given the defender's personality, it is not outside the realms of possibility.
"He's just ridiculously talented and ridiculously competitive - I think that's what sets him apart ... one of the most competitive people I've ever met," Hibberd said.
"His last two seasons have been as good as anyone."
As mentioned, the former Gold Coast captain had suffered a series of serious ailments across his tenure in the Victorian capital, including groin and hamstring injuries that capped his debut season in a red and blue guernsey to just eight-games.
Although the Darwin-born defender will enter this season's decider under another cloud following his back related hamstring tightness, the man that toiled desperately at Carrara for eight-years is seen as a certainty to lineup against the Dogs this weekend.
With many punters and pundits labelling May as unfit given his untoned frame, fellow Demon Tom McDonald suggested that these views are both misplaced and unnecessary.
"Stevie - he's never going to look like Adonis, he's never going to have the lowest body fat and he's one of the least-fit blokes.
"But what he is probably the strongest competitor, one of the most powerful athletes you could play on and just his will to win is extraordinary.
"I think what we did is we realised that we've got to embrace what he's good at and allow him to play to his strengths, and we did that with Jake (Lever) as well, and that's how we get the best out of them, rather than trying to change them into something they're not."
May is tipped to stand beside Western Australian-born Bulldog Aaron Naughton for the length of the Grand Final. Across the pair's two meetings this season, the honours remain relatively even, with Naughton recording means of 1.5 goals and 5.5 marks ahead of May's shadow.
Given the Pups will enter the contest sans Josh Bruce, should the ex-Sun shade the mulleted forward, his strives will go a long way to breaking the AFL's longest standing premiership drought.
The first bounce of the 2021 AFL Grand Final is scheduled for 5:15pm Perth time at Optus Stadium.