Hawthorn are set to have an "aggressive" and "active" approach to the free agency and trade space this year as the club looks to sharpen its attacking options for the future.
The Hawks entered this season as a likely lower-rung side following an off-season that saw a plethora of AFL experience head for the exit, with Tom Mitchell (Collingwood), Jack Gunston (Brisbane), Jaeger O'Meara (Fremantle), Ben McEvoy (retirement) and Liam Shiels (retirement, then North Melbourne) all depart.
The position has left Sam Mitchell to rely on his raw midfield talent for the years ahead, while his attacking third has been decimated due to Gunston's exit and an untimely ACL sprain to spearhead Mitch Lewis in the pre-season.
Mitchell's defensive line for the future looks to be sewn up, while more minutes for their emerging midfield talent is required before talks of a top eight return arise.
But the club has conceded more attention and recruitment might be needed to have their forward structure at a level where it can match the best clubs, with Mitchell's spear currently blunted by the absence of Lewis.
To alleviate the situation, the Hawks are set to utilise trade and free agency avenues to acquire to attacking talent this year.
"I think the thing that has challenged us the most this year is forward of that midfield group. Mitch Lewis not being available for selection in these first six rounds has really hurt us," Hawks football boss Rob McCartney told ABC Tasmania. 
"Without Mitch and Jack Gunston it's just meant (the forward line) has been a little bit under-resourced. So I think realistically the form of the playing group probably sits on a midfield that's improving and a forward structure that just needs a little bit more talent and support.
"... the way that we can definitely address the forward end of our team at the moment is through free agency and trade.
"We're in a really healthy position with our total player payments and we're in a position where we could really target that type of player. We'll be active.
"We're not going to hide away from the fact that we want to bring a player into this group, whether it's through the draft or through those other avenues, that's going to help us in the front end of the ground. We'll be aggressive in that space."
Two potential targets the Hawks may have on their radar could be off-contract Port Adelaide forward Mitch Georgiades and GWS free agent Harry Himmelberg.
Himmelberg, while comfortable with where things sit amid talks with the Giants, won't be rushing into a decision, while cross-town rivals Sydney are said to be interested in his services.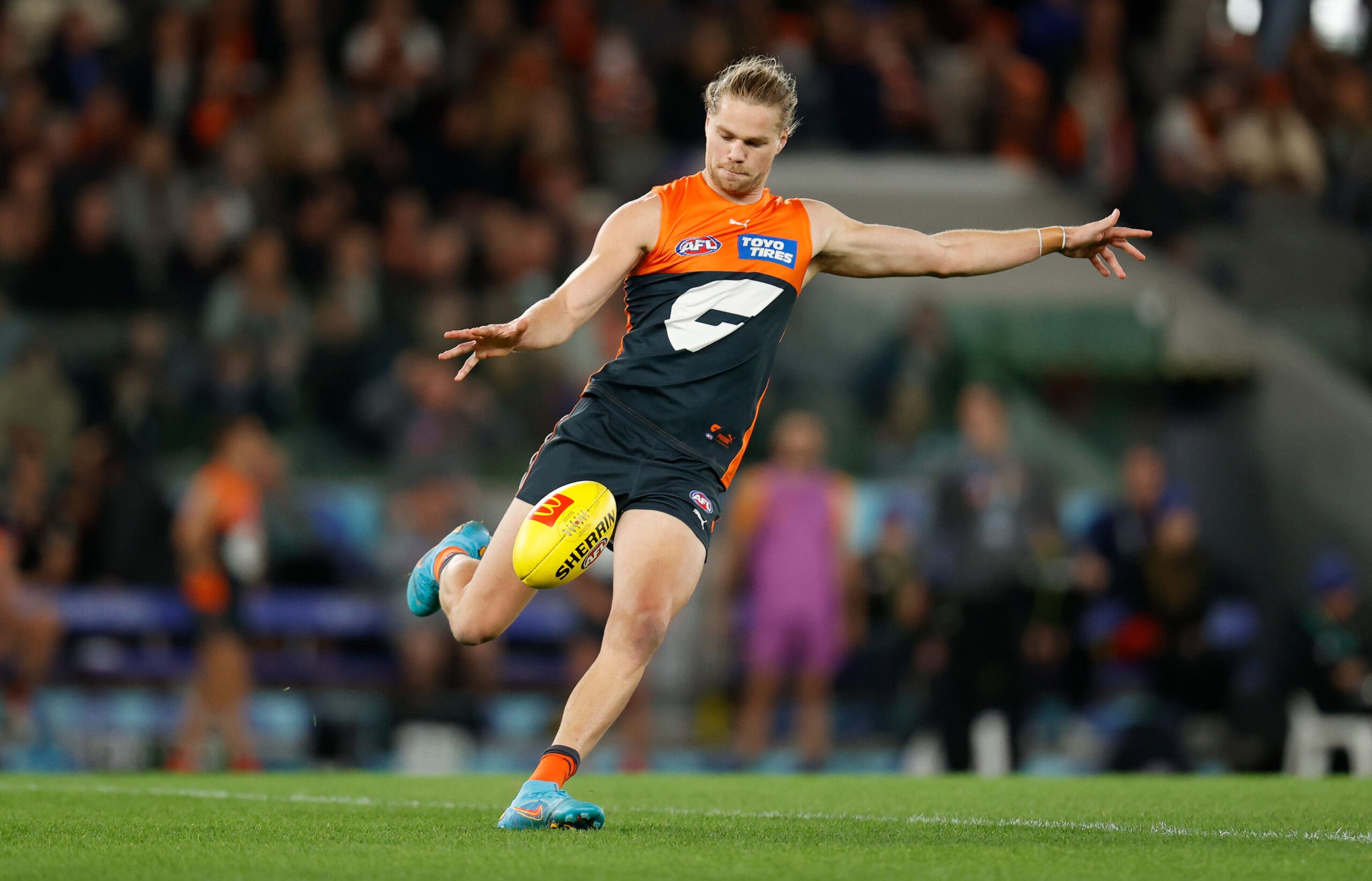 Able to play at both ends of the field, Himmelberg would add a high degree of versatility to the Hawks' arsenal, while injecting over 130 games of AFL experience.
Georgiades is expected to be on the end of offers from Western Australian clubs that will look to lure the young forward back to his home state, while Victorian sides are also expected to come calling as he currently sits on the outskirts of Ken Hinkley's preferred 22-man side.
McCartney said the club is aware of the situations surrounding both Himmelberg and Georgiades, with the Hawks to cast a wide net this year as they hunt for a potential forward.
"We're definitely aware of the contract status of both of those players," McCartney said of the duo.
"But in terms of that our net is going to be quite broad initially and then a bit more targeted as the year progresses.
"We've got an awareness of both those players and where they sit. But we're really open-minded at what the right fit will be for us, and we'll explore that as the season goes on."
The Hawks will also have contract calls of their own to make this year, with James Worpel, Chad Wingard, Jarman Impey and Finn Maginness among those off-contract at Bunjil Bagora.
The club has managed to lock away key names across the past several months, with Will Day, Ned Reeves, Dylan Moore and Jai Newcombe all recommitting to the club.